Last updated on December 20th, 2019 at 02:06 am
The fifth in the Gran Turismo series is late. The game is so delayed in fact, that many fans have stopped caring about it's release and have moved on to other activities such as raising families, learning to speak backwards and teaching monkeys to ride motorbikes.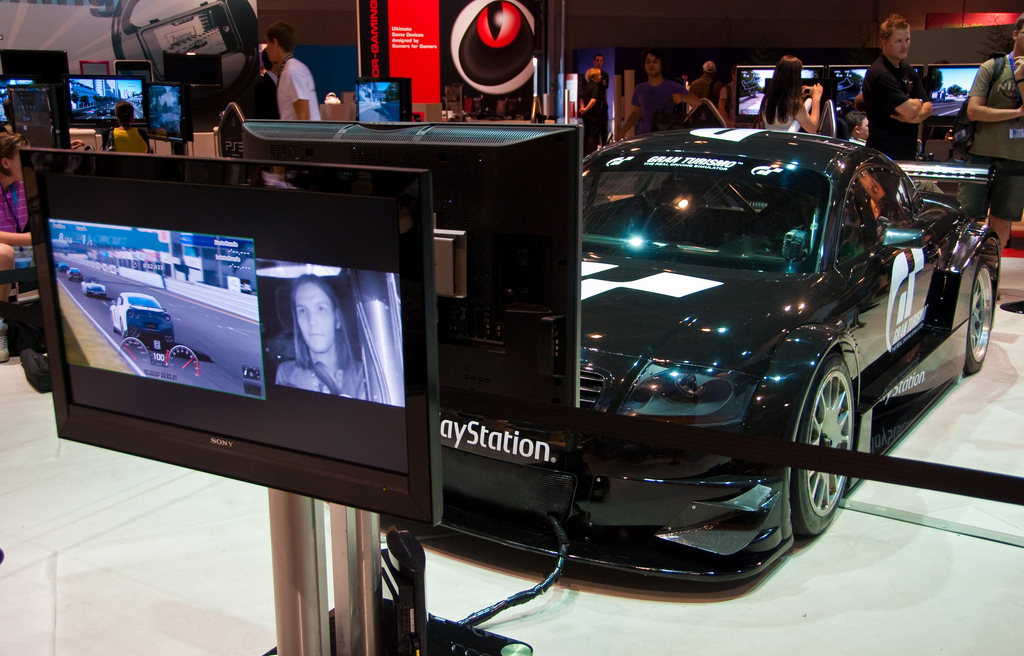 Gran Turismo 5 at GamesCom on Flickr by Sergey Galyonkin (CC Licence)
However, their ears may prick up once again after the President of Sony Worldwide – Shuhei Yoshida – revealed in an official PlayStation blog that GT5 will not only feature "damage, night racing and weather", but also… wait for it…  "stunt arenas", "go-karting" and "creating and sharing your own track".
First things first – it has a track editor! I love track editors! One of my first games was Accolade's Grand Prix Circuit, in which I spent many an hour making tracks that did not fit together and were impossible to complete. What a satisfying feeling it was to create a half-built circuit and watch the whole F1 grid crash when they got to the bit where I had placed a tree in the middle of the track. It was rather like building a half-finished rollercoaster in Theme Park and watching your guests fly to their deaths… although obviously nobody died, they just cried and went for some chips… and then a drink because I had put so much salt in the chips. Anyway, I digress; the point is that no-one has made a proper track editor for a bloody long time. The track editor in ModNation Racers is great fun and very well designed, but MNR isn't a proper racing game – GT5 will be, and a proper GT5 track editor could be worthy of standing as a game in it's own right.
I was tempted to pass over the "stunt arenas" feature because I'm not that interested in the concept, but thinking about it, with the great physics engine that the Gran Turismo series is renowned for it is a very interesting prospect. All 'stunt car' games I have played to date have made me want to gouge my eyes out with my controller, but GT series creator Kazunori Yamauchi doesn't do things by halves (hence the 18-month delay in this game coming out) and it might just be brilliant.
Now then, go-karting mode… many have tried, many have failed, and only Nintendo have ever truly succeeded. Yet it's hard for budding racers to pretend they are a young Senna, Schumacher or Hamilton when they are racing on a track in outer space made from a rainbow when a green dinosaur is firing red shells at them. A proper karting simulation could be brilliant, ideal for a 'pick up and play' party and also for an introduction to a career mode that feels truly realistic. The game already has the Super GT licence. And the NASCAR licence. And the WRC Rally licence. Throw in the rumoured PlayStation Eye camera head-tracking feature, voice chat and the ability to race in teams/clans and this might not just be the best racing game ever made, but one of the best games ever made full-stop.
Best of all, Sony have confirmed that it will definitely be out this year (November 2nd launch in America is already confirmed). President Yoshida, although obviously speaking in irritating highly-edited PR language, sums it up well: "This time around Gran Turismo is likely not just to be the definitive driving experience but a definitive gaming experience full stop". I hope they pull this off. I pray they pull it off. And I'm already pulling myself off in anticipation.