Last updated on January 16th, 2020 at 12:03 pm
Who led more laps of the 2006 Australian Grand Prix than everyone except winner Fernando Alonso? Who led for a third of the 2007 Grand Prix of Japan at Fuji despite not actually driving a Formula One car? Bernd Mayländer – that's who. And yes, I did just steal those facts off Wikipedia. I'm lazy, ok?
For many years, since the introduction of safety cars into top-level motorsport, virtual fans have clamoured for the inclusion of a safety car for the sake of 'realism'. I remember gamers being disappointed that Geoff Grammond failed to include them in his games, the Liverpool Studio never gave them to us on the PlayStation and neither did EA Sports.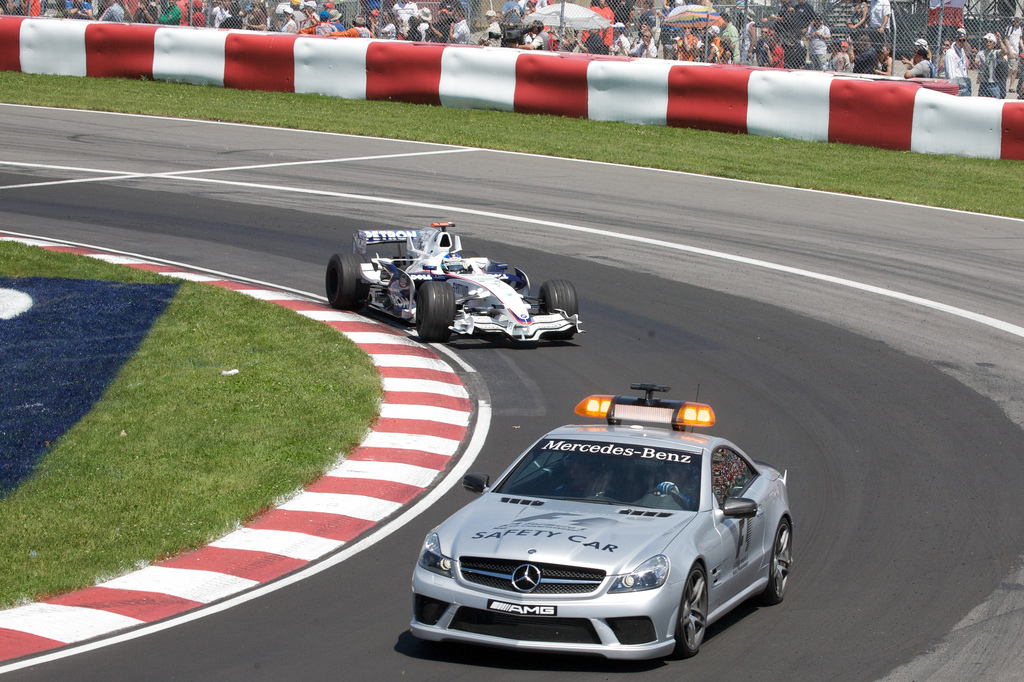 'Nick Follows the Safety Car' by ph-stop on Flickr (CC Licence)
How cool would it be though? Let's face it – the Mercedes SLS AMG is a pretty sexy piece of kit, and you could 'be' your hero… if your hero is Bernd Mayländer. You too could experience driving on the very limit, flat-out as the F1 cars cruise around behind you in first gear looking bored and re-assessing their pit strategy. Ok, maybe that's not a great example – but it would be cool to have a safety car – after all, everything else in the game has been painstakingly crafted to be realistic, so why not include it?
The main problem with the inclusion of a safety car is not implementing it, but recognising the human element that will interact with it. There is no need for a safety car, because nobody is actually at threat from harm as they race in front of their TV's, other than their better halves being irritated with their constant gaming and taking a frying pan to their heads. It's not much of a problem to punt off your competitors at the first corner and cause a safety car incident when your opponents are computer controlled, but I'd be pretty pissed off when it happened during every online race – and with full realism turned on, each race would comfortably reach a two-hour time limit and whoever qualified on pole would most likely win every time due to the incessant crashing that would take place at every restart.
Developers have considered ways around this for many years, including putting the users' car into autopilot during a safety car period so you could go and make a cup of tea – but that's no fun is it? It raises an interesting question about the level of realism gamers want – with developers having to balance wishes of the hardcore shut-myself-away-for-a-week-and-improve-my-best-lap-time fans' wishes against those of the I-only-have-half-an-hour-to-play-before-my-wife-gets-home casual gamer. I can see how the latter wouldn't want to spent a few laps behind a safety car being sure not to overtake anyone and having to keep their tyres warm.
The only game I've ever played with a safety car was Papyrus' brilliant Indycar Racing 2 (1993), and those guys have gone on to develop the iRacing simulator. Indycar Racing 2 was an excellent game – you could custom-design your own cars, graffiti them with swear words and crash into the aforementioned safety car (at which point a voice would exclaim "what the hell was that?!). The flaw of the safety car's inclusion in that particular game was that when you grew tired of lapping the Michigan Oval at low speeds (after causing yet another accident) you could illegally overtake everyone and serve a stop-go penalty in far less time than it would take you to stay behind the safety car as you should.  By the end of the yellow flag period you had caused you'd comfortably be at least three laps in the lead. And therein lies the problem. People just wouldn't respect it, and there's not much you can do to police the online racing world. As Plato never said, "you can't ban rammers, you can only ram them back". In an ideal world I'd like to have the safety car as an option, but I would most likely end up turning it off, and I don't blame Codemasters for not including it in their fab-looking new F1 2010 game… but one day I hope someone does it.
Despite being an avid Formula One fan for as long as I can remember and Bernd Mayländer driving the safety car for all of ten years now I must ashamedly admit that before writing this article I thought his name was Bert. Maybe the safety car isn't so important after all…