Last updated on December 15th, 2019 at 08:47 pm
I want to make one thing very clear to everyone who may read this. iRacing is not a Racing Sim to be taken lightly. In order to excel at it, you have to be willing to put time into it. The high level of competition takes iRacing to the next level in terms of racing as a sport, rather than a game.
With that in mind I will say that iRacing is what you make of it. If a weekend distraction is what you're looking for, iRacing can provide that and if you are looking for the next level in online racing iRacing can also provide that.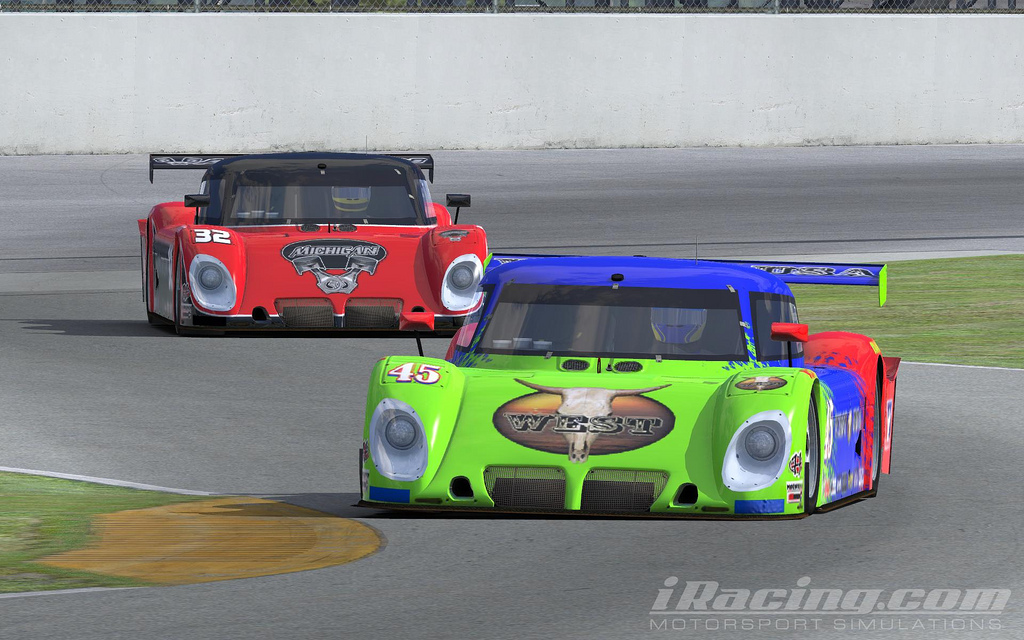 Image: Riley – Daytona 54 by jbspec7 on Flickr (CC Licence)
What can you really expect when joining iRacing for the first time? Not a simple question by any means because the sim provides so many different things to different people – a road racer isn't going to have the same expectations as an oval racer may have – but iRacing still sets itself apart by doing a good job of providing for both. Providing laser scanned tracks accurate to the millimeter has gone a long way towards recreating the feel that simracers want, and added to the top notch physics and excellent online racing you are given the entire package. That's not to say everything is as simple as pick up and play, as there is a lot behind the scenes of the races that you need to know.
What you need to know:

When you first join you are asked to read the lengthy and detailed Sporting Code that is provided by the iRacing governing body FIRST. FIRST is essentially the group behind iRacing responsible for monitoring and regulating races and the rules of the road and there are plenty of rules. The entire progression of an iRacer's career is at the mercy of FIRST as they have the ability to make or break you. Let's get into some specifics shall we?
Much like a real race each and every driver in iRacing is held to a sporting code that tries to provide equal ground for everyone, with basic rules that follow real motorsport rules closely to more internet based rules such as cursing or being offensive in sanctioned races. There are a few who may find the regulated structure of iRacing to be too strict but the simple truth is it put everyone on equal ground and holds you accountable for your actions in an attempt to make people race cleaner.
Your Safety Rating:

After reading the sporting code and familiarizing yourself with how things work you turn your attention to your Safety Rating or SR. Safety rating is the lifeblood of your iRacing career. Accidents are going to happen it is inevitable at break neck speeds when you're racing door to door with other people and while the system is not perfect your SR does a good job of automatically holding you accountable for bad driving. In what is referred to as TPI or Turns Per Incident SR calculates all accidents which cause an infraction from x0 to x4 depending on the severity of the accident, whether it be contact with another car, a wall or just spinning out. After a race ends your TPI is calculated and your SR either goes up or down. With luck your SR goes up and with enough consistent races you SR get high enough to qualify you for a promotion to the next license level.
Licenses are the distinguishing badge of honor in iRacing. Everyone starts off with a rookie license, and as your skill increases so does your license allowing you to participate in higher level series such as the Izod series or the Sprint cup series. If your SR drops too much you may find yourself in danger of being demoted to the license you just moved up from. The system tends to level out after time and many people settle into a zone where they compete with others of the same skill level which makes for some great racing.
While partaking in the career path laid out by the folks of iRacing allows for some great fun and great racing there are others who choose to go the league route and there are plenty of leagues out there to join. Because of iRacings structure, in order to participate in a league you have to use iRacings servers to host the races, and using the iRacing servers comes with a price which some may find to be a bit unnecessary. Even for paying members to run a hosted race, you have to pay a fee of 3 dollars. Only one person pays the fee (usually the race organizer) and the hosted sessions lasts as long as the host wants. Many leagues take up a fund to pay for these so everyone has to pitch in, and some don't.
There are quite a few members who partake in the league route but I would wager most still take part in the official iRacing races in order to advance their license, as the top of the ladder allows for some real recognition of what you have accomplished. The highest license level you can get is called PRO, it is reserved for the best of the best and getting in is no easy task, and it is limited to a certain amount of racers every season. When you partake in a PRO series your races are broadcast and in some cases officially sanctioned by the likes of NASCAR. The top racers from iRacing can go to NASCAR.COM and click on the iRacing Series and see the leaderboards with their names, giving them the recognition that many thought would never come from a "game". iRacing is leading the way into making Simracing an officially recognized sport, one that anyone can partake in and it all starts with your desire to race.