Last updated on December 4th, 2022 at 04:27 pm
Released in 2017 by CarX Technologies, and available on PC and consoles, check out all the choices for sideways action in the CarX Drift Racing Online car list.
Each vehicle is named, as there are no official manufacturer licenses for the game. But they do seem to be closely inspired by real life models, including the choices of professional drift racers competing in series including D1GP.
Last updated: Added the Rina and Sensei from Update 2.15.00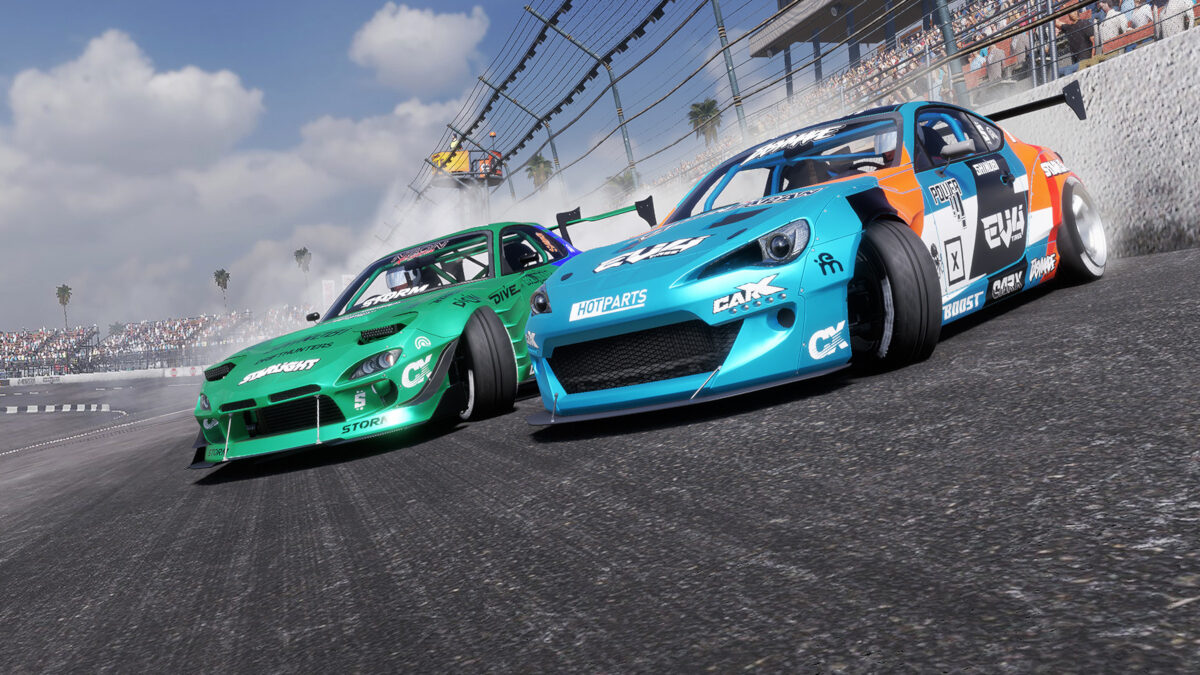 CarX Drift Racing Online Car List
Apollo – BMW M3 E36
Asura M1 – Toyota GT86
Atlas GT – Nissan GT-R R35
Betsy – Dodge Ram Van 1500
Bimmy P30 – BMW M3 E30
Black Jack F150 – Ford F-150 Hoonitruck V1
Black Jack X22 – Ford Mustang Hoonicorn V1
Burner JDM – Toyota Chaser JZX100
Camaric – Chevrolet Camaro SS
Caravan G6 – Volvo 240 Estate
Cargo – Freightliner Cascadia
Carrot II – Toyota Mark II JZX100
Chiioko – Toyota Altezza
Cobra GT530 – Ford Mustang Shelby GT350
Consul GT – Mercedes C63
Daisho Color Mercury Sayaka SPL – Nissan S15 (Paid DLC on PC only)
DTM 46 – BMW M3 E46
Equator D – Infiniti G35
Eva MR – Mitsubishi Lancer Evolution 8
Eva X – Mitsubishi Lancer Evolution 10
Falcon FC 90-S – Mazda RX-7 FC
Falcon RZ – Mazda RX-7 FD
Flanker F – Flanker F
Fujin SX – Nissan Silvia S14
General VX – Chevrolet SS
Race GT – Toyota Yaris GR
Godzilla R2 – Nissan Skyline GT-R NBR32
Godzilla R3 – Nissan Skyline GT-R NBR33
Hachi-Roku – Toyota Corolla AE86
Hakosuka – Nissan Skyline GT-R Hakosuka
Horizon GT4 – Nissan Skyline GT-R NBR34
Hummel – Porsche 911
Hunter – BMW M2 F87
Ice Ranger – Lada 2102
Imperior – Mercedes-Benz 190 W201
Interstate – Pontiac Firebird
Kanniedood – Datsun 620
Kaiju – Nissan Skyline R31
Kitsune – Honda NSX
Loki 4M – BMW M4 F82
Long River – Volga GAZ-24
Lynx – Mazda RX-8
Magnum RT – Dodge Challenger RT
Midnight – Nissan 240Z
Panther M5 – Mazda MX-5 ND
Panther M5 90-S – Mazda MX-5 NA
Phoenix NX – Nissan 180SX/240SX
Piranha X – Nissan 350Z Z33
Pirate – Nissan Laurel
Prestigio – lamborghini Hurrican
Rattlesnake – Dodge Viper
Raven RV8 – HSV E3 Maloo R8
Razor ZX – Chevrolet Z06 C7
Rina – Toyota Mark II GX71
Rolla RZ – Toyota Corolla
Royal – Toyota Crown
Samurai II – Toyota Mark II JZX90
Sensei – Nissan GT-R
Shark GT – BMW M5 E60
Sorrow – Toyota Soarer
Spaceknight – Lexus LFA
Spark ZR – Chevrolet Z06 C6
Spector RS – Nissan Silvia S15
Syberia SWI – Subaru Impreza WRX STI
Syberia WDC – Subaru Impreza WRX STI
Thunderstrike – Dodge Charger RT
UDM 3 – BMW M3 E92
Voodoo – Dodge Viper ACR VXI
VZ 210 – Lada 2105
Wanderer L30 – Toyota Supra Mk4
Warrior – Ford Falcon 351 GT XA
Wellington – Nissan Silvia S13
Wild Runner – Ford Mustang RTR-X
Zismo – Nissan 370Z Z34
Keep up with the latest CarX Drift Racing Online news, updates, DLC and more, here. You can find CarX Drift Racing Online for the PC via Steam, Xbox consoles via the Xbox store, PlayStation consoles via the PlayStation store, and the Switch via the Nintendo eShop.