Last updated on June 7th, 2020 at 07:11 pm
One week after reaching 1.6.1, sleeper hit Euro Truck Simulator 2 reached Version 1.7.0 on Thursday. As usual, it is available as a direct download or torrent for owners of DVD and SCS-purchased versions with Steam editions updating automatically.
Added Volvo
The lone feature listed for this 1.7.0 revision is actually one that's been known about and wanted for rather a long time – the new Volvo FH (and FH16) is finally here! 750hp and 3500Nm. This thing pulls! It's free, already making gallery appearances on the World of Trucks portal and is yours with a simple update.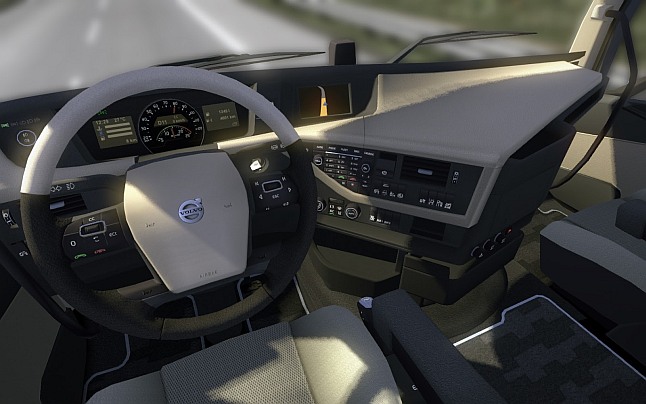 Low Prices
As an extra bonus for the week, Euro Truck Simulator 2 and its Going East! map extension have price reductions until Saturday evening (6PM, UK time).
The 'lowest ever' prices go as follows:
Euro Truck Simulator 2 £5.09, €6.79, $8.49 (66% off)
Going East! DLC £5.99, €7.49, $9.74 (25% off)
Euro Truck Simulator 2 Gold £9.99 (50% off)
Gold is a bundle pack of ETS2 and the Going East! territory addition.
Big scares
Heading into the dressing up and partying season, SCS Software has also produced its first peripheral content in the form of the Halloween Paint Jobs Pack.
£1.59, €1.99 or $1.99 buys the following sextuplet of new themed truck designs for all truck manufacturers:
Halloween Pumpkin
Crying Wolf
Fallen Angel
Spider Web
Flaming Dragon
Grim Reaper
This paint pack is only available on Steam.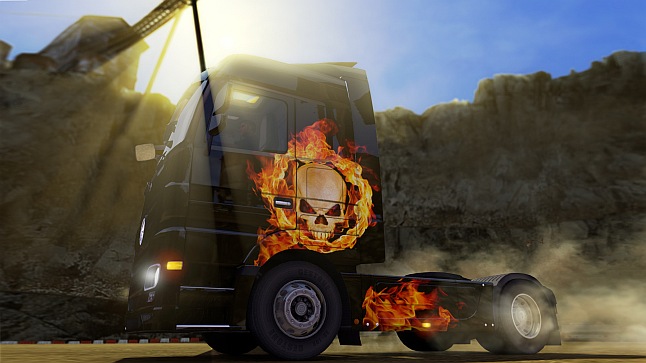 Viktor Avdejev posted on the company blog that a small DLC like this is intended as a way of funding further improvements – a way of accelerating "development of the core game," as he put it. Of course, community-produced mods are still available and Viktor has said that if additions like this prove worthwhile, then other parts of the game will receive consideration. Cabin customisation was an example offered here, one that I could see catching on as it happens – especially given the amount of time we spend looking at the area and knowing how much people do like to add their 'identity' and reflect their personality in a game, be that with decals or content.
To close with a handy reminder, it's worth noting that non-Steam owners of ETS2 can 'migrate' to the Steam version by using their game activation key. Relying on the Steam framework does make things easier and cheaper for SCS Software (it's a small company, after all) and has the benefit of automated, carefree upgrades that are usually nippy for us as end-users. There's also potentially less waiting compared to updates going live on SCS' servers or to have enough seeds for a good download speed via a torrent file. Having said that, the torrent option that always appears is a good alternative too as the speeds will pick up and it's again easier on the modest resources of SCS.
Visit the Euro Truck Simulator 2 site to learn more about this great, great game.