Last updated on January 20th, 2021 at 06:43 pm
What's your level of excitement for the new GRID title coming in 2019? Are you eagerly awaiting Codemasters latest, or waiting to see how it performs? Either way, you'll probably want to now the classes and first cars confirmed for GRID to see if your favourites are in the game.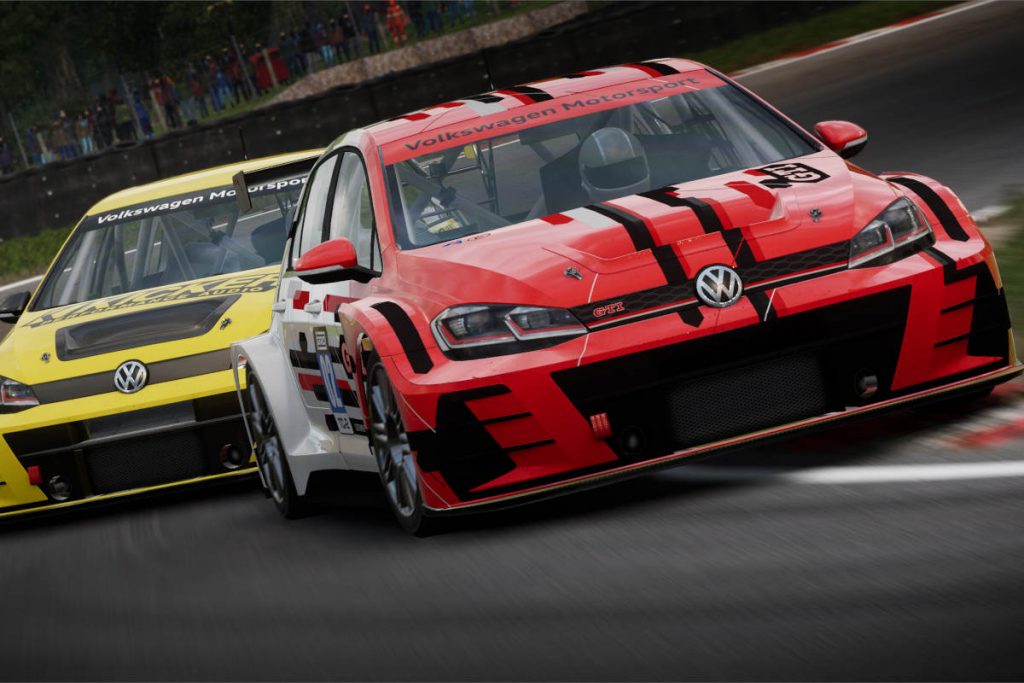 First up are the 7 classes which you'll be able to race in. The list from Codemasters is; Touring, Tuner, Stock, GT, Formula J, Prototypes and Group 7 Specials.
So there's a definite racing focus, from touring saloons to exotic motorsport examples. And if you're wondering what Formula J might be, it's a single-seater, open-wheel category. Apparently more details will be on the way, but you'd imagine it should be pretty good considering Codemasters also produce the F1 series, and F1 2019 has just appeared.
The official list of cars in the game so far are:
Auto Gallery Nissan Skyline GT-R (R32) – Tuner
Audi RS 3 LMS – Touring
Chevrolet Camaro SSX Concept – Stock*
Chevrolet Camaro Z28 Modified – Stock
Chevrolet Corvette C7.R – GT
Dodge Challenger SRT Modified – Stock
Ferrari 488 GTE – GT
Ford Focus TC-2 – Touring
Ford Mustang Mach 1 Modified – Stock
Pontiac Firebird Modified – Stock*
Porsche 911 RSR – GT
Volkswagen Golf GTI TCR – Touring
The Camaro SSX concept and modified Pontiac Firebird are apparently both exclusive to the GRID Ultimate Edition. And there's no mention of the Alfa Romeo 155 Touring Cars featured in the first GRID trailer and details, so there's at least one more car to be confirmed. Previous info included a Muscle class, which turns out to be with the Stock class category.

Touring Cars (TC-1, Super Tourers, TC-2, Classic Touring)
Stock Cars (Muscle, Pro Trucks, Oval Stocks)
Tuner Cars (Modified, Super Modified, World Time Attack)
GT Cars (Classic GT, GT Group 1, GT Group 2, Historic)
Formula J Prototype Group 7 Specials
Online listings for the game also mention the Ford GT40 as another vehicle in-game, but it's not revealed whether that's the modern or classic version. Or potentially both.
If you're already convinced, you can pre-order GRID at Game, with both the Standard and Ultimate editions already listed. The Ultimate Edition includes: Season 1 (Hypercar Track Day Pack) + Season 2 (Racing Hatch Track Day Pack) + Season 3 (GT Track Day Pack) + Porsche 911 RSR + Grid Edition Aston Martin Vantage GT4 + Grid Edition Pontiac Firebird Modified + Grid Edition Chevrolet Corvette C7.R + Grid Edition Mitsubishi Lancer Evolution VI Time Attack + Grid Edition Renault R26 + Player Cards + Player Banners + Unique Liveries + VIP Status
Or there's the same options for the Standard and Ultimate Editions via Amazon. Using the affiliate links above to purchase your games doesn't cost you anything extra, but can mean we get a small commission to help support the running of Onlineracedriver.