Last updated on January 6th, 2021 at 05:12 pm
A launch trailer has been released by Codemasters for a new GRID title. The latest in the series will be released on 13th September, 2019 for the PlayStation 4, Xbox One and PC. It's the first racing game in the franchise for 5 years, and is simply called GRID.
If the title seems confusing, the original 2008 game was actually named Race Driver: Grid. Which was then followed by Grid 2 in 2013, and Grid Autosport in 2014.
Technically if you want the full history, then the new GRID game will be the 12 in the TOCA series, which dates all the way back to the 1997 TOCA Touring Car Championship for PC and the PS1. You can read some of our memories of the fantastic Toca series. Or our more recent video return to the game.
Like the previous titles, the 2019 GRID will aim to be accessible to casual arcade race fans as previous titles in the series while also providing a challenge for sim racing enthusiasts, which is a tricky balance.
Classes already confirmed for the new GRID include GT, Touring, Stock, Muscle and Super-Modified. Race types will involve Circuit, Street Racing, Ovals, Hop Laps, Point-to-Point and World Time Attack.
There's no details on specific makes and models included, but the launch trailer heavily features various GTE (Grand Touring Endurance) cars including the Porsche RSR, the Chevrolet Corvette C7.R, and 3 Alfa Romeo 155 touring cars which raced in DTM and BTCC in the early 1990s.
Watch the GRID Trailer:
Cars included in the screenshots accompanying the news include what appears to be a one-make Chevrolet Camaro race with classic and modern versions, alongside an in-game shot of a Ferrari 488 GTE car.
Interestingly, the file names of the names indicate the muscle cars are racing in 'San Fran', while the Ferrari image references Brands Hatch.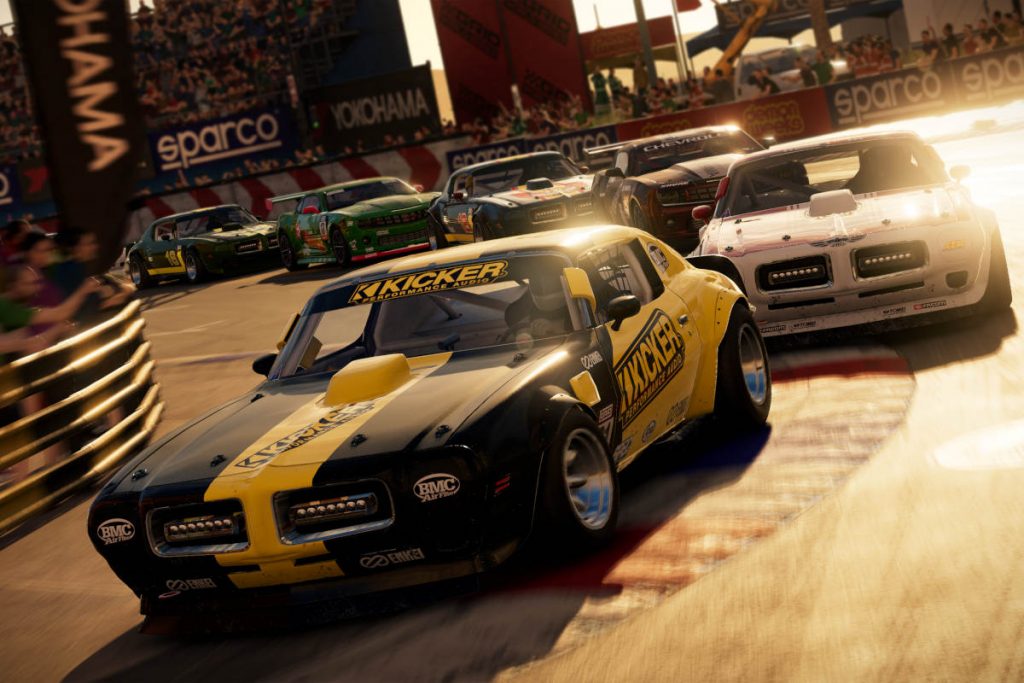 What we do know is that the Race Consultant for GRID, who also appears in-game, is a certain Fernando Alonso. In GRID you'll race against members of an FA Racing esports team before going head-to-head with the man himself, driving his 2006 Renault R26 F1 car.
"GRID as a racing franchise is revered by our community and we are delighted to bring it to the current generation of consoles," said Chris Smith, GRID Game Director at Codemasters. "The game offers so much variety and depth, from the number of modern and classic cars through to the locations and race options. Renowned for its handling, the game will appeal to all types of player, from casual drivers who want a lean-in challenge, to sim drivers who want some serious fun."
"We are also delighted to work alongside Fernando Alonso who is arguably one of the world's greatest ever drivers. His experience and knowledge has enabled us to make improvements to both the performance and handling of our cars. We could not be more proud to have signed him both in-game and as a Race Consultant. We can't wait for our players to experience the final version when it comes to PlayStation 4, Xbox One and PC this September."
Fernando Alonso added: "Having competed across F1®, Endurance and Stock Racing, GRID is the perfect game for me and I'm delighted the studio has added both myself and my racing team into the game. GRID offers so much variety and I welcome the challenge when players get to line-up against me."