Sector 3 has just revealed two new pieces of content for 2020 with the Daytona Speedway and Porsche 911 RSR coming to RaceRoom Racing Experience this year.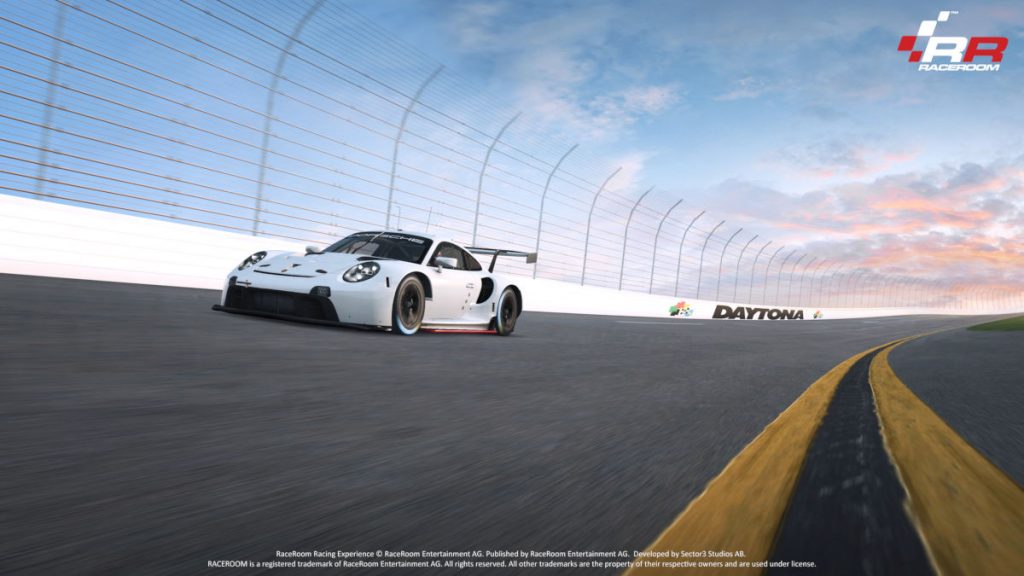 Both are pretty legendary in motorsport. The Daytona International Speedway opened in 1959, and has various configurations including the 2.5 mile tri-oval for the Daytona 500,, and the 3.56 mile Sports Car course.
It's a circuit that features in a wide range of racing games (not least Daytona USA!), but has been an omission from RaceRoom until now. And as something ranked high on the wish list of RaceRoom racers, work started on the circuit at the end of 2019.
The plan is to hopefully release Daytona International Speedway in Q2 of 2020. No price has been announced, but venues vary on the RaceRoom store between £2.52 and £6.74 (for the Nordschliefe).
Also coming to RaceRoom in 2020 is the 2019 Porsche 911 RSR. The model was introduced in 2017 as the successor to the 911 RSR (991) to compete in the GTE categories of the FIA World Endurance championship, European Le Mans series and the GTLM class of the IMSA SportsCar championship.
The new 2019 version offered up to 510hp from the 4.0 litre naturally aspirated engine with fuel injection, depending on the restrictor applied, with a weight of 1,243kg, and a 6 speed gearbox. It premiered at the Goodwood Festival of Speed with improved aerodynamics and a cockpit designed for better usability. The body is almost entirely carbon-fibre reinforced plastic to be light, strong and able to be quickly swapped during pit stops.
There's no exact release date or cost, but the existing selection of Porsche cars available in RaceRoom are all priced at £3.36.
And if you haven't tried RaceRoom, you should give it a try as the best PC racing sim which you can play for free. You get access to 12 cars to try the out the game on 5 tracks, and it includes the full multiplayer experience. Then if you enjoy it, you can select cars and tracks to purchase individually, or via bundle packs which save you some money.
Keep up with the latest RaceRoom news on OnlineRaceDriver. Along with our complete car lists and track lists for a variety of the top racing games and sims.