There's been a lot of anticipation since the Thrustmaster T-LCM Load Cell Pedals were first leaked online. The prospect of performance at a reasonable price excited a lot of sim racers. And now the Thrustmaster T-LCM Pedals launch for pre-orders.
The new pedals are compatible with the Thrustmaster T-GT, T300, T150, TS-XW, TX and TMX racing wheels. And will work for the PC, PS4 and Xbox One (via an RJ12 cable).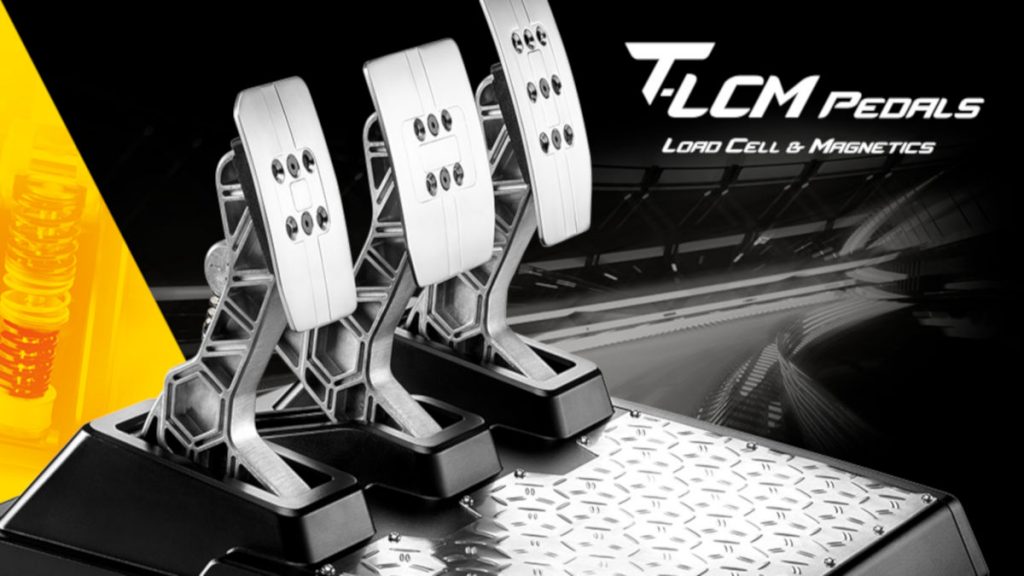 So why should you care about the new pedal set? Well, LCM stands for Load Cell and Magnetics. The load cell brake means that you get a more realistic variable force when you push on the pedal, rather than simply increasing in resistance the further the brake is pressed. This means you can feel the movement of brake cylinders, calipers, brake fluid and more in a car.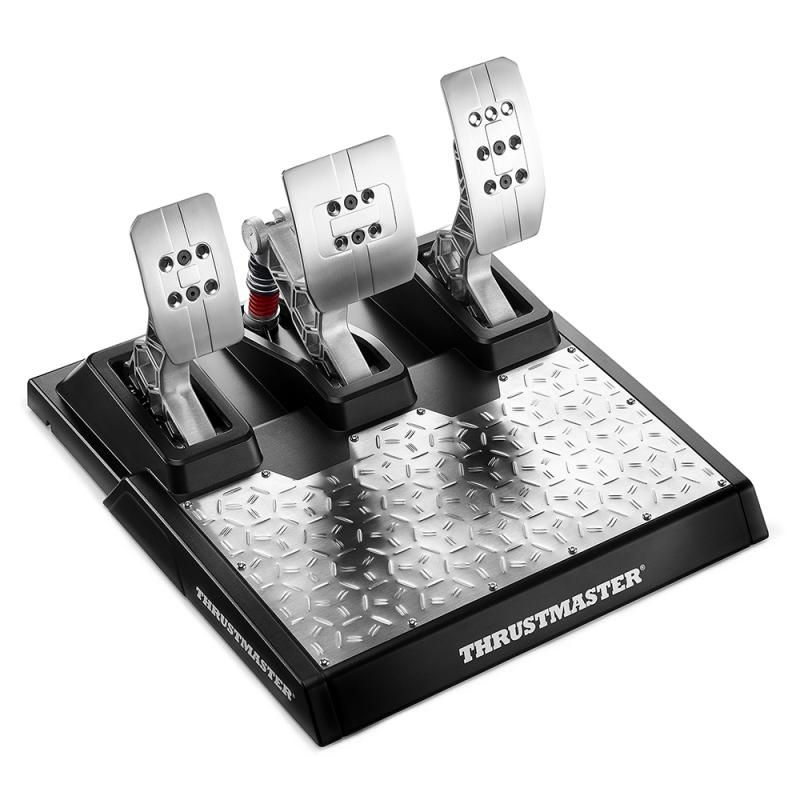 And you also get more flexibility in how you set up your braking, which means you can adjust it to games, cars and your individual preferences.
Meanwhile the Thrustmaster patented H.E.A.R.T (HallEffect AccuRate Technology) magnetic sensor system for the accelerator and clutch mean you get the same tech used in real cars for various systems. Because they don't have any contact bounce, and by using magnetic fields rather than switches, they'll potentially last and stay precise forever. Or certainly for your online racing career.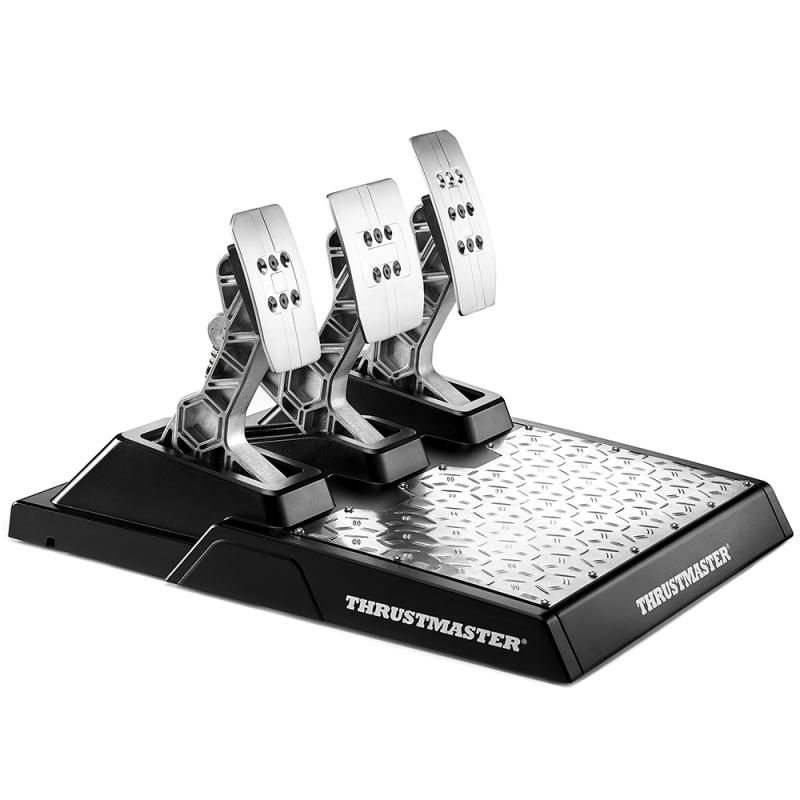 If you want to dive into the details, the H.E.A.R.T magnetic sensors will provide 16 bits of resolution, representing as much as 65,536 values per second. Which is pretty precise. That figure is for the PC, but for the PS4 and Xbox One, it's 12 bits per second.
Meanwhile the load cell force sensor will take up to 220 lbs or 100 kg of pressure. Which should be plenty even when you're panic braking to avoid a collision. But Thrustmaster also provide a set of 6 springs for the brake to allow you to make quick, tool-free adjustments to tailor everything to your preference. The set includes weak, medium or strong resistance options with, or without, preloading.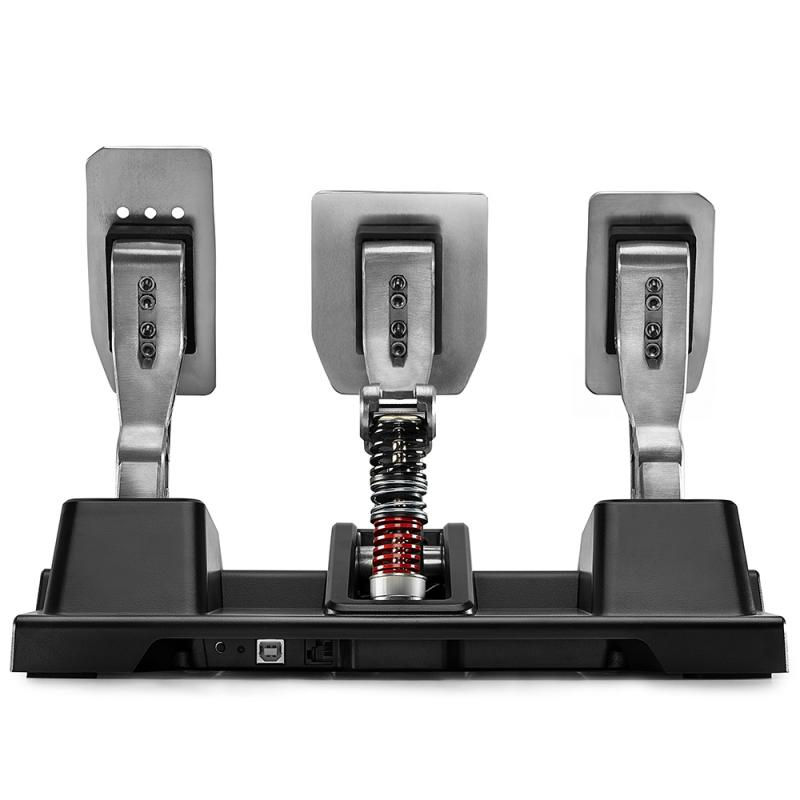 Preload refers to how much a spring is compressed at full extension. So you get a shorter travel and more force is required with more preloading. Just as it allows real racing cars and motorcycles to grip a track more effectively without the suspension and ride height bouncing up.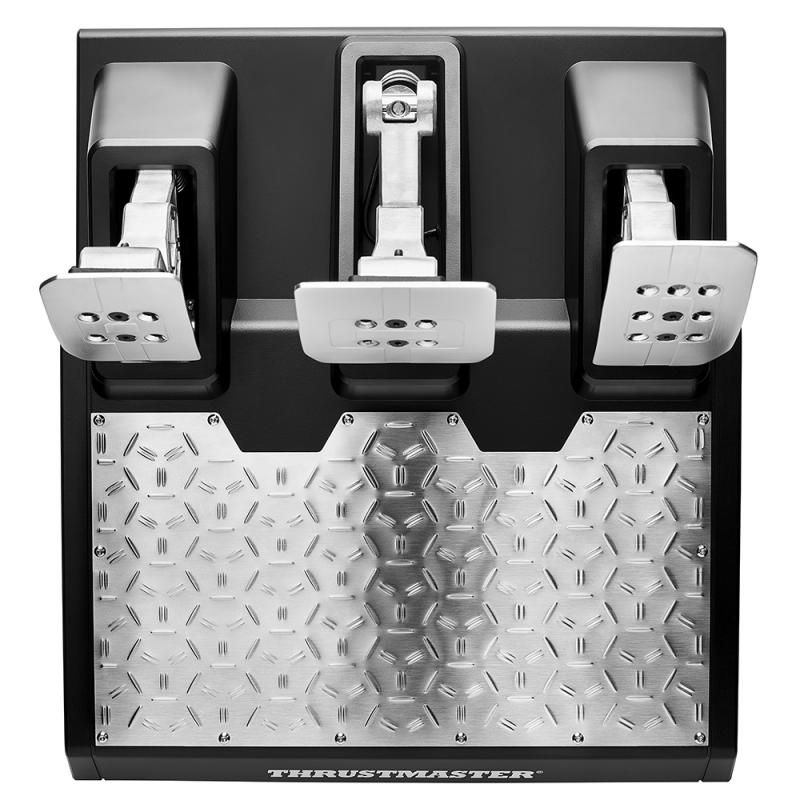 The Thrustmaser T-LCM pedals are a premium, 100% metal non-slip pedal arms and heads mounted to the sturdy base which also has large, textured foot rest stops. And with the whole thing weighing more than 11 lbs or 5kg, it shouldn't move around during use.
There's a lot of adustment available in addition to the brake spring. You can adjust the position of each pedal for height, spacing, and the vertical and horizontal inclination. Which is important if you want to really get the hang of heel-and-toe braking, for example, and happen to have larger or smaller feet. And if you already own a Thrustmaster T3PA or T3PA-PRO set, you can swap your pedal heads across to the T-LCMs.
Plus there's dedicated Thrustmaster calibration software so you can adjust braking power electronically, adjust the dead zones for all three pedals, and set preferences without having to mess around with springs just before a race starts.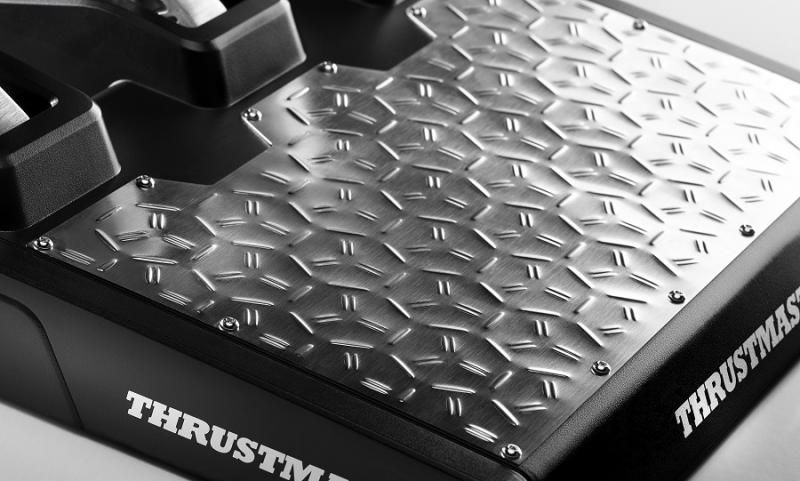 Of course, it would be sim racing if there weren't even more ways to tweak and pimp your set-up. So Thrustmaster also have a few suitable accessories.
First up is the T-LCM Cockpit Adaptor, which lets you use your existing T3PA or T3PA-PRO pedal set without changing your cockpit or drilling new holes by adjusting the T-LCM mounting holes to match the existing set.
If you're not convinced by the non-slip metal on the pedals, then the T-LCM Rubber Grips can be fitted over them to give even more grippiness for your feet.
And finally the T-Pedals Stand which works with the T-LCM, the T3PA and T3PA-Pro pedal sets, and allows you to adjust height, depth and inclination to get the right angle and adjustment without having to buy a full racing sim cockpit.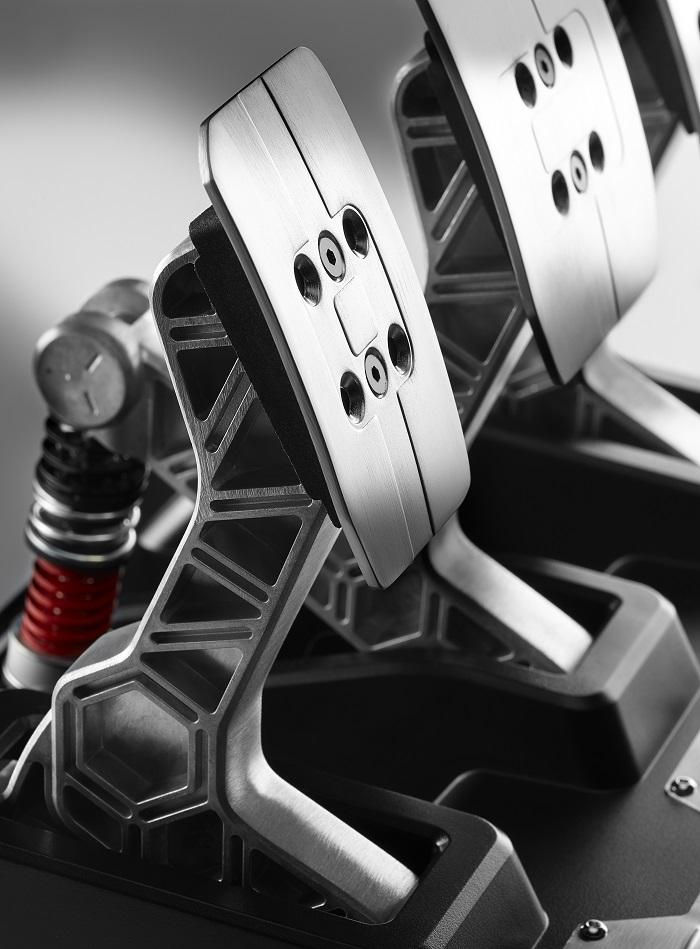 Thrustmaster T-LCM Pedals – Prices and Pre-Orders
So now you're tempted to invest in the new T-LCM pedals, it's time to find out how much they cost. The set is compatible with PC, Xbox One and PS4, and prices are as follows:
T-LCM Pedals: $199.99 / £179.99 /€199.99
T-LCM Cockpit Adaptor: $19.99 / £14.99 / €14.99
T-LCM Rubber Grip: $19.99 / £14.99 / €14.99
T-Pedals Stand: $59.99 / £49.99 / €49.99
All of them will be available from March 26th, 2020, but pre-orders are going live now. And you can also pick up the rest of the Thrustmaster range of wheels and pedals from Amazon, Game, or Currys in the UK.