There's a pretty sizeable 4.1 GB download to get the latest wide-ranging changes with the new RaceRoom Update 0.9.0.935 released today. It brings modifications to all cars in various ways, including collisions, off-track tyre behaviour, and gearshifts.
Sector 3 Studios have certainly been busy with improvements for various controllers, bug fixes, and specific changes to most of the cars in the game, along with tweaking the AI opponent behaviour for specific circuits.
But the change that probably most caught our eye was that most cars have new transmission whine, gearshifts are now more brutal, and older cars have also received specific upshift backfires. That's the kind of thing that makes fans of classic racing very happy!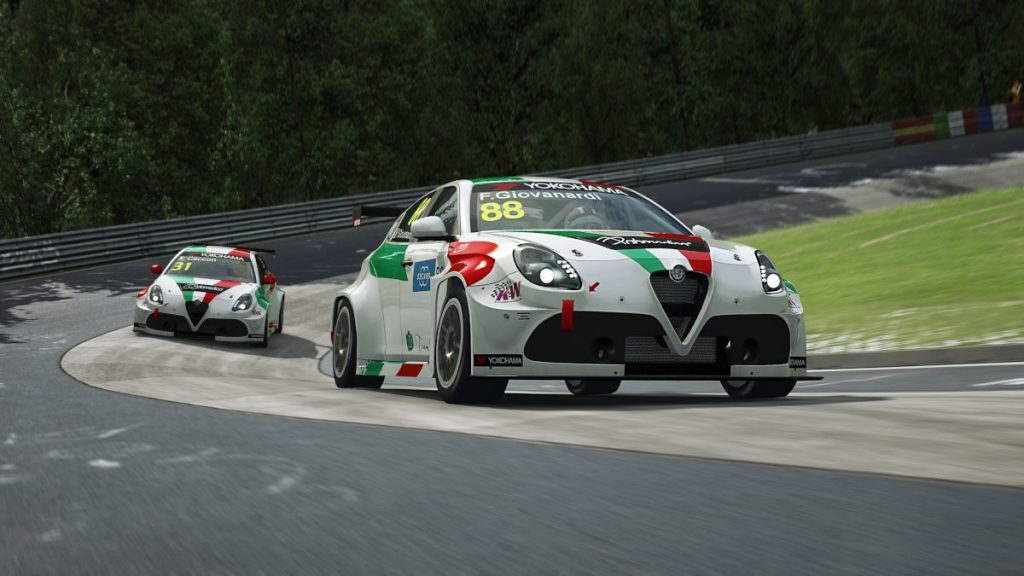 There's also acknowledgement of a bug with Ningbo circuit which incorrectly gives a course cutting detection, which will be fixed "as soon as possible".
RaceRoom Update 0.9.0.935 Changelog:
Download size = 4.1 GB
Client version = 0.9.0.935
Client BuildID = 4873057
Dedicated server version = 60.0.1114
Dedicated server BuildID = 4873274
Changelist:
Ranked Multiplayer – Added an option to set minimum requirements in rating and safety for a player to be allowed in a ranked session. Added a filter for this to the MP lobby list menu.
Dedicated server – Added controls to Export and Import settings (if the host IP changes, the settings are still being lost, but at least you can now recover the settings in a couple clicks by importing a backup)
HUD – Moved the huge Disqualification notifications to the "butterHUD™" system (the smaller left side notifications)
Controllers – Reduced Minimum force for all Logitech wheels, and added a 10% slip effect
Controllers – Added default profile for Simagic wheelbase
Controllers – First iteration of support for Simucube – Added communication of in-game selected wheelrange to the simucube driver. Added "safe" default profiles for the 3 variants of Simucube 2 wheelbases. We still have to fix some forces not being stopped upon pressing ESC and sawtooth effects, which we will do together with the hardware manufacturer.
Controllers – Updated default FFB profiles for Fanatec CSL and CSR
Various improvements to simulating Electric powered cars for player and AI, pitstops, etc.
AI – Improvements to their handling of traffic in multiclass racing
AI – Improvements to their decision making in going for a defensive line while being followed
Fixed a bug where a multiplayer server in a closed qualifying session would still be displayed as "joinable" in the multiplayer list.
Fixed a bug where gearshift backfires would not make sounds in replays. Improved logic of the sound triggers in both replays and multiplayer.
Fixed a case where AI could be caught not shifting up when it thought it had too low grip on the powered wheels.
Fixed a bug where pitstop sounds wouldn't work in replays.
Fixed an issue where the ideal raceline would feature oddly positioned brake warnings.
Fixed an issue where watching an instant replay that featured a pitstop would result in receiving fresh tyres a second time after coming back to gameplay.
Fixed an issue with some in-game web links that would wrongly open in a Steam overlay whenever -webdev startup argument was being used.
Tweak to AI's understanding of gravity and forces to improve their behavior on slopes and banked corners.
Further tweaks hoping to catch some remaining timing discrepancies when spectating MP races
Backed out an older fix for driver names being offset above opponent cars when playing with a low FOV as it had introduced an arguably more annoying intense vibration of the driver names when close to player. Let's live with an offset for now while we wait for a better fix.
Content updates:
All cars – Adjustments to behavior of the tyres once they've been covered in dirt, grass, gravel. As a consequence of those changes, the sounds for pebbles hitting the car are going to feel a bit fainter.
All cars – Modifications to upshifts and downshifts engine revs. Gearshifts are now more brutal™. Older cars from 70's / 80's / 90's also received specific upshift backfires.
All cars – New transmission whine recordings for most cars, especially modern GT, prototypes and touring cars. The transmission volume ramp is also altered, it's now louder while coasting and the pitch is in exact sync with the drivetrain.
All cars – New skid and locked brake tyre sounds that provide a more realistic sound during long slides. Also decreased tyre volumes for all modern GT cars.
All cars – Updates to behaviour of both the rev and pit limiters.
All cars – Modifications to forces involved in car to car collisions, to get rid of some collisions sometimes feeling like the other car is a solid brick.
Aquila – Adjusted tyre pressures in baseline setup, reduced brake power
Audi R18 – Fixed steering wheel not being exactly positioned on the steering column, which resulted in the cockpit camera placement being centered the wheel and therefore too far to the right.
Audi TT RS VLN – Longer default final drive for Zandvoort
CUPRA TCR – Fixed baseline setup that had an asymmetrical damper setting
DTM 14/15/16 – Fixed excessive suspension damage over curbs. Improved curb and bump behaviour with updated high speed dampers. Modified clutch and engine inertia values to stop them from bouncing off limiter upon downshifts. Differential updates to proper locks. Slight BOP adjustment of +5 Kg on the Mercedes.
Formula RaceRoom 2 – Updated baseline setup and tweaks to tyres for better handling. AI improvements.
Formula Raceroom 90 – Now offers three different tyre compounds, revised baseline setup and tyre model.
Formula RaceRoom X-17 – AI improvements
Group 4 – Porsche 934 RSR – AI improvements
Group C – Updated physics and tyre model, adjusted AI's to match. Adjusted Performance Index of the class to better reflect the actual speed of these cars.
GTR 1 – Improved AI pace spread
GTR 3 – McLaren 650s – Longer final drive
GTR 4 – Updated tyre model and baseline setup
Mercedes AMG CLK DTM 2003 – Adjusted cockpit camera position
Mercedes AMG DTM 1995 – Adjusted cockpit camera position
NSU TTS – Set undertray contact points that had been missing. Updated differential and drivetrain behaviour
P1 and P2 – Adjusted gearchange timings and drivetrain oscillations (shaft rigidity). Adjusted placement of cockpit camera.
Porsche 911 GT3 Cup (Sprint) – Updated tyre model and suspension. Further tweaks and improvements to physics. (this version of the GT3 Cup is not yet in store but used in Porsche Carrera Cup Scandinavia esports)
Porsche Clubsport Trophy by Manthey Racing – Updated tyre model and baseline setup
Silhouette Series – Now have factory ABS and preheated tyres. Fixed Canhard R52 that was showing some Push to Pass HUD elements.
Volkswagen ID.R – Updated physics according to the Nuerburgring lap record sessions telemetry. Equipped the car with DRS. Shortened the water pump startup sequence and made it sound more obvious that something is happening during car boot up sequence.
WTCC 2014/2016 – Fixed excessive suspension damage over curbs
WTCR 2018/2019 – Fixed excessive suspension damage over curbs, AI improvements
Bathurst – Tweaks to AI's understanding of what's a good cornering speed
Imola – Tweaks to AI's understanding of what's a good cornering speed
Ningbo – Improvements to framerate. The starting grid for the short layout is now the same as for the other layouts. Improved AI behaviour.
Nuerburgring – Improved AI behaviour at turn 1 of VLN / 24H.
Road America – Extended track limits a bit on the outside of the Canada Corner so you no longer get a cut with two wheels inside the white line.
Salzburgring – Tweaks to AI's understanding of what's a good cornering speed
Spa-Francorchamps – Tweaks to AI's understanding of what's a good cornering speed (Blanchimont)
Suzuka – Tweaks to AI's understanding of what's a good cornering speed
Known issue
Ningbo main layout has a wrong cut detection in the left turn just before pitlane entry. The only way to record a laptime there right now is by keeping left after the apex. Other Ningbo layouts are not affected. We're still investigating what's up with this and will fix as soon™ as possible.
RaceRoom was already a great racing sim, particularly for the feel and experience of the older racing cars. So we're very interested to see whether the new gearshifting adds to the enjoyment of classic race machines, as well as finding out what the new tyre behaviour is like when you run off the circuit (which we'll inevitable end up testing whether we want to, or not).
You can download RaceRoom for free on the PC via Steam. Additional cars and circuits can be bought either via Steam DLC packs, or directly from the RaceRoom store.
And you can keep up with the latest RaceRoom content, news and eSports, here. Or check out the RaceRoom car list, and the full RaceRoom track list to see what is included in the free download or available to buy.