Last updated on January 30th, 2022 at 11:54 pm
Want to know which circuits you can use with the free download of RaceRoom, and what other venues are available to buy? Find out with our full RaceRoom Racing Experience track list.
You get five circuits for free by downloading RaceRoom, and all are available for online multiplayer as well as racing or hot lapping by yourself. Additional circuits are available separately, and cost between £2.55 and £4.25. Most include multiple layouts, although you'll need to buy the Brands Hatch Indy and Grand Prix configurations separately. And they're also available in car and track bundles, which can save you a substantial amount on buying everything individually.
Last updated: January 30th, 2022 with a new version of Indianapolis Motor Speedway released.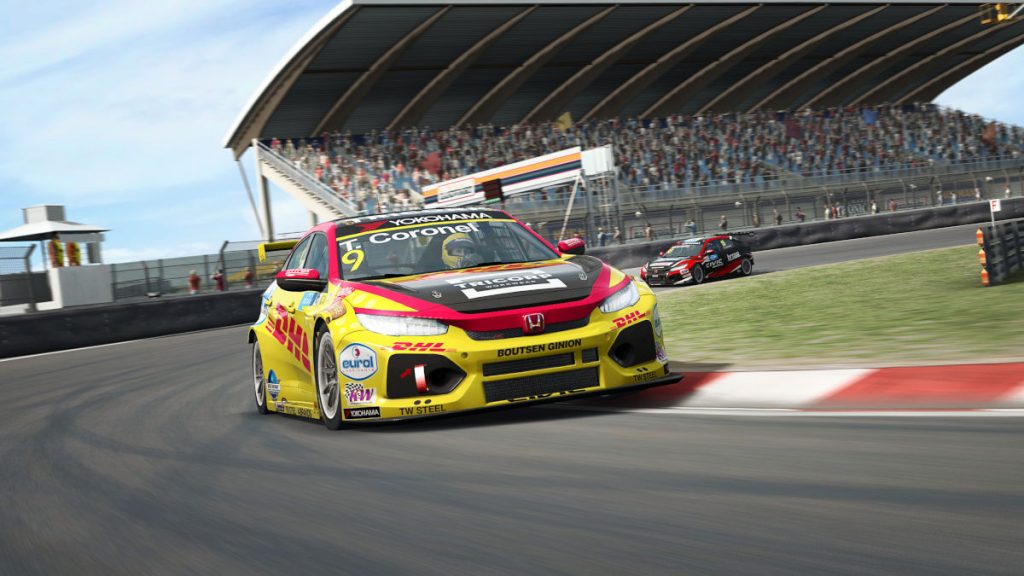 Free RaceRoom Racing Experience Track List:
Lakeview Hillclimb (Fictional)
Portimao Circuit
RaceRoom Raceway (Fictional)
Sepang
Stowe Circuit
Paid RaceRoom Racing Experience Track List
Assen (in development)
Autodrom Most
Bathurst Circuit
Bilster Berg
Brands Hatch
Brno Circuit (Grand Prix and Grand Prix Short Pit Entry Layouts)
Chang International Circuit
Circuit Zandvoort
Circuit Zolder
Daytona International Speedway (Road Course, Motorcycle Road Course 2006, and 'unsupported' tri-oval Speedway)
Dubai Autodrome
Falkenberg Motorbana
Gellerasen Arena
Hockenheimring
Hungaroring
Imola
Indianapolis 2012 (Road and Moto Layouts)
Indianapolis Motor Speedway (Oval, Road and Historic layouts)
Knutstorp Ring
Lausitzring (DTM Grand Prix layout added August 11, 2020)
Macau
Mantorp Park
Mazda Laguna Seca
Mid Ohio
Monza Circuit
Moscow Raceway
Motorsport Arena Oschersleben
Ningbo International Speedpark
Norago (Circuit Paul Armagnac)
Nordschliefe
Norisring
Nurburgring
Paul Ricard
RaceRoom Hillclimb (Fictional Circuit)
Red Bull Ring Spielberg
Road America
Sachsenring
Salzburgring
Scandinavian Raceway
Shanghai Circuit
Silverstone Circuit
Slovakia Ring
Sonoma Raceway
Spa-Francorchamps
Suzuka Circuit
TT Circuit Assen
Twin Ring Motegi
Watkins Glen
Zhejiang International Circuit
Zhuhai Circuit
Check out our list of racing game tracks listed by circuit and game title, here. Or why not browse the full RaceRoom car list to check if your favoutie car and track combo is available. And you can also see the latest RaceRoom news, updates and eSports articles.
Download RaceRoom Racing Experience for the PC for free via Steam, and buy additional cars or tracks either via Steam, or see a wider selection via the official game online store. You'll need to convert your money into Virtual Race Points (vRP), which can be used for new content, or to enter specific competitions and races.