It's not cheap, with a price of £84,950. But if you enjoy sim racing it's hard not to be a little bit overawed by the new Vesaro Professional Special Edition 2.0.2.0.
Vesaro design, build and engineer simulators at their Maidstone, Kent headquarters, which also includes a sim racing centre and showroom.
Their range starts with static rigs including a custom PC, software and everything you need from £8,224, although you can increase, or reduce, the price by customising pretty much everything from software to cables.
And they can also supply complete set-ups if you're starting your own sim centre and need to buy five or ten professional rigs at a time. But if you simply want a top level sim racing set-up, and have the money, then the new Vesaro Professional Special Edition 2.0.2.0 is worth checking out.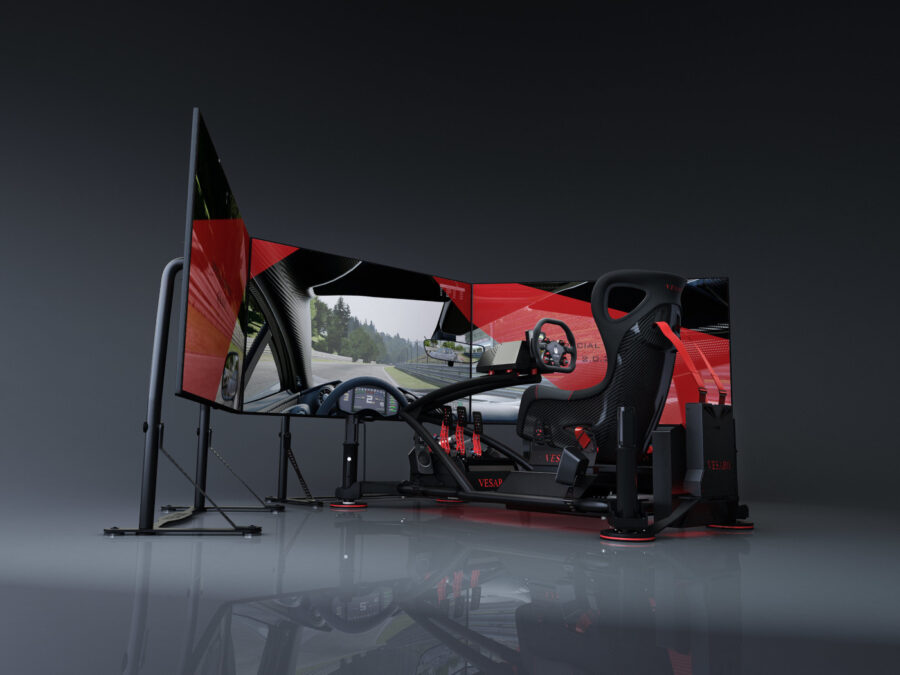 The spec list is long and impressive. It's based on around 10 years of experience creating sim rigs for at all levels.
Highlights include the D-Box 4 actuator motion technology which offers 6 inches of heave, roll and pitch, and a four-point tactile feedback vibration system.
Even the seat belt includes g-force effects under braking. And if that's not immersion enough, there's also integrated on-board audio including a low profile underseat sub woofer, digital amplifier and surround sound satellite speakers.
The seat itself is a special edition Cobra carbon fibre bucket seat with alcantara and diamond stitching. And you get a 225 inch full adjustable display, plus a VR headset.
That's before admiring the professional motorsport grade wireless steering wheel with a seperate display, and the hydraulic piston pedals, along with a pro grade direct drive system.
You'll also get a professional V-Spec button box, a gearbox with H-Pattern and sequential shifting, special edition colours and led lighting, and a top spec custom built Vesaro PC to power everything.
On top of all that, you also get all top sim racing titles, a 2 year warranty, and remote login support. So not only is in Plug and Play, but you can also have someone remotely sort out issues, rather than spending ages trying to reset your installs after you've messed them up.
So basically all you need to have a new Vesaro Professional Special Edition 2.0.2.0 simulator is a few metres of space, three spare standard plug sockets, and £84,950. Which seems increasingly reasonable when you actually start going through the cost and quality of every single component.
You can order the Vesaro Proectional Special Edition 2.0.2.0 through their website, or add it to your wishlist for a lottery win.
And if your budget doesn't quite stretch far enough, you can always check out all of our Wheel and Pedal and Sim Rig coverage to find something suitable, including with our guide to the best sim racing wheel and pedal sets for beginners in 2020.