Last updated on January 18th, 2021 at 11:55 am
It probably won't replace the direct drive wheel in your full motion sim rig. But at £14.99, the new Numskull Designs Nintendo Switch Steering Wheel is a cheap way to add a bit more control and authenticity to racing on the console.
The fully-titled Numskull Nintendo Switch Joy Con Steering Wheel Table Attachment is a basic plastic wheel which includes 'resistance technology'. At a guess, we'd suggest it's some rubber bands to provide a bit of friction to your steering.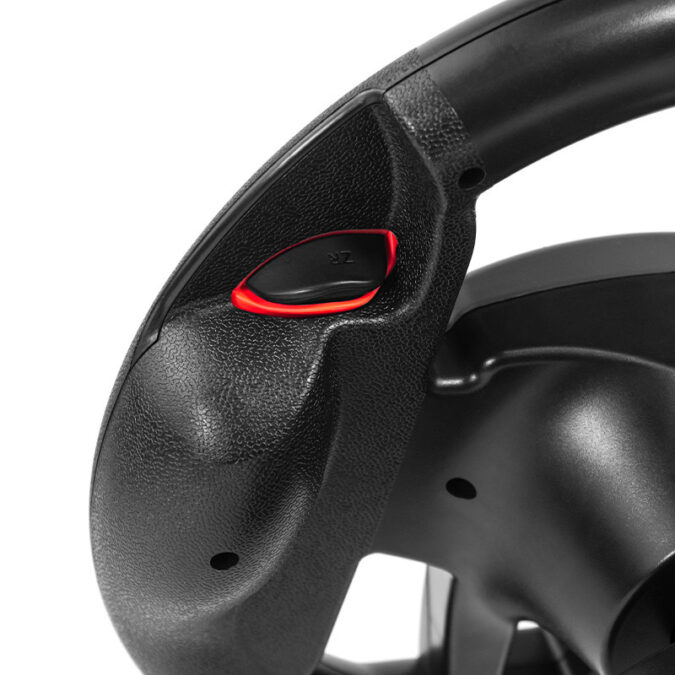 But the Numbskull design and engineering does include durable suction cups so you can easily attach it to tables and other flat surfaces. And specially-designed soft mounting brackets for your Joy-Con controllers, so you can lock them in without causing any damage.
As a lightweight product, the Numskull Designs Nintendo Switch Steering Wheel should be easy to move around if you game in different locations. Although the downside is that you'll presumably need to be gentle with your inputs to avoid overpowering the suction cups. Still, if you decide to use it to further your professional sim racing career, there are various DIY methods for securing it more permanently to your 80:20 rig.
And although the Switch isn't the most popular platform for racing games, you do have the Mario Kart titles, plus the recently released Hotshot Racing, the free Asphalt 9: Legends, WRC 9, Gear.Club Unlimited 2, Grid Autosport and TT Isle of Man Ride on the Edge among the Switch racing games currently available.
The wheel is compatible with games which have motion control built into them, so you'll need to check your favourite racing titles will work with the wheel.
The Numskull Designs Nintendo Switch Steering Wheel is available now for pre-orders, and you can buy it online from Geekstore, with stock estimated to arrive in October 2020.
You can check out all our existing coverage of sim racing wheels and pedals here. Along with sim rigs, and sim racing hardware. Or for those starting out with a small budget, our guide to the best sim racing wheels and pedals for beginners.