There's a new Wreckfest update for PC and consoles following the recent launch of Season 2 of the racing and destruction game from Bugbear Entertainment.
Along with patching out a potiential cheat in the current monthly Tournament event, a long list of graphics improvements are included. Plus the novice AI setting will now be easier if you've been struggling in career mode.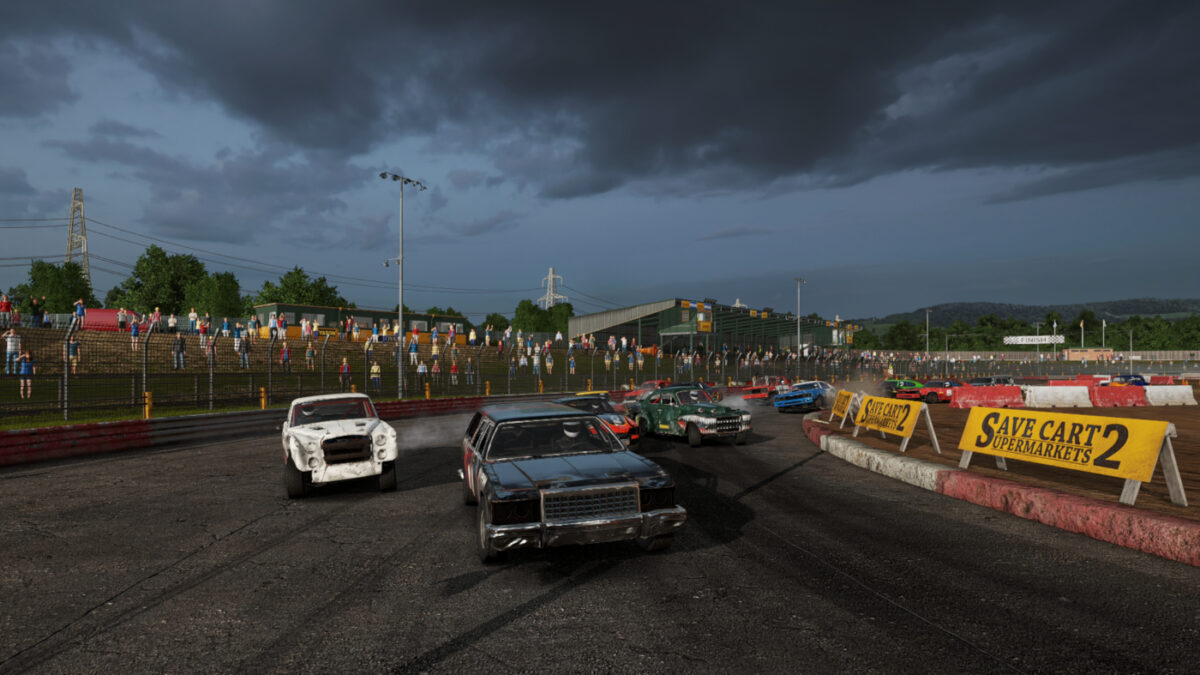 Obviously it's good to see a continued dedication to developing and improving the game over the longer term. Recent changes to the destruction events has increased the challenge which can make them a little more frustrating, but there's not much to top the feeling of smashing a motorised sofa out of the lead of a race.
Wreckfest Update Changelog:
Game version
Xbox: 1.6.0.2
PS4: 1.62
PC: 1.265410
SYSTEM
Game no longer sporadically freezes when changing upgrades in the garage.
Game should no longer crash to "Out of Vertex Buffer Memory" during event loading.
Game no longer gets stuck in infinite loading when changing upgrades while car creation is active in background for another player or bot.
TOURNAMENT
It's no longer possible to cheat extra time in the "Checkpoint Chase" monthly event.
It's now possible to tune Razor in the tournament event even when not owning the DLC.
Added missing wheels to the Speedemon tournament reward bundle.
Tournament shop items are now correctly marked as exclusive.
Improved "Razed" tournament reward livery.
GAMEPLAY/VEHICLES
Improved wheel hub vs dynamic object collisions.
Added a new "Bangers" AI Set containing banger racing cars.
DLC banger racing cars now also appear in the career banger racing events.
Dominator, Nexus RX and Boomer no longer appear as ineligible in lobby for seemingly no reason.
Added missing Class A AI Players for Grand Duke, Little Trasher, Wildking, Sweeper, Buller, Cardinal and Razor.
Schoolbus reward paint is now correctly received from "Diesel & Destruction" career event.
The career Big Rig event "The Convoy" is now easier.
Novice AI Difficulty is now slightly easier.
Improved Rocket RX AI.
Fixed Hammerhead fuel lid geometry.
Fixed Cardinal fuel lid joint angle.
Improved Hellvester visual damage.
Improved Supervan collision.
Fixed Bullet grid grille material.
Fixed Bullet double rails clipping with the door.
Fixed Bullet exhaust clipping with certain hood upgrades.
Fixed Bullet, Cardinal and Razor name shown in the purchase confirmation popups.
Fixed Rocket RX hood texturing, seat scale and fender pivots.
Fixed Cardinal missing seat.
Fixed flickering wheel lod of Speedbird tournament reward wheels.
TRACKS
Improved Hillstreet Circuit environment art.
Improved AI racing line on Boulder bank Circuit Main Route Reverse.
Added missing clutter texture to the example track.
Cleaned up a number of old levels.
AUDIO
Fixed all AI vehicles that had issues with audio cutting off at redline RPM.
Added new contact sounds for barrel shrapnel.
You can buy Wreckfest digitally on Steam for the PC, on the Microsoft Store for Xbox One and the PlayStation Store for PS4. Or via Game or Amazon.
Keep up with all the latest Wreckfest news, updates and content, right here. And you can see all the vehicles officially available in the game, from motorised toilets to trucks, with our Wreckfest Car List.