It might not be based on a real world circuit, but iRacing SuperSpeedway arrives with the 2021 Season 1 Patch 1 release, and comes with some sim racing history.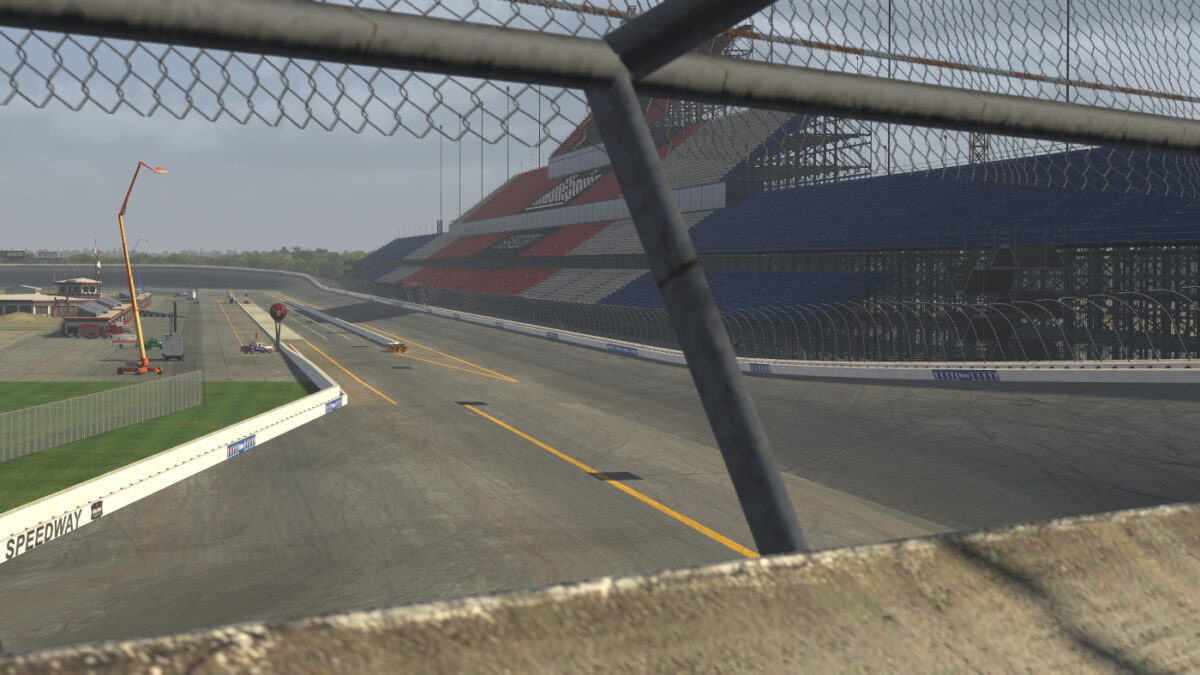 Coca-Cola Speedway originally appeared in the NASCAR Racing series of games developed by Papyrus Design Group. It was available in NASCAR Racing 2002 Season and NASCAR Racing 2003 Season, and the three-mile long oval with 36 degree banking was notionally located in Concord, Massachusetts, around 20 minutes drive from the Papyrus offices in Watertown in Boston.
Around the release of the final game from Papyrus, co-founder David Kaemmer moved on to found iRacing in Bedford, Massachusetts with John W.Henry, and the starting point was the code from NASCAR Racing 2003 Season.
So iRacing Speedway is a modern, updated version of the fictional CocaCola Speedway, from the game which most directly led to the creation of iRacing.
It's available to purchase now for $14.95 via the iRacing website, and includes one track layout with no night lighting option at the moment. There has been some debate over the price being the same as the real world tracks, which typically require the iRacing team to visit in person, laser scan them, and model all of the physical details.
Ultimately, iRacing SuperSpeedway is a nice tribute to the past to include in the sim racing service, and it probably won't be a required purchase for any of the major series, so it'll be down racers whether or not they want to add the track to their collection. But the prospect of modern NASCAR cars reaching 248mph might convince a lot of people to try this part of virtual motorsport history!
The track arrives as part of iRacing 2021 Season 1 Patch 1, and you'd expect a few things need tweaking after one of the biggest ever Season Builds was released.
iRacing 2021 Season 1 Patch 1 Change Notes
RACING UI:
General
Scrollbars have been updated.
A new look, and the main window scrollbar has been inset slightly from the right-hand frame of the application window so you can click & drag it more easily.
Scrolling performance has been optimized.
A direct link to the Membersite Forums has been added to the sidebar menu.
The link previously found under the Helmet menu has been removed.
Fixed an issue where some windows could jitter slightly.
Licenses
The cross-license icon will now only appear on events which are cross-license.
Race Now
Fixed two issues with the action button for each event in the Schedule Tab of a Series:
They now correctly say "Drive Now" instead of "Race Now".
They now correctly utilize the associated week's content for both the Test Drive and Create a Hosted Race options instead of always using the current week's content.

3D Car Viewer
Fixed an issue where the 3D Car Viewer could malfunction when UI Scaling was set to any value other than 100%.
Fixed an issue where the 3D Car Viewer would display in an incorrect color space when displayed on an HDR screen.
MEMBERSITE:
Fixed an issue where users were not being allowed to join a Session if they did now own all cars in the car class being used. Users need only own at least one car in the car class being used in order to join that Session.
SIMULATION:
Oculus Rift
Fixed an issue where the iRacing UI was causing Oculus Home to start.
TRACKS:
iRacing Superspeedway
NEW TRACK!
A relic from an older computer age has been reborn!
Enjoy a trip down memory lane and a piece of sim racing's heritage with iRacing Superspeedway, making its debut on iRacing for the first time just in time for the 2021 season. First conceived as a fictional arena for previous-generation NASCAR Cup Series cars to run without restrictor plates, reaching speeds much higher than they would in the real world, this refreshed version of the circuit brings it to life for iRacing's entire fleet of diverse racing machines. Spanning three miles in length and with massive banking of more than 30 degrees in the turns, iRacing Superspeedway requires a lead foot and precise inputs to master. It's all about keeping the wheel as straight as possible to maximize your speed, and staying in the draft during the race. But as with any superspeedway, one wrong move can be the end of the race for you—and a huge group of your competitors.
Irwindale Speedway
(Figure Eight and Figure Eight Jump) – Some gain-time checkpoints have been added to prevent significant course cutting.
Limaland Motorsports Park
Some gain-time checkpoints have been added to prevent course cutting at Turn 4.
Another update, iRacing 2021 Season 1 Patch 2, is already scheduled for release on December 17th, 2020. This should add the "early release" BMW M4 GT3 along with more tweaks and improvements to the latest content.
You can sign up to iRacing, here (and credit your referral to ORD, which we'd appreciate!). And see all the free, and the paid, vehicles available in our full official iRacing car list, here, or check out all of the included circuits, and the others you can buy, in our full official iRacing track list, here.