Forza Horizon 5 will be released on November 9th, 2021. And you can check out all the vehicles you'll be able to enjoy with our full Forza Horizon 5 car list.
We'll be keeping the roster constantly updated with the latest additions as we get closer to the arrival of the latest in the Horizon series from Playground Games. That includes all official announcements, and any confirmed cars spotted in trailers and photos. So far 26 manufacturers have appeared, with 47 individual cars, trucks, off-road buggies and more being spotted. Many have appeared in previous Forza Horizon titles, but there will be even more customisation options in the latest game, so you'll be able to tweak and tune them even more.
One new car being flagged up for Forza Horizon 5 is the 2021 Mercedes-AMG Project ONE, with a 350 km/h top speed and F1 hybrid technology. The two-seater hypercar produces over 1,000hp from a mid-engined 1.6 litre V6 petrol engine and four electric motors.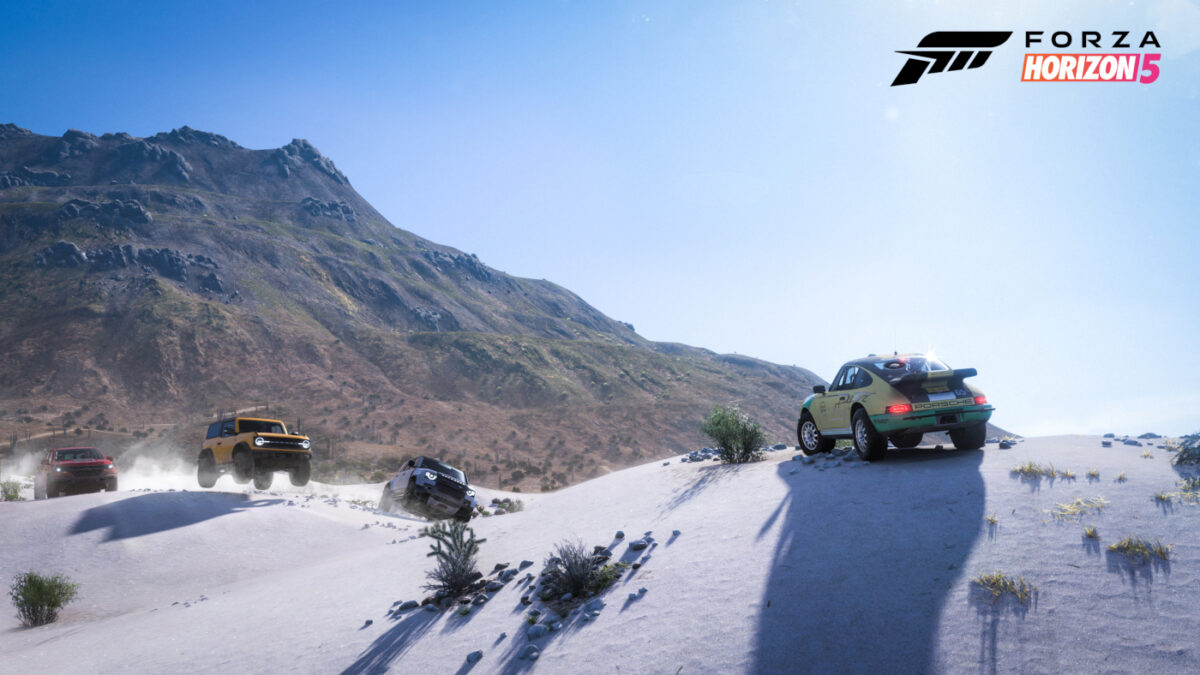 The Forza Horizon 5 car list
Alumi Craft
2015 Alumi Craft Class 10 Race Car
Apollo
2018 Apollo Intensa Emozione
Ariel
Chevrolet
2020 Chevrolet Corvette C8
2018 Chevrolet Camaro ZL1 1LE
2017 Chevrolet Colorado ZR2
Ford
2021 Ford Bronco
2019 Ford Bronco R Concept
2019 Ford Ranger Raptor
2018 Ford #25 Ultra4 Bronco
2017 Ford F-150 Raptor
1994 Ford Supervan 3
1975 Ford Bronco
1973 Ford Escort RS1600
1932 Ford De Luxe Five-Window Coupe
Funco Motorsports
2018 Funco Motorsports F9
Hennessey
2018 Hennessey Velociraptor 6×6
Hyundai
Jaguar
Koenigsegg
Lamborghini
2014 Lamborghini Huracan
2012 Lamborghini Aventador
Land Rover
Local Motors
2014 Local Motors Rally Fighter
McLaren
2019 McLaren 720S Spider
2018 McLaren 720S
2018 McLaren Senna
Mercedes-AMG
2021 Mercedes-AMG ONE
2018 Mercedes-AMG GT 4-Door Coupé
Mercedes-Benz
2015 Mercedes-Benz Unimog U5023
Mitsubishi
2008 Mitsubishi Lancer Evolution X
Pagani
Penhall
2011 Penhall "The Cholla"
Polaris
2015 Polaris RZR XP 1000 EPS
Porsche
2020 Porsche Taycan
2019 Porsche 911 Carrera S
2018 Porsche #00 Macan LP Racing T1 Rally Raid
1989 Porsche #65 911 Off-Road "Desert Flyer"
1985 Porsche #185 Racing Porsche 959 Paris-Dakar
1973 Porsche Carrera 2.7 RS
Rimac
RJ Anderson
2016 RJ Anderson #37 Polaris RZR-Rockstar Energy Pro 2 Truck
Saleen
Subaru
1998 Subaru Impreza WRX STI 22B
Zenvo
Keep up to date with the latest Forza Horizon 5 news, updates and DLC, here. Forza Horizon 5 is available via the Microsoft Store or Steam.