We've seen some pretty length build and patch notes in our time, but the latest BeamNG.drive v0.23 update must be one of the biggest for some time. Some of the highlights include a complete revamp of the popular Ibishu Pigeon, and a new vehicle with sportier lines in the shape of the Ibishu Wigeon.
Lots of other cars, trailers and more have also been tweaked, along with the maps in the driving physics game. The biggest change is a revamp for the Gridmap location with 11 different zones for different types of terrain and purpose. The graphics also benefit from new physically-based rendering, and the audio has been tweaked, along with the user interface.
The game engine, world editor and physics have also been improved, and there are some new challenges to take on. Plus you'll now have to deal with traffic signals and improved oil simulation, including minimum and maximum levels which shouldn't be exceeded, including when you're taking corners or jumps.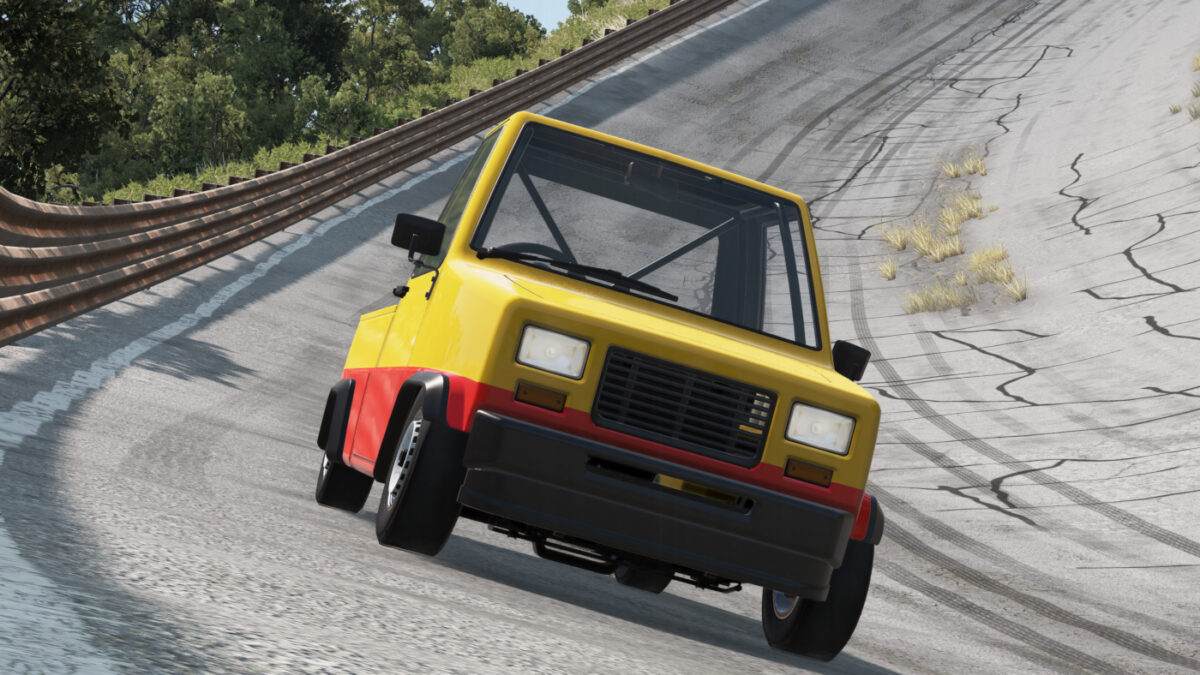 BeamNG.drive v0.23 Update Release Notes:
Vehicles
NEW VEHICLE – Ibishu Wigeon
A lightweight sporty microcar based on the Pigeon chassis
Available in 3- or 4-wheel models
Choice of a 550cc I3 or 1.3L i4 engines
Features a unique lift up canopy
REVAMPED VEHICLE – Ibishu Pigeon
Total visual overhaul with a brand new highly detailed 3d model and new textures
Redesign of the chassis and mechanicals to be more realistic
New 4 wheeled "plus" models with independant front suspension
Adjusted vehicle proportions and mass for greater authenticity
Completely new Jbeam built from the ground up, with improved stability, better deformation characteristics and a higher level of detail
Engine options refined, replacing the old diesel with a 550cc i3 petrol engine, and the old 600cc engine with a new 1.3L i4 DOHC engine
New 4 link rear suspension option for improved handling
New alternate steel wheels and hub caps, as well as new Ibishu Magtech wheels and Tims Kodaira wheels in 10×6 New racing slick and mud-terrain tires
New customization parts and configurations
Updated 'Street Cleaning' skin and made it colorable
Added 'Two-Tone' skin
Autobello Piccolina
Fixed collision issue between tubular offroad rear bumper and engine
Fixed tubular offroad rear bumper being too flexible
Bruckell LeGran
Improved brake fade resistance, added heavy duty sway bar for wagon configs, reduced boominess of v6 engine sound, suspension sound tweaks
Bruckell Moonhawk
Increased tie rod strength
Burnside Special
Improved strength and rigidity of leaf spring mounts
Cherrier Vivace/Tograc
Fixed instability in front bumper caused by accelerating and braking hard with the steering at full lock
ETK 800 Series
Fixed html error on the screen
Added new interior color options
ETK I-series
Improved underbody textures
Gavril Barstow
Improved underbody textures
Gavril D-Series
Fixed instability when off road dampers set to max damping, moved solid front axle shaft devices into separate parts
Cleaned up engine jbeam files and part names for easier reading
Added reverse beeper for D45 trucks
Fixed front door limiters not allowing free movement of the doors
Fixed weak/unstable transmission mount
Fixed collision between bullbar and bumper causing the bumper to bend strangely when landing jumps
Fixed collision fighting between bumper and utility bullbar
Pickup

Fixed texture leak issue on the radio
Fixed RS V8 lettering on the stepside bed
Gavril Grand Marshal
Increased tie rod strength
Cleaned up engine jbeam files and part names for easier reading
Gavril H-Series
Moved solid front axle shaft devices into separate parts
Cleaned up engine jbeam files and part names for easier reading
Added reverse beeper for H45 trucks
Added roof bars
Added mattress loads for cargo area
Fixed nitrous beams not breaking, permanently fixing the body to the frame
Fixed ambulance light flares
Fixed ambulance body breaking issue that could lead to a node flying from the vehicle while still attached, causing strange vehicle handling
Gavril Roamer
Fixed minor default two-tone skin issue
Hirochi SBR4
Fixed issue with adaptive brakelights
eSBR: Fixed an issue with gauge map breaking when terrain ends
Hirochi Sunburst
Upscaled texture resolution and improved windshield wiper meshes
Increased front half shaft travel
Ibishu Hopper
Added 6.9L V8 engine
Set tire pressure of crawler config to 10psi
Fixed instability when off road dampers set to max damping
Moved solid front axle shaft devices into separate parts
Ibishu Pessima
(80s) Added ultra high performance radiator to Hillclimb and Drift configs, switched GTz to high performance radiator
(90s) Reduced boominess of v6 engine sound
Soliad Wendover
Improved brake fade resistance
Reduced boominess of v6 engine sound
Suspension sound tweaks
Trailers and Props
Dry Van Trailer

Fixed BeamNG skin not working properly with the loading ramp door
Adjusted torsional rigidity and improved deformation
Cola load jbeam structure split into separate blocks for each crate, tweaked deformation

Box Utility
Trailer Bogie
Added more damping to tires and suspension
Added collision triangles
Bollard
Fixed slidenode rails being misnamed causing base mesh to deform when spawned
PBR texture update on the following assets:
Caravan (Travel Trailer)
Dry Van Trailer
Flatbed Trailer
Small Flatbed Trailer
Ball
Bollard
Cardboard Box
Cinderblock Wall
Concrete Barrier
Concrete Retaining Wall
Cones
Flip Ramp
Tire Stacks
Mattress
Giant Flail
Inflated Mat
Kick Plate
Large Bridge
Large Cannon
Large Roller
Large Spinner
Metal Box
Metal Ramp
Cannon
Roadsigns
Rocks & Boulders
Rollover Sled
Saw Horse
Shipping Container
Steel Barrel
Street Light
Suspension Bridge
Tire Wall
Traffic Barrel
Traffic Tube
Upright Piano
Weight Pad
Tires
Increased the cornering stiffness of smaller off road tires
Updated materials on bias ply vintage tire
Updated materials on rally tire
New PBR textures on the following tires:

Grip-All ATR
Grip-All Trial Ace
Grip-All AD82T
Grip-All Radial T/A
Grip-All Drag
Race slicks
TR800 Transport tires
Grip-All MuckMaster
Wheels

Updated several materials to PBR

Misc

Added odometer measurement to vehicle electrics
Engine deform groups tweak
Added stock and race oil pan parts to all cars (excluding Gavril T-Series and Wentward DT40L)
Adjusted headlights and taillights flares for all vehicles
Added newly introduced friction values to all vehicle's powertrain devices
Fixed Test-Rollers throwing errors when no other vehicle was around
Note: Not all vehicles have been fully converted to materials 1.5 (PBR).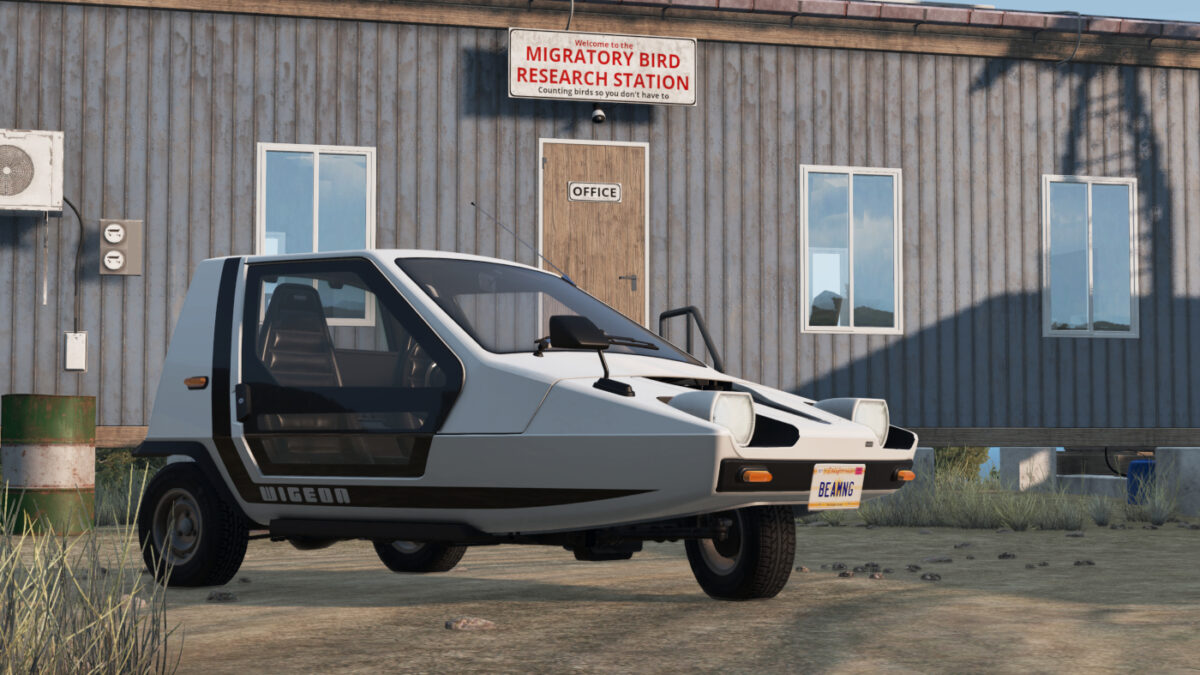 Levels
REVAMPED MAP – Gridmap V2

Created a newer visual style for the map while respecting the original with improved textures
Split the map into 11 different zones, each with a different purpose such as Offroad, Suspension, Handling, Rivers, Terrain Types etc
Expanded the map to be over four times the area of the original to accommodate the new zones and also so there is some empty space between them
Added "landscape" elements but also opened up the map so you can drive outside
Rendering
New Physically-Based Render
New material system based on metallic/roughness workflow documentation is available here
Improved Graphics presets, added Ultra option:

Ultra preset enables Fresnel for direct specular lighting
Ultra preset enables specular color for direct specular lighting

Improved ambient diffuse lighting
Improved direct specular lighting
Vehicle Paint type added to make use of new material system. Old vehicle colors will be upgraded to paints with default values for new fields during loading
Experimental implementation of Vulkan renderer. At this moment is unstable but x2 as fast on the CPU compared with DX11.
Please read this announcement for further info
Added option to test the work-in-progress support for Vulkan renderer, available from the Launcher → Support Tools submenu
Powertrain
Added flywheel torque to tracked controller data, engine dyno now displays flywheel torque rather than raw combustion torque
Fixed wrong gearbox torque readouts for all transmissions
Slight math optimizations
Fixed an issue where over-revving an engine after running out of fuel would deliver usable torque
Tweaked ICE overrev damage slightly
Fixed an issue where reduced coolant mass wouldn't apply correctly to thermals math
Fixed an issue where turbochargers were rapidly bleeding pressure even if no BOV was present
Improved turbocharger BOV behavior
Added gearwhine support for DCTs
Fixed brake squeal staying audible after breaking off a wheel
Slightly adjusted how temporary rev limiters sound
Implemented better oil simulation for combustion engines:

Oil is now simulated as a variable mass that can change over time due to external factors
Implemented support for breakable oilpans and oil radiators, damaging them will cause oil to leak
Completely reworked oil starvation logic, added support for oil starvation during cornering and jumping
Oil now has a safe minimum and maximum level that should not be exceeded
Updated engine thermal debug app to show various oil system related things

Added rpm and torque sensitive friction losses to relevant powertrain devices
Fixed sequential gearbox not adhering to gearbox safety option when using H-Shifter inputs
Controllers
Fixed drive mode default forward mode being stuck in M
Fixed missing mandatory mainController API in dummy.lua
Reduced garbage collector load in Vivace gauges
Made two-step launch inactive by default again
Added ability to configure two-step launch via drive modes
Fixed input action "Previous drive mode" not working
Scenarios
Added Goliath scenario
Added King Size scenario
Added Collect Mountain scenario
Added Garage to Garage Scenario: A procedural vehicle-delivery scenario, where you only have one attempt per vehicle
Remastered Jump Course scenario
Remastered Port Escape scenario
Fixed missing translations in Barrel Knocker scenario
Removed old scenarios that already exists as Time Trials
Input and Force Feedback
Note: Logitech G923 for PS4 and Logitech G29, in combination with certain Logitech G-Hub versions, can result in the inability to launch BeamNG.drive. This known issue will be fixed in a future release of Logitech G-Hub. In the meantime, please plug those particular steering wheels only after the game has started
Improved Options menu for configuring USB steering wheel lock angle and type, should be more intuitive now to choose the right settings
Fixed Logitech G923 for XBox not being correctly detected
Fixed duplicate parking brake binding in Logitech G29 steering wheel: it now switches camera instead
Fixed several scenario dialogue menus appearing only when certain input controls have been assigned
Fixed some tiny memory leaks during initialization of newly plugged controllers
Improved readability of some DirectInput error logs
Tweaked some DirectInput log messages which looked scarier than they really are
Limited maximum vehicle specific FFB multiplier to 150%
Added default bindings for the following devices:

SHH Newt H-shifter
Sim-plicity SW20 V3 steering wheel
Logitech G923 Racing Wheel for XBox One
Logitech G923 Racing Wheel for PlayStation 4
SimRacingCoach button box for steering wheels
Heusinkveld Sim Pedals Sprint
Walking Mode
Reworked position holding to be more physical via locking the rotation of the ball
Converted external controlling force to internal ones
Converted propulsion from applied force to a torque on the ball
Reworked jumping mechanism
Implemented a ball rotation speed sensor that can measure the speed of the unicycle over its currently touching surface
Walking Mode character will stay where it is when using "Tab" to switch to another vehicle
Walking Mode character now has a mesh by default
The crash when activating Walking Mode should be resolved now
Physics
Static collision improvements
Fixed couplers not triggering detachment events when an object is deleted
Changed coupler events to only be forwarded to game engine, when they are inter-vehicle
Added guard that detects and ignores degenerate dynamic collision triangles
Fixed drag force calculations of node grabber
Added support for the inter-vehicle node grabber. It is used when the player character grabs other nodes
Fixed huge frame spikes caused by Lua command queue processing of inactive vehicles
Exposed be:getTerrainDrivability to game engine Lua
Improved physics core's thread scheduler smoothness
Traffic
Created traffic signals system, including functional intersections and signal controllers
Converted the traffic lights in East Coast USA to work with AI! (West Coast USA intersections are a work in progress and will take more time, sorry!)
Reduced the amount of duplicate vehicles spawned with the Smart vehicle group mode
Improved the vehicle pooling system logic
Improved a few police actions
AI
Added new aggression mode, "manual", to override the basic aggression value for Flee & Chase AI modes
Added bridge to map manager and AI to enable interactions with traffic signals
Throttle/brake control improvements at very low targetSpeed (ex. coming to a stop at intersections, traffic lights)
Preserve AI mode in traffic when a closest road is not found
Audio
Fixed excessive sound volume during replay playback (could be noticeable during crashes)
Fixed Pickup suspension volume
Fixed Vivace stage 3 bov volume
Rebalanced transmission whine load curve
Added surface sounds for ice and wet asphalt
Added tread hum to asphalt, metal, and wood surfaces
Added electric motors for Large Spinner and Large Roller
Added generic ambience for tunnels and sky
Performance and memory improvements
Improved rumble strip contact smoothing
Optimized wheel skid calculations
Stopped engines do not keep playing with a small residual sound
UI
Added sliders to manipulate the new paint values in the paint menu
Fixed behavior of Simple Damage App Added a new external UI mode – WARNING: not finished yet, experimental! Updated and cleaned up JS code to ES6 Fixed a significant number of JS errors Migrating from AngularJS to Vue 3 – work in progress Improved UI App / layout system:
Added support for subfolders
Improved editor
Improved layout file saving: now only saves basic info so the file format is future-proof
Fixed Tacho and other apps flashing or flickering when switching vehicles, also added fading Improved and fixed errors with Messages and Countdown apps Improved CEF event digestion, now only collects as much data as needed. Should prevent CEF from getting overloaded with data Various bug fixes and improvements Options → Graphics → FPS Limiter slider range has been increased to 1000Hz Created UI overlay that fades the screen to and from black (intended for scenarios and cinematic scenes) Scenario Start Screen now correctly parses bbcode and bindings Select Buttons now correctly parses bbcode and bindings, improved visual cues when hovering and clicking a button Vehicle's color selector now allows for finer steps Adjust selection colors for Vehicle, Level and Scenario selection menu Improved Vehicle Selector's Search Bar, added ability to show configurations by double-clicking the search bar Minor tweak to vehicle selector: it now displays the amount of variants for each vehicle
Fixed several broken URLs in the message that informs when a vehicle instability has occurred Fixed the Performance Graph menu attributing all 'physicsState' cost to the replay subsystem Removed an error dialog that appeared when the logging system was unable to work correctly Added deprecation warning to thumbnail CEF app, added button to redirect to imgui one Improved Navigation app:
This app should now cause drastically less lag, especially on maps with a lot of roads, like Italy
Now shows the Groundmarkers route

Improved how default spawn points are displayed in the UI Improved translation support of credits screen (only a handful of credits are translated so far) Updated list of credits, former employees are now being listed under a dedicated section instead of the "Special Thanks" Fixed graphics preset button order, they are now shown from Lowest to Ultra Minor improvement in the selection of UI apps shown during Time Trials Fixed an issue where Graphics preset were not correctly choosing between FXAA and SMAA Revamped Ctrl+F panel statistics: now it's also showing instantaneous FPS, maximum/minimum values, as well as 1%, 5% and 10% values. These new stats are calculated based on the past second of gameplay
Fixed Ctrl+F and Performance Graph reported framerate values: they used to be an inconsistent average over the past handful of frames, rather than the real-time value
Fixed launcher restart message box showing inverted title/description
Revamped nodegrabber behavior while in walking mode: it'll now use a more physically accurate system, simulating human strength and proper action/reaction. Objects will reachable and held at around an arm's length when possible, with some leeway to allow picking up objects from about as far as the ground
Resolved an issue with fixed nodes staying in place even after replacing the car with a different one
Cameras
Players can now switch from a forced point of view back to the regular camera in almost all situations. Modders who want to enforce certain camera can use binding filters to disable it when desired
Camera mods should now work without reloading LUA or the game, and without needing an equivalent LUA workaround
Added ability for modders to more easily modify existing camera behavior: you can now add custom steps in the middle of the camera processing pipeline. For example, the existing official TrackIR support, as well as the camera transitions, have been migrated to use this new pipeline
Replay
Improved the way replay attempts to restore the situation previous to a replay playback: it will now focus the camera back on the right vehicle when possible
Fixed issues when inactive vehicles were recorded (such as those used by traffic system)
Game Engine
Improved performance when using traffic with vehicle pooling active
Improved flexmesh normal inversion on deformation: no more inverted/dark spots on thin meshes upon deformation
Improved traffic performance when a traffic vehicle is repositioned
Completely revamped behavior of the FPS Limiter and the Background FPS Limiter: they should work more consistently now across almost all computers even when VSync is enabled
Fixed issue where the game could sometimes switch to an inactive vehicle
Fixed some cases where vehicle mouse triggers were visible when they shouldn't
Vehicle Recovery: Reset on "key up" instead of "key down"
remoteController: fixed QR code generation
Updated confetti particles
Updated ground markers texture
Added onVehicleActiveChanged hook
Fixed texture extension across Game Engine and official content
Removed drawArrow from vehicle DebugDraw
TextureCooker: fixed crash on exit
Fixed unloading extensions that were loaded with loadAtRoot
LuaApi FS mountList: return type changed to bool
Environment: fixed sky on maps that were saved with time different than startTime
Environment: fixed reloading of ground model in wrong map loading event
Added material name in error message of processedMaterial
core_online: fixed exception upon connection timeout
debugDraw: Tri & Quad not using ztest property
Fixed some environment resetting to default values when starting scenario
Mod Manager

Fixed modActivateAll & modActivate not running modScript files
Fixed modActivate, Delete, Deactivate not triggering FileSystem notification for zip without manifest
Fixed trying to mount invalid zip, added error message

Users with significant number of active mods should experience slightly improved loading times
Improved map navigation arrows
World Editor
Created Traffic Signals tool, which allows for the placement of intersection objects with signal controllers to control the flow of traffic on the map
Added material debug visualization options to editor's 'Visualization Settings' menu
Material Editor:

Added support for PBR materials

Asset Browser:

Added type-based color-coded bars to assets
Added additional information to assets of type 'image' such as GFXFormat
Fixed crash when trying to display tooltips of 1DTexture

Forest Editor

Fixed "Add new mesh" and "Delete mesh" buttons
Fixed crash in forest editor when switching level

Level Validator

Renamed "Level Log Tool" to "Level Validator"
Added check for duplicate objects in the level
Added spline object check to level validator to check for objects with less than two nodes
Improved floating object detection by removing some false positives

Scenetree

UI overhaul of items in the scenetree for clarity

Added text window when editing a lua function of an object
Fixed shift click selection when in search mode
Flowgraph Editor
Created a new folder with nodes for the traffic signals system
Fixed some issues with the Xor node
Added Distance from Ground node
Added Random Number node
Added alternate mode to Select Buttons node
Added Set License Plate and Generate License Plate nodes
Improved overall Node visuals: Icons, Grid-snapping, Colors, Spacing, etc.
Lots and lots of Node fixes and improvements
Added project navigation bar
Added debugging viewmodes: Default, Heatmap and Simple
Improved detection of invalid link connections
Added Flowgraph Modules: Under-the-hood improvements that makes reusing code easier and leads to better Nodes
Added grouping and ungrouping for stategraphs/nodes
Added "Impulse" flow-type: This will show you which pins will only let flow through for one frame, or are intended to only receive flow for one frame
Added Formatting options for number pins
Improved text-input for big strings for string pins
Improved hardcoding for boolean pins, now enabled by default
Improved comment generation in projects
Flowgraph projects can now be directly saved as a scenario. They need to be saved inside a levels /scenarios/ folder and have a property in the Project Settings enabled
Flowgraphs can now save persistent data to use between runs
Improved Node behavior: Various nodes can now be toggled between a once-mode and a repeat-mode:

Once-mode-nodes have to be reset but can receive continuous flow and thus be chained more easily
Repeat-mode-nodes will execute their action every frame and don't need to be reset

Various new/improved Nodes:

Added a set of easy-to-use Timer nodes
Added a set of Button-Nodes, to display buttons in the game UI
Added improved Camera Path nodes
Added Fading nodes, to fade the whole screen to and from black
Added Align-To-Couple node, to easily setup coupling for two vehicles
Added Raycasting node, for simple in-game raycasts
Added nodes to save/load persistent data
Added nodes for procedural campaths
Added node for retrieving the distance of the currently active Groundmarkers
Added nodes to support the "Sites" system
Added node for custom UI layouts (WIP)
Added node to convert Units based on the users preferences (meter, kilometer, feet, miles, also as velocities)
Lua
Improved performance of JSON decoder
Fixed JSON encoder to correctly escapes strings
Improved performance of Lpack's encoder and decoder
Deprecated the openFile() API, which will now redirect to openFolder() and explorerFolder() for TorqueScript and Lua respectively, and warn about it in logs
New MissionInfo system to manage Mission Information UI and its button actions
Fixed license plate regeneration bug where wrong format for the loaded level is used
Improvements to groundmarkers for better performance
Vehicle spawning interface improvement – added options parameter to enable more data to be provided
Fixed bug where mission path persisted after the level has been unloaded
Always send object data to vehicles in map.lua updateGFX. This corrects a bug whereby if only two vehicles exist and one of them is removed, mapmgr.objects does not get updated since there are no inactive vehicles left (special thanks to angelo234 for pointing this out)
Improved performance of "point to point" and "point to node" and traffic AI mode path finding
Improved performance and accuracy of surface normal calculations
Transmit exported graphpath and quad tree data directly from game engine Lua to vehicle Lua to avoid having to reconstruct those data structures from map data on the vehicle side
Fixed duplicated module method export in partmgmt.lua
Improved Lua command queue processing to be more robust
Added slipVec attribute to particle data which contains the node slip vector
Changed obj:getNodeForceNonInertial(nodeId1, nodeId2) to also return the perpendicular to the beam force component
Added obj:get3nodeAngularVelocity(axis, nodeId1, nodeId2, nodeId3) API. It returns the angular velocity of the 3 nodes around the axis vector
Added obj:getNodeForceVectorNonInertialXYZ(nodeId) which returns the full non inertial force vector
Fixed core_camera.getDriverData() returning the first node of the vehicle when no driver node is defined in the vehicle jbeam ('nil' will now be returned instead)
Replaced Lua websocket with c++ implementation for speed, reliability, and safety
Removed creatormode – superseded by external UI
Rewrote UI data streams: now faster, more generic and versatile
Improved how the UI works together with the game. Hooks and streams are now the only ways to enable external user interfaces and alike
ConsoleNG
Lists only active vehicles, refreshes list once vehicle changes active state
Increased default font size
Telemetry
Fixed how load screen time is measured
Fixed not properly writing out report onExit
You can buy BeamNG.drive for the PC via Steam, or through Humble Bundle. Keep up with all our latest BeamNG.drive news and coverage, here. Or check out our full BeamNG.drive car list for all the officially released vehicles for the game.