With the release date approaching, the latest Hot Wheels Unleashed Diecast Trailer shows even more cars from the launch roster. And they now include replicas of real world manufacturers, and famous example from TV and films.
A total of 20 new cars have been shown, along with 37 Hot Wheels originals, and four of the pre-order DLC bonuses. And if you want to drive something based on a real car, then you can choose from classics like the Ford 32 and Dodge Charger Daytona, to the modern Koenigsegg Jesko, Audi R8 Spyder and Ford Mustang GT.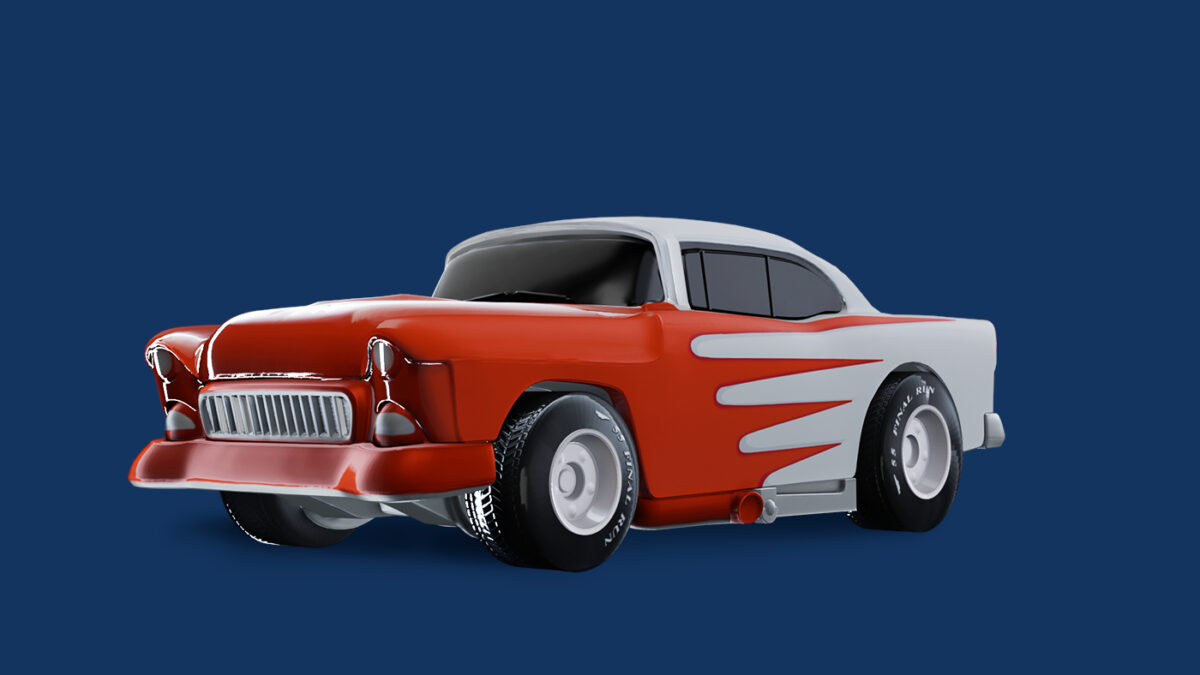 The full list of the licensed manufacturer cars is:
Audi R8 Spyder
Audi Sport Quattro
'55 Chevy
Copo Camaro
'71 El Camino
'69 Dodge Charger Daytona
RAM 1500 Rebel
FIAT 500
'32 Ford
1956 Ford Truck
2018 Ford Mustang GT
Humvee®
Honda S2000
2020 Koenigsegg Jesko
Mini Cooper S Challenge
But there's more, as alongside the Hot Wheels and real cars, come five examples from the world of entertainment. And you'll definitely recognise them.
TMNT Party Wagon
Snoopy (the HW City Peanuts model)
K.I.T.T. (a modified 1982 Pontiac Trans Am)
Back to the Future Time Machine (the DeLorean DMC-12)
Batmobile (based on the 2020 Hot Wheels Batman collection, I think)
We knew that one of the pre-order bonuses would be the Sportscars Pack, with the GT-Scorcher and Track Manga, but now the Beefed Up Pack preo-order DLC has been revealed as the Baja Bone Shaker and HW Armored Truck.
And we also now that the upgrade mechanic in the game will be called the Rarity System, which will let you collect and dismantle in-game vehicles to improve how your cars perform. And some upgrades will only be found in secret and unique ways.
You can keep up with all the latest Hot Wheels Unleashed news and updates here. And check out the complete Hot Wheels Unleashed Car List as more models and DLC gets announced.
You can add Hot Wheels Unleashed to your Steam wishlist, here. The Xbox versions are available for digital pre-order through the Microsoft Store, with the bonus of the Sportscars Pack including the Track Manga and GT-Scorcher . Or pre-order physical editions at Game, and you also get the two additional cars.
The PlayStation store lists the standard edition with the Sportscars Pack, the Collectors Edition with the Sportscars and Beefed Up Packs, plus the Vol 1 Pass, and the Ultimate Stunt Addition, which includes the Sportscars, Beefed Up and Street Beats Packs, plus the Vol 1 and 2 passes for £69.99.