It's been teased a little in recent weeks, but we've now seen the new Next Level Racing F-GT Elite cockpit range launched with three options available globally from September 2021. The main selling point is that it's the first sim racing cockpit built with aluminium profile to provide Formula, GT and Hybrid seating positions. So you get more stability and versatility, along with a range of accessories and additional options.
"We are pleased to announce our highly anticipated Elite range of aluminium profile cockpits. The elite range is based on our community, virtual and real motorsport industry feedback in the quest to close the gap between virtual and reality. Our vision for the Elite range was to innovate and improve functionality, aesthetics, quality, and design to deliver a new standard for how an aluminium profile cockpit really should be." – Hess Ghah, CEO of Next Level Racing.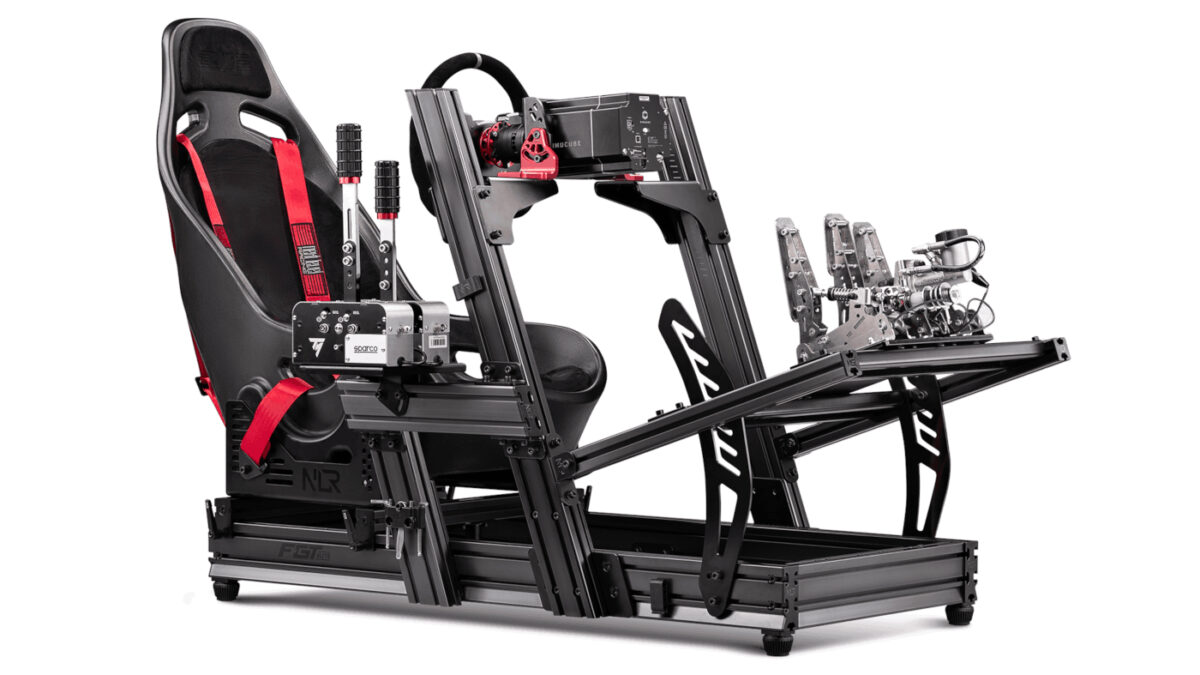 The three available options in the range are the Next Level Racing F-GT Wheel Plate Edition, which costs £899 (or 999 Euro), which is suitable for any wheel base. Then comes the Next Level Racing F-GT Elite Front & Side Mount edition at £999 or 1099 Euros for sim racers with direct drive wheels. And finally there's the Next Level Racing F-GT Elite iRacing Edition, which costs £999 or 1099 Euros, but also comes with a free 12-month subscription to the sim racing service.
Obviously none of the wheels come with the pictures wheelbases, pedals and seats. But the company has also announced the Next Level Racing Elite ES1 Simulator Seat for £349 (399 Euros), made from high-quality PU foam padding wrapped in racing suede fabric for comfortable and ergonomic support.
The iRacing partnership looks nice, with the blue anodized parts adding a bit of colour, and new users will save on a year-long subscription. If you're an existing iRacing member, it's probably a little less enticing, unless you really like the look of it.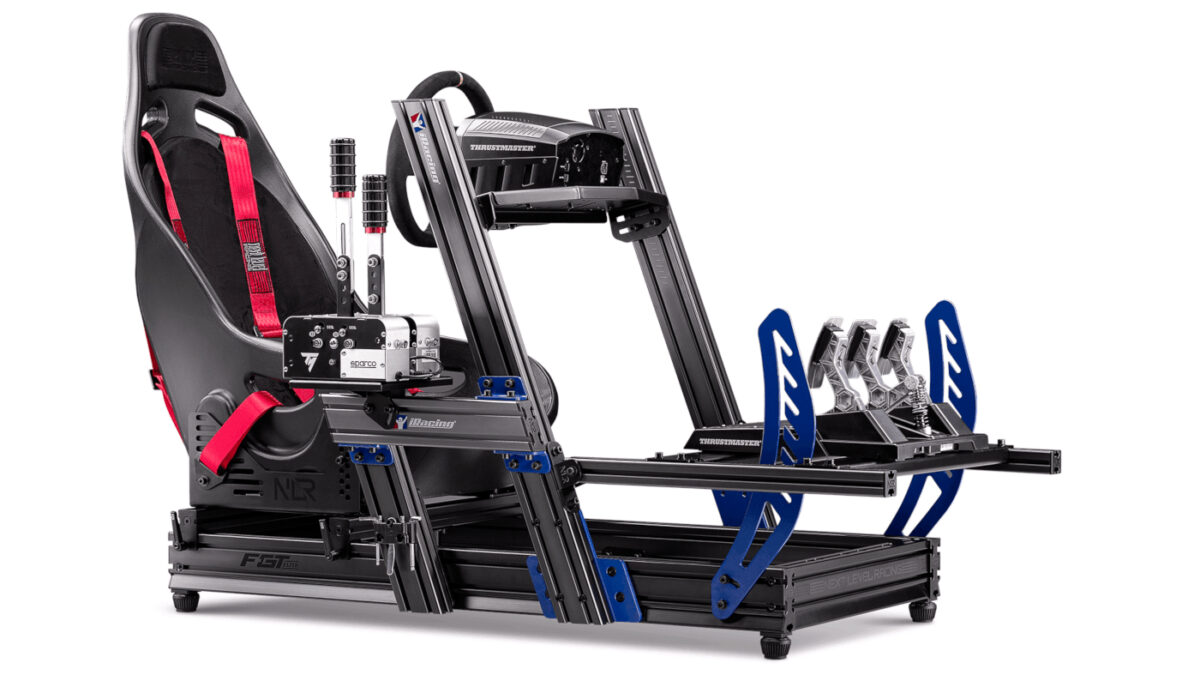 And then comes the F-GT Elite Wheel Plate Edition, which will probably be the most popular choice, as it'll work with pretty much any wheel and pedal options you desire.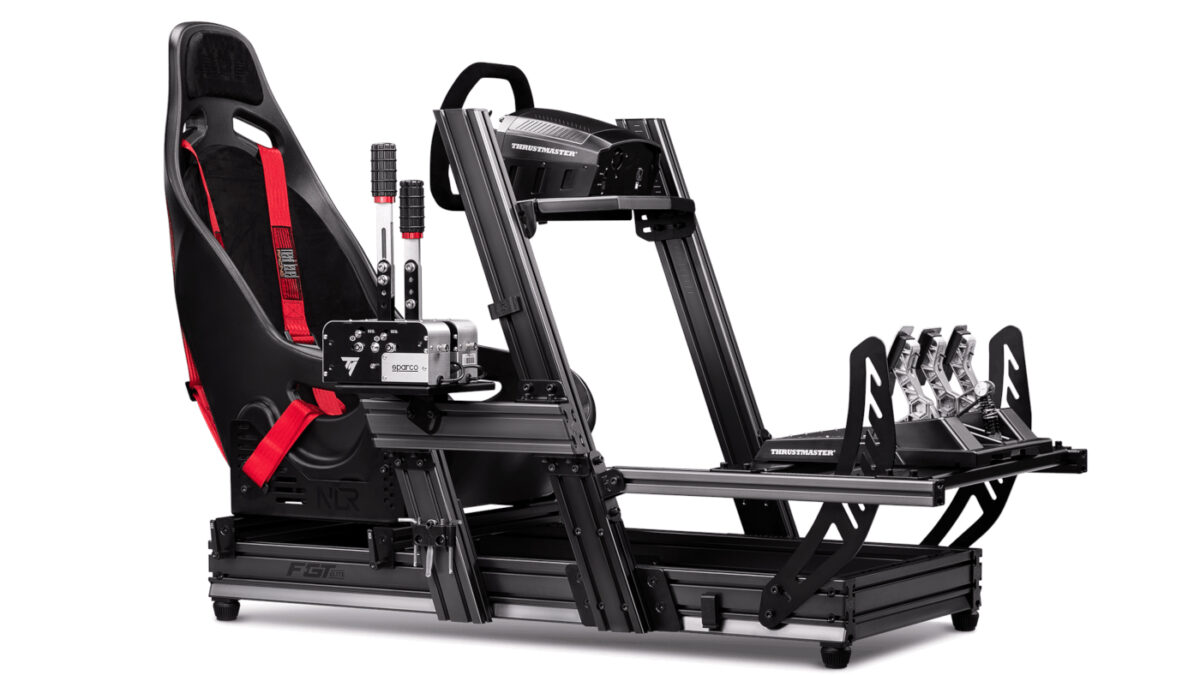 Importantly, all three seats let you quickly switch between driving positions, and adjust your seat, wheel, pedal, shifter and handbrake mountings, with the kind of stability you'd expect from a static 8020 aluminium profile rig. All of the metal is scratch-resisteant post-anodized custom carbon gret with premium carbon steel powder coated components, and the use of T-slot extruded aluminium means you can potentially use a range of accessories from a variety of brands to add onto your sim racing cockpit.
The NLR seat sliding system and brackets aim to give you adjustability without any flex, and carbon steel is used for the brackets, with 98 adjustment options to get you comfortable. The base of the cockpit clocks in at 53kg, and it comes with extras including a tool kit holder, foot step, 8 custom cable clips, and height adjustable shock absorption feet for wonky floors.
Both the wheel plate and iRacing versions are pretty much identical, but the direct drive option includes a zero-flex front and side mount with 70 degrees of adjustability for direct drive wheel bases. The 5mm thick 6061 solid CBC anodised aluminimum can be tilted 40 dgrees down and 30 degrees up, and is compatible with a range of wheelbases including the Fanatec DD1 and DD2 Podium, the Simucube 2 Pro, Sport and Ultimate, VRS Directforce Pro, and more.
Accessories already availble include an Elite Quad Monitor Stand for £599 or a single monitor stand for £349, the ES1 Sim Racing Seat for £349, a premium DD side and front mount adapter for £179, a freestanding tipe monitor stand add-on for £179, an overhead quad monitor stand add-on also at £179, and a carbon gret keyboard and mouse tray for £99.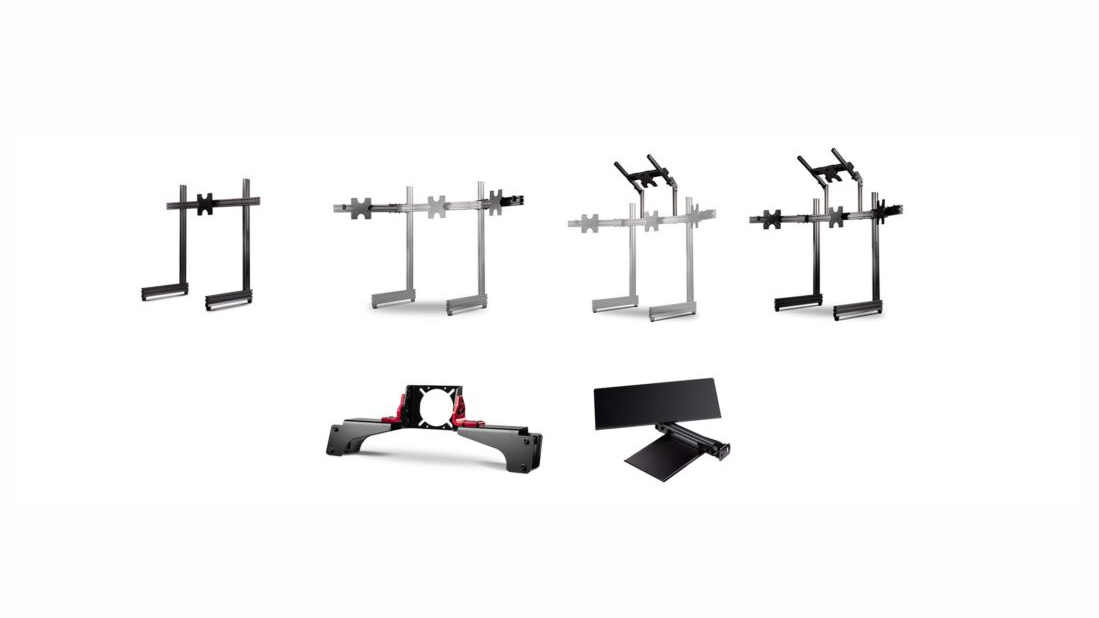 Ultimately, the Next Level Racing F-GT Elite Cockpit Range and the new ES1 Simulator Seat all look like quality pieces of kit for any sim racer who prefers an easy-to-assemble option for their rig, with everything included. Inevitably, it's more expensive to buy something designed by a company than to create a DIY option, but that ignores the possibility to switch quickly between seating positions. And assumes you're not put off by having to create everything from scratch for a relatively minor cost saving once you've taken your time into account as well.
If you want something that looks good, offers a higher level of rigidity and performance, and isn't ridiculously expensive, then the Next Level Racing Elite F-GT could be a good option. They've already also said that options like a flight add-on accessory may be introduced in the future, and all the cockpits come with the ability to add their motion platforms as well.
You can find the Elite Series on the Next Level Racing website. And their products are available through a range of retailers, including Currys PC World in the UK, for example. So you should be able to check out the range in person before deciding.
Whatever your budget, from cost-effective DIY options to the top level of bespoke motion-enabled professional built products, check out all our coverage of Sim Racing Rigs and Cockpits,, here.