Reigning champions Josh Rogers and Ayhancan Güven have taken their first victory of the season as Team VRS win VCO ProSIM Series Season 2 Round 3. The penultimate round of the championship saw heat race success for Team Redline and BS+Competition, but it was the Team VRS duo who finished first in the Bonus Race.
148 drivers and 74 teams made their way to the virtual Road America to compete for a share of the total $25,000 prize fund, using the Dallara LMP2 prototypes on iRacing with identical setups. In the first heat, Chris Lulham took the Team Redline car from fifth on the grid to second before a pit stop undercut allowed Max Benecke to take over the lead of the race, finishing ahead of Rogers and Güven for Team VRS and Gianni Vechhio and Enzo Bonito in the second Team Redline car.
Maximilian Benecke (Team Redline, winner Heat 1): "The track was really good, much better than Hockenheim last week. Chris' opening lap was something else, from P5 to P2, that basically opened everything up. Another great result for us. P1, it doesn't get any better than that. I'm happy we have scored these points, they are very important for the championship."
The second heat race saw Laurin Heinrich lead from pole position, handing over to BS+Competition team-mate Kay Kaschube to take their second victory of the season, after a Bonus Race win last week in round 2 at the Hockenheimring. They were followed home by Przemek Lemanek and Nicolas Varrone for R8G Esports and the Apex Racing Team pairing of Jamie Fluke and Taylor Barnard.
Kay Kaschube (BS+COMPETITION, winner Heat 2): "With Laurin's performance in the first stint I had some flashbacks to Hockenheim; Laurin again did a perfect job. He took pole, showed a perfect first stint. After the stop I had a small gap and I just had to bring it home. Of course I had pressure from the cars behind, but Laurin did the main part."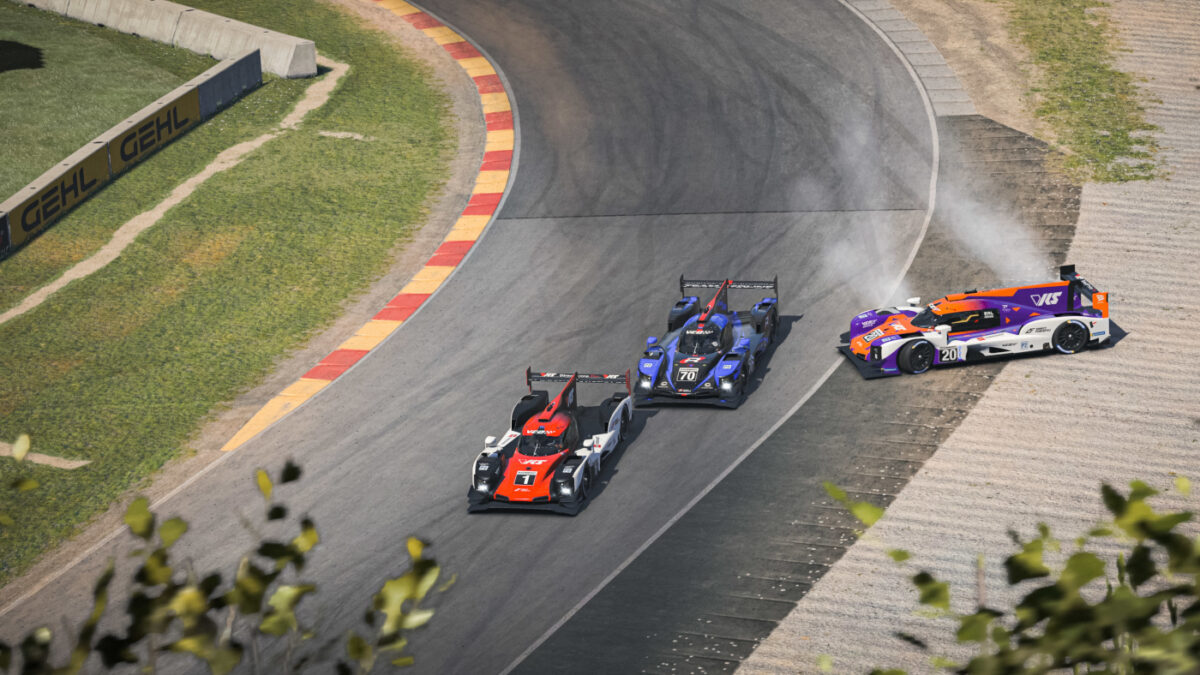 The 30 qualifying teams then lined up for the Bonus Race. Starting from third on the grid, Rogers was able to pass Fluke for second early on. Pitting one lap after the lead Coanda Simsport car, Rogers had built up enough time for Güven to get back onto the track in first place and take the win. Lulham and Benecke took second for Team Redline with Mitchell DeJong and Charlie Collins in third for Coanda Simsport after starting on pole. The top five finishers ended the race seperated by around 1.3 seconds, with Taylor Barnard and Phil Denes just missing out on the podium.
Ayhancan Güven (Team VRS, winner Bonus Race): "Luckily Josh was driving so fast that he handed over the car to me in P1 and then with the draft in the bonus race and all the fast guys, I had to defend. I had cold tyres compared to them, so it took me a while to find the pace but then it was already too late for them. Sure, I had to start defending, but to the last lap it was really good."
With the fourth and final round taking place next week on November 30th, Lulham and Benecke have extended their championship lead. You'll be able to watch it live from 8pm CET on the VCO Youtube and Twitch channels.
You can sign up to iRacing, here (and credit your referral to ORD, which we'd appreciate!). And see all vehicles included in your basic subscription, or what you can access by paying more, in our full official iRacing car list, here. Or check out all of the included circuits, and the others you can buy, in our full official iRacing track list, here. And keep up with all the latest iRacing news, updates and eSports, here.
And for all our Esports coverage, click here.