Along with paid DLC content and an overhaul of the existing GT3 and LMP2 classes, there will be new free cars and tracks for iRacing 2023 Season 1, with the update scheduled for Tuesday, December 6th, 2022.
New season updates always arrive during the Week 13 break in most competitive official series, allowing a little time for sim racers to try out new content and discover any potential issues before the next round of racing begins. And the good news is that you'll get a new car, and access to different circuits, as part of your standard iRacing membership.
The Toyota GR86 Cup Car
The new free car is the Toyota GR86 Cup Car, which we've known was planned for release since June. But now we know it'll also be included in the base subscription, which is interesting.
As a race version, the GR86 gets custom bodywork with a carbon fibre rear wing, Alcon brakes, a roll cage and other safety features, along with a new exhaust, engine management and 6-speed sequential gearbox on top of the stock 2.4 litre, 231bhp engine. Which means a slightly upgrade on the stock performance of 0-62mph in 6.3 seconds and 140mph top speed. But it's mainly about the handling.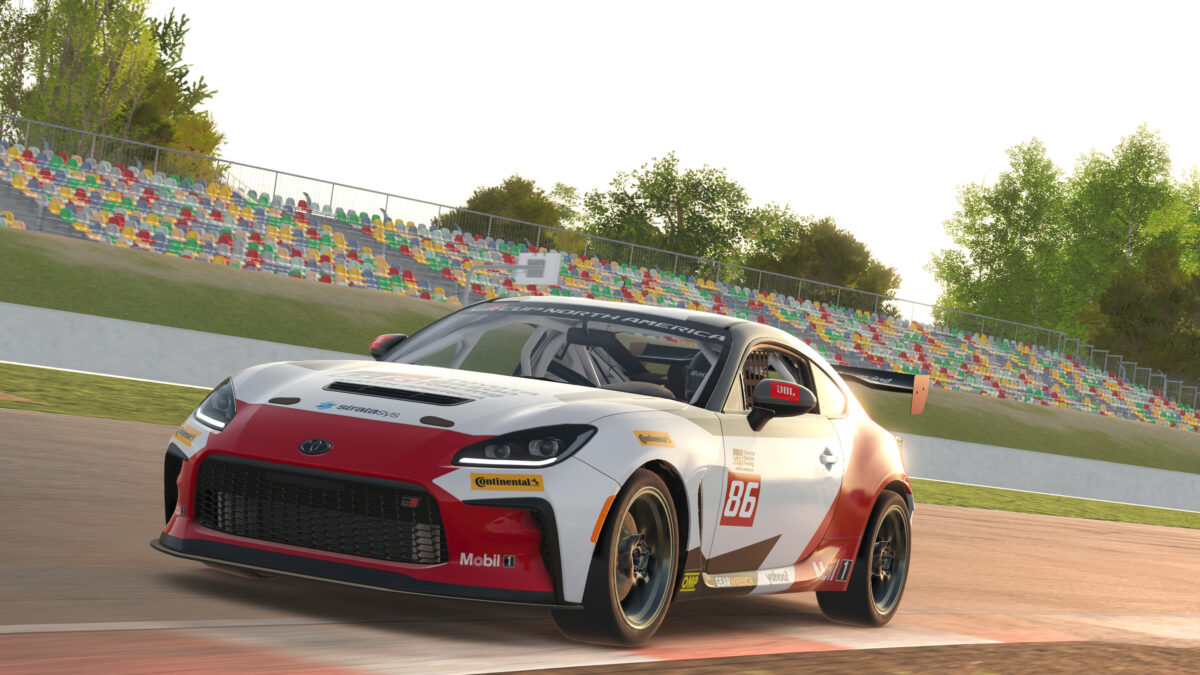 And it's the first new saloon for road racing to be included in the base membership for a long time, which means it's likely to appear in a single-make dedicated series at the Rookie level. But it also could potentially be an addition or replacement in the PCC and Fanatec Global multi-class series, which haven't seen many changes since an update to the Mazda MX-5.
The PCC currently runs the Solstice, Jetta, MX-5 and Mustang, which the Global series features just the Kia Optima and Cadillac CTS-V. So we could see five-car classes in the PCC, which might break up the oversubscribed MX-5s, or it's possible it may come in and replace an existing choice (either the Solstice or the Jetta).
As a Jetta driver, I'm really hoping it doesn't get put out to pasture, especially given the strong private league support for the car, and the fact it's a really easy FWD drive car which allows you to focus on track knowledge and racecraft. But the car and series it comes is pretty dated now, so we'll have to see what iRacing decides.
With the Global Series, it would slot right in as a third car class, potentially meaning better variety and less Cadillac dominance.
Virginia International Raceway Goes Free
The undulating and winding 3.27 mile course and shorter configurations of VIR have been included as paid content in iRacing for a while. But now it's being added to the locations included in your base membership for Season 1 of 2023.
Originally opened in Alton in 1957, the original layout was apparently created by a group of men using a bulldozer. And they managed to create a brilliantly challenging circuit which suffered from a remote location, closing in 1974, and then reopening in 2000 using a membership model to fund itself. And fortunately, growing populations in nearby cities means it can now attract larger crowds. But most importantly it's one of those tracks which are fun to learn and master on your own, as well as making for interesting racing.
One this to note is that iRacing has announced in the weeks after the update goes live, VIR will receive extensive art and surface updates via an all-new scan that will overwrite the current version of the track. So if you want to keep replays of the current Virginia International Raceway, you'll need to capture them before then.
And they have also said that 'the current version of the track will serve as free content until the updated version is released'. Which suggests that rather than becoming free Legacy content forever, the access might only be for a limited time. That's a different approach for iRacing to take from previous circuit updates, when old versions and layouts were still available in the Legacy content section for non-official racing, access to replays etc.
If you've bought VIR within 90 days of it becoming free you'll get a full refund of your iRacing credits. And if you purchased it between 91 days and one year ago, you'll get a $5 credit.
Wild West Motorsport Park Also Becomes Free
Originally released in 10219, Wild West Motorsport Park was one of the first short course off-road tracks on the service, and moves to the base content, with Dirt Road configurations also arriving for the free Daytona International Speedway and (Legacy) Phoenix Raceway, which means you get three options for Rookie level Pro Lite 2 events without the rallycross Joker Lap messing up the rules.
Again, you'll get a full refund or $5 credit if you've bought the track within 90 days or the previous year.
I'm not as active in off-road sim racing, but having another venue for free might tempt me into trying to hustle a truck around once again. Located in Sparks, Nevada, a short distance from Reno, the track was originally launched in 2012, with 1.3 miles of dirt and jumps. However, it closed in early 2021 due to what was only described as 'unfortunate circumstances'.
The new free cars and tracks for iRacing 2023 Season 1 will arrive on December 6th, 2022, alongside paid content including Circuit De Nevers Magny-Cours, Lincoln Speedway, and the BMW LMDh which may arrive on-time or shortly afterwards.
One car potentially retiring will be the open wheel Renault 2.0, which is taking time off for Season 1, 2023, and will be 'reevaluated' for the future. Which is fairly logical considering the similarities of the Dallara F3, Indy Pro and USF2000.
You can sign up to iRacing, here (and credit your referral to ORD, which we'd appreciate!). And see all vehicles included in your basic subscription, or what you can access by paying more, in our full official iRacing car list, here. Or check out all of the included circuits, and the others you can buy, in our full official iRacing track list, here. And keep up with all the latest iRacing news, updates and eSports, here.