Forza Horizon is due for release on October 23rd, 2012 and you can now pre-order the game through a variety of online and offline retailers. However, before you commit yourself, check out what bonus cars and DLC you can choose from, both for Forza Horizon, and also for Forza Motorsport 4.
In addition, various forums and pre-order customers are sharing new that some retailers are either having difficulty supplying DLC codes (Particularly in the UK), or are stating that you will receive your DLC code for Forza Motorsport 4 content only when you receive your copy of Forza Horizons in October. Which is obviously frustrating a number of customers, particularly as there is a pre-order only rivals event for the FM4 DLC this month (August).
We'll update this with the latest info from around the internet – if you've pre-ordered Forza Horizon, post a comment below, and help others out by sharing which store, country and bonus items you have received or are still waiting for!
Limited Collectors Edition Details
The Forza Horizon Limited Collectors Edition includes the following:
Custom cover design
Custom-designed Steelbook packaging
Horizon Festival ticket to access exclusive Xbox Live Content
Day 1 Add-On Pack with 5 cars
VIP Membership and Car Pack
Horizon Accelerator Token Pack
Five Exclusive LCE Car Pack liveries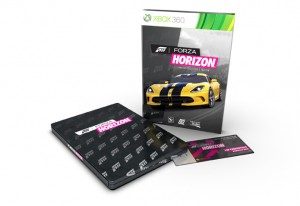 Forza Horizon Pre-Orders: Bonus Content:
The first bonus item you should receive for pre-ordering a copy of Forza Horizon from participating retailers is actually for Forza Motorsport 4. It's a 2012 Dodge Challenger SRT8 392 with a custom Forza Horizon paintjob designed by the Forza community team, and retailers included in this incentive in the U.S are listed as Amazon and Best Buy. There's no official list of non-U.S retailers, so make sure you check before pre-ordering in the rest of the world.
The car itself looks pretty good, as long as you like pink.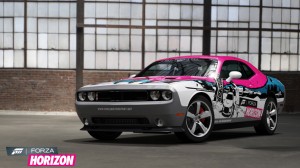 Forza Horizon Retailer Specific Bonus Cars:
The pre-order bonus cars specific to each individual retailer are as follows:
2010 Ferrari 458 Italia: Gamestop
2012 Aston Martin Virage: Amazon
2011 Mercedes-Benz SLS AMG: Best Buy
2010 Nissan 370Z: Newegg.com, Target, Walmart, Microsoft Store.
Additional Retailer Information:
Gamestop in particular is listing the Forza Motorsport 4 Dodge DLC as being available either when you pick up Forza Horizon in-store, or to be emailed to you two days after your online order ships.
International Information:
UK
Game: States that you will receive the Forza Motorsport 4 Dodge DLC on a rolling monthly basis.
HMV: Has the Nissan 370Z Bonus Car. No mention of Dodge DLC.
Some teaser details have been released for the new Rivals events for June 2012, which will accompany the release of the new Meguiars Car Pack DLC when it launches on June 5th for 560 MS Points.
The details are:
ALMS Corvette V2
Take to the track in this updated version of the Spec Hot Lap Rivals event "American Le Mans Corvette" featuring the 2011 Chevrolet #4 Racing ZR1. Each week, 100 randomly chosen players from this leaderboard will receive a 2002 BMW M3-GTR, a "unicorn car" only available from Turn 10. The Meguiars Car Pack is required to participate in this event.
The Big Bopper
The 1950s brought the world "crusin'", but if you want to beat your rival in this event you will have to push these 1950′s classics past their cruising speed as you weave through the traffic.
4-Cylinder Fahrvergnugen
Throughout the 1990s, Volkswagen used "Fahrvergnügen" as their advertising slogan. Find out which of these 4-cylinder cars lives up to claim of "driving enjoyment".
Oh, What A Celica
The Toyota Celica has long been one of the Japanese manufacturer's bestselling automobiles. Take to the track to find out which Celica can be named the best of the breed.
Turbo Twin Drag
The eternal debate–single turbo or twin turbo—is temporarily put to rest in this Rivals mode event. Tune your favorite twin turbo car up to 500hp and get ready to hit the strip.
June VIP
This Rivals Mode event is open to Forza VIPs only. The car, track, and competition type were chosen by a series of polls conducted on the official Forza Facebook page. Players will be drifting on Maple Valley.
Audi Endurance Event
This Audi-themed event is for Forza players in France and will be locked to EMEA players only.
So it's time to get practicing for the new events if you want to top the leaderboards. And even if not, it's still worth competing in the Corvette event to be in with a chance of a unicorn car (This will require purchasing the new car pack for 560 MS Points).

If you're tempted by racing in a competitive series featuring every driver in the same car, then you might be interested in the Virtual Motorsports GP2 Series 2, which will put all racers in the 2007 SEAT Leon Supercup at S613 performance index.
Starting on May 1, 2013, the series will run on Tuesdays at 13:00 CST / 19:00 GMT / 05:00 AEST, and will feature a two-race format with partially reversed grids. Tracks on the schedule include Road Atlanta, Iberian International and Tsukuba, followed by Maple Valley Raceway, Infineon Raceway, Mazda Raceway Laguna Seca, and the Nurburging Grand Prix Circuit before finishing up at Sunset Peninsula Raceway on June 19th, 2013
You'll also be able to compete in four championships, with a Drivers Championship, Teams and Privateers Championships, and for all drivers new to the event, a Rookies Championship. The series is sponsored by Turn 10, so those finishing at the top of each championship receive unicorn cars and in-game credits, or credits only for the Team Champions.
You can sign up via the Virtual Motorsports Forum GP2 Series 2 Forum.

Want to take part with OnlineRaceDriver?
If you're interested in taking part, and fancy being part of a friendly team who hope to do well, why not join up with ORD driver Badger Gravling (That's me!) to be part of a team entry? If you're interested, let us know in the comments, or look me and the ORD Forza Motorsport 4 club (ORDC) up in the game and send us a message/application to join.
Hello onlineracedriver drag racing fans!
Before the shouting begins let me ward off a few well intended people with the caveat that drag racing is an absolute sport, with a wide ranging set of variables effecting its absolute-ness.  In other words, don't hold my feet to the flames if your favorite car is shown to be under performing in this comparison test compared to what you know. With that said let me also assure the reading audience that every effort was made to get the most out of the 20 selected cars.Forza4 drag racing can be faulted for many things, but since doing so would be too easy and way too obvious, the focus of this article will be on the relative performance between the real cars, and their FM4 counterparts.
Even so, it has to be said that the most glaring fault of Forza drag racing is the absence of a working starting tree.  As anyone in drag racing will tell you, "he who cuts the best light usually wins", –but in Forza4 there is no light to cut.  There is a static tree and an automatic launch system, but there is no way to jump the start, or do a perfect .000 launch on your own.  In fact, every launch is perfect as dictated by the game software.  That is, you can start too slowly, or you can leave the line perfectly on time, as the computer allows you to do.  The car will not move until the computer does a count down.  There are no reaction times like in real drag racing either, (a critical aspect of the sport.) It's sad really, because it takes away from the sport the very essence of what drag racing is all about, and that is, the start of the race.
Forza vs Real World on the Drag Strip
Since we can't dive into simulated drag racing as a competitive sport in Forza (even though many have suspended their disbelief and do drag racing anyway), we can still talk about how well the cars perform and what might be the best way to run a good time.  The 20 real cars I selected were cars that have known 1/4 mile times from various major publications over the years.  These officially tested times are within plus or minus 0.3 tenths of their absolute best times. As tested they were completely stock, just as the Forza4 cars were.  The only exceptions were the two production factory race cars of the bunch, the 1968 Hemi Dart, and the 1964 Ford Thunderbolt.  These two cars were fitted with drag racing slicks, since the real cars were also.
Looking at the list of cars, there are a couple of things you'll notice right away.  One is that the speeds are a lot closer to the real cars than the times.  Speed is an indicator of horse power, whereas time is an indicator of traction.  It seems that the boys at "Turn10″ have done a remarkable job getting the simulated horsepower and torque correct.  They should be given a real pat on the back for this alone, because it is nearly perfect.  On the other hand, the track surface is woefully off the mark in terms of absolute traction.  It's so bad that it can't be easily compared to any known asphalt surface.  The best analogy would have to be that of a partially wet track, it's just that slippery.  This is surprising since T10 knew of this problem in FM3 and even corrected the friction ratio for the strip in that game.
Of all the drag strips in FM4, Sedona was proven to be slightly more sticky than the others, so I used it over the rest for best results. For those that have never been to a real drag strip, you have to understand that "sticky" doesn't quite describe how much grip there is.  Stand long enough in one place on a hot summer day, on the track, and your shoes will be stuck to the tarmac like glue.  On a real track, it's not the track that lacks adhesion, it's the stock tires.  Forza tires seem to be relatively fine and in keeping with known performance characteristics, but the tracks are no where close to reality.
Getting the perfect drag racing start
So what do you do to get a good launch on a track with about the same grip as a greasy McDonald's drive-thru on a rainy day?  Hold her to the floor of course!  Well, not exactly  lol. I've found that the best result is to hold it wide open during the computer count down, and then at just the right moment when the computer goes to 1sec and is about to let you go, you let almost completely off the throttle, allowing the engine to, "fall on its face" down around idle, and then ever so carefully feed the throttle back in as you try to limit wheel spin.  The other method that works about as well, but is harder to master is to hold the throttle just above idle, and when the computer releases the car, slowly give out steady amounts of throttle avoiding wheel spin.  Either way will net you about the same times, but neither way is what real drag racers do!  In real drag racing you will either load the engine up with the brake while applying throttle, or you will sit at idle and then mash the throttle to the floor when you see that last amber light come on.
The other thing you can see on the list below is that the real cars are about one second quicker on average in most cases, even when they have a similar trap speed.  This is the proof that tells you the Forza cars are suffering in the traction department, but I don't blame the tires nearly as much as the track.  Only one of the Forza cars was able to beat its real-life counterpart, and that was the 1966 Chevy Nova SS.  It was a good half second quicker and 7mph faster falling well outside of the variable margins for this car. Of the 20 cars tested the Enzo Ferrari came the closest to replicating the real cars performance.  The 1968 Hemi Dart was the worst simulated car when compared to the real thing at more than 2sec slower, and almost 20mph down on the top end.
As a group, the Forza cars were significantly slower but consistently comparable in a progressive way just like the real cars.  In fact, if you ignore the times altogether you have a near match from fastest to slowest when comparing the two groups.  The 10th place 2002 Camaro SS was about the 10th place car in the same group on the Forza side for example.
Each car was given about 6 passes to get a good run out of them.  Doesn't mean you couldn't do better, you can, but only by a tenth or two which is within the acceptable range.  Even the real cars will vary about this much depending on the car, the track conditions, the weather, and the driver.
My conclusion is that T10 has the cars very nearly perfect in the ultimate measure of performance known as drag racing.  What they didn't get right was the virtual track traction, it's so bad that you wonder if anyone at T10 has ever been to a real drag strip before.  Oh, and the lack of a fully functioning tree is unforgiveable.  But hey, there's always Forza5 and the hope they will finally get it right then.
Full throttle,
AAR GTDon
| | | | | | | | | |
| --- | --- | --- | --- | --- | --- | --- | --- | --- |
| | | | | Real | | | Forza  | |
| | Car | Engine | | Time | Mph | | Time | Mph |
| 1 | 1968 Dodge Dart Hemi w/slicks | 426cid | | 10.30 | 135 | | 12.481 | 116 |
| 2 | 2002 Enzo Ferrari | 366cid | | 11.00 | 136 | | 11.331 | 137 |
| 3 | 2005 Ford GT | 329cid | | 11.20 | 131.2 | | 12.231 | 123 |
| 4 | 1964 Ford Thunderbolt w/slicks | 427cid | | 11.76 | 122.7 | | 12.214 | 118 |
| 5 | 1967 Corvette Stingray | 427cid | | 12.072 | 117.67 | | 13.465 | 110 |
| 6 | 1965 Shelby Cobra S/C | 427cid | | 12.70 | 112.7 | | 12.731 | 122 |
| 7 | 1971 Plymouth Hemi Cuda | 426cid | | 13.25 | 109 | | 14.480 | 106 |
| 8 | 1970 El Camino | 454cid | | 13.44 | 108.17 | | 14.765 | 106 |
| 9 | 1970 Dodge Super  Bee | 426cid | | 13.49 | 105 | | 14.331 | 111 |
| 10 | 2002 Camaro SS | 350cid | | 13.55 | 105 | | 14.397 | 104 |
| 11 | 1969 Pontiac GTO Judge | 400cid | | 13.70 | 103.6 | | 14.747 | 102 |
| 12 | 1970 Chevelle SS | 454cid | | 13.70 | 103 | | 14.714 | 106 |
| 13 | 1970 Buick GSX | 455cid | | 13.80 | 101 | | 14.947 | 101 |
| 14 | 1971 Mustang Mach 1 | 427cid | | 13.90 | 102 | | 14.780 | 105 |
| 15 | 1956 Jaguar D-Type | 207cid | | 13.90 | 100 | | 14.964 | 107 |
| 16 | 1965 Pontiac GTO | 389cid | | 13.940 | 99.81 | | 14.847 | 103 |
| 17 | 1969 Hurst/Olds 442 | 455cid | | 14.03 | 101 | | 14.931 | 101 |
| 18 | 1968 Firebird | 402cid | | 14.070 | 100.81 | | 14.780 | 103 |
| 19 | 1969 Camaro SS | 396cid | | 14.70 | 98.7 | | 14.847 | 102 |
| 20 | 1966 Chevy Nova SS | 327cid | | 15.10 | 95 | | 14.662 | 102 |
It's been a while since I last managed to update my race diary – unfortunately work has got in the way, but I've still managed to cram in a number of races. So although you might have to wait forever for me to finally upload more photos and videos, here's a rundown of how I've faired in the three championships since my last update.
Rllmuk Classic Roadsport: Rd 2 Nurburgring GP (Short)
The C Class series visited Germany for round two, and despite the home track for the VW Golf's, it was always going to be a struggle. In addition to the quick car and driver combo of our own ORDC Bladerunner in the Lancia, there were also a trio of Renault 5 Turbos to contend with, headed by frontrunner Meatball46.
A decent qualifying result saw me third on the grid, just ahead of my ORDC VW team-mate Pjeedai. And it proved that it's the Golf that struggles off the line rather than the driver, as we were both swamped at the start. Somehow I managed to make it through the tight hairpin Turn 1 unscathed, but could only watch as the Bladerunner and Meatball46 pulled away. I knew I couldn't catch them, so concentrated on keeping everything tight, hitting every apex, and making sure I stayed ahead of my team-mate.
That all paid off when an unfortunate challenge at the chicane saw Bladerunner spin, allowing me to pick up a slightly undeserved second place behind Meatball46
Race 2 was similar, besides a bit of a mid-race battle with Meatball46 before succumbing to the inevitable, and a faultless race from Bladerunner extending his lead at the top of the championship.
So a 2nd and 3rd was probably one place better than I could have hoped for, and does mean that I've made up some of the distance on the battle for second and third in the championship after my terrible first round. Sadly next up is Tsukuba, probably the worst track for the Golf, so anything will be a result there, but after a couple of good podiums for Pjeedai, he's my main target on track!
Rllmuk Classic Roadsports Round 2:
Race 1:  1) Meatball46, 2) BadgerGravling, 3) Pjeedai, 4) Blade Runner, 5) SharkyOB
Race 2: 1) Bladerunner, 2) Meatball46, 3) BadgerGravling, 4) Beezerly, 5) Sharky OB
Standings: 1) Bladerunner 112, 2) Pjeedai 88, 3) Beezerly 84, 4) Meatball46 82, 5) BadgerGravling 78.
Virtual Motorsports Classic Series Rd 3: Tsukuba:
You wouldn't typically think a 1966 Chevy Nova was the ideal choice for the short, tight and twisty Tsukuba track. And you'd be pretty much right as the set qualifying lobby saw the front runners disapear into the sub-1 minute laptimes, and the Nova wobbling round to qualify in the 4th lobby.
But one benefit of the multiple lobby system is that it almost always leads to close racing, and that's definitely what happened. Having been lucky enough to start on pole I had a 41 minute battle with the fast Corvette Stingray of Rancidblaze, seperated by less than 100ft for much of the action. A couple of times Rancid took the lead, but I managed to stay calm, relatively consistent, and was able to capitalise on a couple of mistakes, and after the mandatory pitstop I headed into corner one just ahead of the Stingray as it rejoined the track on new tyres.
Having lost a potential race win at the first round after a TV-related disaster, history almost repeated itself as a steering wheel failure for one driver left his car stuck in the middle of the final corner just as I came round at the front of the field. Somehow I managed to avoid him, lost drive and dropped to second for the closing stages, but an unlucky mistake by RancidBlaze saw me manage to retake the lead and then park the fortunately wide Nova on every apex to hold off his determined challenge, crossing the line first by about 10ft.
Virtual Motorsports Round 3: Tsukuba Full:
Lobby 4: 1) BadgerGravling, 2) Rancidblaze, 3) EZT RacerX, 4) OMG FLck, 5) GLR Puckhead.
Rllmuk Classic Touring Cars: Rd 2: Hockenheim GP:
So back into A Class Tourers and the Team OnlineRaceDriver.com Mercedes. Whilst various other teams and drivers have made some changes, leading to a new team running a pair of Lotus Carlton's, and an early switch for one driver to a Ford Sierra RS500 from an adventurous atempt in an Alfa Romeo, we're sticking with the 190Es. What they lose in a straight line they make up for with consistent handling for the short 8 lap races, which don't allow you to recover from a mistake.
First up was qualifying, and I was happy to put the Merc on pole, ahead of Bladerunner and Pjeedai (Meatball46 was absent from this round, meaning that I had one less rival to worry about with his quick RS500). The Mitsubishi Starion of Bladerunner is blisteringly quick off the line, and that meant I had to give way at the first corner, and then settle down to try and counteract straightline speed which saw him pull away even when I was right in his tow on the straights. Luckily I could close massively on the corners, and had managed to stay close throughout the race as the midpoint had been reached.
I really wasn't sure I could mount enough of a challenge, until a real life distraction slowed Bladerunner slightly, and I was able to not only pull alongside yet again, but stay there for 2-3 corners in a row, finally managing to nip cleanly through and holding the lead to the flag.
Race 2 followed a similar pattern, with Bladerunner again making a slight mistake, but this time much earlier in the race as I suspect he was trying to make up for his earlier second place. What should have been relatively comfortable was thrown into disarray slightly when I lost concentration for a split second and went sailing across the gravel before rejoining, but the only person to really lose out was my second-placed team-mate Pjeedai, who was slightly blocked when I came back onto the Tarmac, and lost out to Bladerunner. But I think we can all be happy with an all-ORDC podium! It also means 4 wins from 4 in this series and a 16 point championship lead.
Rllmuk Classic Touring: Rd 2 Hockenheim GP:
Race 1: 1) BadgerGravling, 2) Bladerunner, 3) Pjeedai, 4) Wev, 5) SharkyOB.
Race 2: 1) BadgerGravling, 2) Bladerunner, 3) Pjeedai, 4) BalhamBadger, 5) Wev
Championship: 1) BadgerGravling 120, 2) Bladerunner 104, 3) Pjeedai 86, 4) BalhamBadger 84, 5) Wev 70.
Virtual Motorsports Classic Series: Round 4 Bernese Alps Club:
And we're finally up to last night, which saw the Classic Series visit the tricky and twisty Bernese Alps track with camber changes, evil kerbs and a complete lack of testing time which saw me running pretty much the same set-up as Tsukuba, which wasn't ideal. Somehow, though, a laptime in the one minute 25s saw me move up into Lobby 3 for the first time, which was my aim when the season started.
The pressure was on a little – having spent 3 races in lobby 4, I've got to know some of the drivers who regularly qualify around my times and I've built up some experience and trust in them. Lobby 3 was a new field, with faster drivers, some of whom have been Lobby 1 drivers in previous weeks.
From seventh on the grid, I was a little fortunate at the start to get a good run, but then failed to capitalise by being a little too cautious for once. As things settled down I was in a solid 6th, and managed to keep a decent distance to the group in front, and through the first few pitstops found myself as high as fourth, despite the determined efforts of the Volvo 242 Turbo of ZA Warudo trying to find a way past and skilfully managing to avoid me when I had a couple of moments. Eventually he came past, and I settled down to what became a slightly lonely 6th place with the main battle between me and the track. Considering the tricky nature of the track and the fact the anti-clockwise bias was cooking the front right tyre early on, I'm pleased with that.
Virtual Motorsports Round 4: Bernese Alps Club:
Lobby 3: 1) MRT Tazkumi, 2) EZT Spartan, 3) VVV Zeragon, 4) G JC 96, 5) F4H ZA Warudo, 6) BadgerGravling, 7) F4H Tito, 8) F4H Bullet, 9) Preacherman23, 10) EZT o Sollelf.
Along with the ALMS Car Pack, February also brings new Rivals Mode events, and a new King of the Track challenge which allows you to potentially win a Forza Motorsport 4 Unicorn Car. The new Rivals Mode events are launched on Tuesday, February 7th, 2012, to coincide with the new car pack, and as always some of the events will be particular suited to the new vehicles available.
February Rivals Mode Preview:
Turn 10 has given details of four of the new rivals mode events, so you can prepare your cars and liveries to get started as soon as they go live. They are:
28 Days of Sebring: In celebration of the 60th Annual 12 Hours of Sebring, this Track Day event will put you in the 2011 Audi #2 Audi Sport North America R18 TDI with the challenge of passing GT3 cars.
Compact Combo: Drag Racing at Infineon with 300HP front-wheel drive cars. Tuning setups are allowed within restrictions.
Snow Drift: Drift race your way around the Bernese Alps in a high-powered production car, with tuning setups allowed within restrictions.
Union Jack Time Attack: Silverstone is the venue for an A-Class Time Attack featuring the best of British time attack cars. Tuning setups allowed within restrictions.
February King of the Track Rivals Mode:
It's the second chance to take on a celebrity Forza Driver, with all participants receiving an in-game car for participating, and if you can beat the celebrity driver you'll win a rare unicorn car.
But either way, it's a worthy challenge to take on, as you'll need to beat mixed martial artist, former UFC champion and film star Quinton "Rampage" Jackson. In addition to beating the heck out of people in the rin, Rampage is a fan of both Forza and collecting cars, hence why the February Car Pack features a replice of his own 2011 Dodge Quinton "Rampage" Jackson Challenger SRT8 with a black and red paintscheme and awesome rims.
Everyone taking part will receive a 2011 #2 Audi Sport North America R18 TDI (Which required the Le Man pack to redeem it), and if you beat his posted time, you'll walk away with a 1969 Chevrolet Camaro SS Coupe unicron car with Rampage-themed livery.
The best time posted when the competition end at midnight on February 29, 2012 will also win a pair of official UFC fight gloves signed by Rampage himself (This prize is only available to U.S residents).
Tips for a good time:
To take part you'll be racing a standard Dodge Challenger SRT8 around the full Laguna Seca track in Monterey, California. It's the home of the infamous Corkscrew corner, but unlike real racers, you won't have to battle the huge G forces pounding your body as you barrel through it.
The track suits muscle cars, and it's all about being smooth, and getting good entries and exits from each corner to let you really get the power down. But there are 3 key places to make sure you get right.
The first is Turn 4. Although the first corner, the Andretti Hairpin can seem tricky, a slightly late apex and patience before nailing the throttle should sort it – but Turn 4 not only gives you a lot of speed advantage before the uphill lefthand Turn 5, it also sets you up for a good run all the way up the hill.
The second actually follows the Corkscrew. Turn 9, Rainey Curve, named after bike champ Wayne Rainey, is easy to get wrong, particularly if you're relaxing after the Corkscrew. You need to get back over to the right-hand side of the track asap at the bottom of the hill to nail the apex, and to avoid sliding off into the gravel due to the camber of the track lifting you up and over the Tarmac. Get it right and it can make a huge improvement to your time for such a short corner and straight combo.
And finally, the all important Turn 11. This is what sets you up for the run over the Start/Finish straight, and can deliver you a huge advantage when you get it right. It's all abut braking early for the extremely slow speed lefthander, and getting on the power early and smoothly to really pull the most out of the gears. Get it wrong, and you're helpless as ghost cars (or other drivers in a race) simply power right by.
There's no doubt Forza Motorsport 4 is a great game, and the best yet in the series. But any online game which gets extremely popular is likely to encounter some networking issues due to the huge variety of internet service providers, broadband speeds, routers and other factors they have to accomodate. Forza is no exception, and in fact has seemed to have slightly more problems than the average game over the most recent two releases.
Firstly there's an issue affecting players trying to join private race lobbies in which they're unable to connect, with those already in the lobby seeing their name appearing and disapearing. Secondly there's a more frustrating issue in which you can be dropped mid-race from a game seemingly at random.
While we can't promise to solve every disconnection problem, we can at least work together to try and provide the most useful solutions which we know have worked in at least some cases, if not all of them:
Connection problems with Forza Motorsport 4 Lobbies:
The seemingly most common problem we witness on a regular basis is the problem of joining a private online lobby – you may get as far as hearing lobby chat and seeing the symbols of those already present, but you'll receive a network error message and end up back on your own eventually.
So what ways have we found to try and fix that problem?
Keep trying. Occasionally we've found that joining will work on the 3rd, 4th or 5th attempt.
You can try and join by joining other players in the same lobby. If you've selected to join, or been invited by, Player A, and had problems connecting, try joining Player B, then C etc. There's no real reason why this should make a difference, so it may just be a variation on method 1, but it's worth trying.
Test your Xbox Live connection. This often helps in many games, including Forza and CoD. Simply hit the guide button, go to your network settings and test your connection. Often this will improve things, particularly if the problem is with a Strict or Moderate NAT.
Reboot everything: The equivalent of nuking from orbit, this means turning off the Xbox, rebooting your router, and firing everything up again.
This will fix problems most of the time, although occasionally router conflicts seem to make the situation unfixable. Just don't forget to drop a message to the players in the lobby so you don't finally join to find them halfway through a 20 lap Nordschliefe race.
The other major problem is a public lobby attempting to start a race, and then every player except one returning to the lobby screen. That player, likely the host, will then either quit out and a new game can be started, or they'll race around like an idiot, not noticing that they're the only person there. It's a  Turn 10 problem which is being investigated on this particular thread on Forza Motorsport.net.
Disconnecting from races in Forza Motorsport 4:
This is a bigger issue, and one which is most likely to cause controllers to be thrown across the room or steering wheels to get damaged. You're leading a race by a mile, cruising to your first victory of the night, when you find yourself suddenly racing alone, before ending up with an error message and back at the main menu, often disconnected from Xbox Live as well as the race and lobby you were in.
Firstly it's worth checking the settings on your router, and trying to minimise potential problems in your home by using a wired connection, possibly removing cordless phones and baby monitors etc. Xbox Live Support has some suggestions. Also make sure your firmware is the latest version on your router.
You can also try experimenting with router settings. Most routers now feature UPnP built in to allow games consoles to run easily, and this should be the starting point. If that isn't available or working, it can be worth experimenting with Port Forwarding.
It's been suggested that clearing the cache can help. While it may possibly alleviate the situation for a bit, it didn't show any signs of fixing it for me.
And finally, there's the prospect of buying a new router…
In my case, this was the eventual solution which has worked perfectly in terms of disconnections. I'd been using a Belkin Wireless G Plus Mimo Router for probably 2 years and having started to have problems with Forza, it also started to occasionally drop my internet connection when surfing the web generally. So I used that as an additional reason to make the change, beyond the fact I was obsessed with finally getting back into racing.
Having asked around, the majority of positive responses were for Netgear, and a couple of people had apparently had similar problems which had disapeared with their new router. I went for a Netgear DGND3300 RangeMax Dual Band Wireless N DSL Gateway. And since installing the new router, I have had NO disconnections from within races, and only very occasionaly problems joining lobbies, which have all been sorted following the steps above. Obviously newer Belkin hardware may be different, and I'm not suggesting the Netgear is guaranteed to solve all your problems, but it does seem that it is likely a router change can be the best choice – if you can, it's worth borrowing a router from a friend, or seeing if you can return a router if it doesn't make a difference.
Leaderboards/Forza Community/Forza Servers unavailable:
If you're getting this message when attempting to access the online parts of the game it's likely to be a problem with the Forza servers, not your router or Xbox. So don't panic, and give it a little bit of time and then try again. Sometimes Turn 10 may be doing maintenance and upgrades, or it might just be a momentary glitch.
You may also find that sometimes the leaderboards or rivals mode options take a while to load – again, there's nothing we can do about it as gamers except go back to the main menu and retry the service which can often work.
Want to help solve the problems?
Obviously Turn 10 are investigating the multiplayer lobby problems, and the right place to record dropping from public lobbies would be in their forum thread.
However, I'd be really keen to hear from more people who have problems with disconnecting, or have solved their problems with disconnecting, and particularly which router you are using. Commenting below is probably easiest.