Last updated on April 24th, 2020 at 05:38 pm
The Virtual One gaming community announced its '80s Touring Car Series a few days ago. With a fantastic mix of cars and tracks, this could prove to be a brilliant race package – and it's one that I had to share too!
Posted on our forums at the weekend by zombiewoof following the initial announcement, I added a summary for easy reading. Several pages of rules and information are on the Virtual One forum, so do pay it a visit if you're interested in taking part.
Based on a love of 1980s motorsport and the Saloon Car/Touring Car days, the series had a drawn-out inception and almost stalled at the 'idea' stage as a result. Fortunately for the good of racing, resolve and that '80s love affair has brought Virtual One's Touring Car Series to life on the Xbox 360. There's a little background story to this series and an explanation of the compromises made in order to finalise the car list and run the league. For the purposes of nostalgia and appreciating the organisation that's taken place, it's definitely worth reading!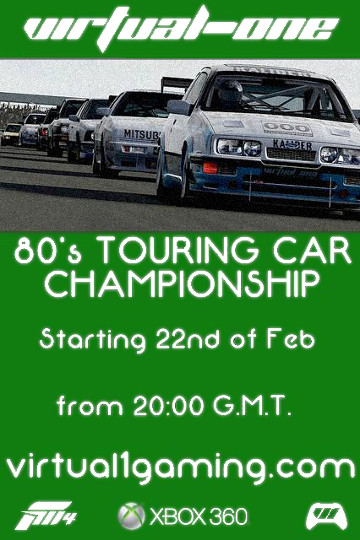 Virtual One '80s Touring Car Series
Here are the key season details as posted on our forum.
The Virtual One '80s Touring Car Series will run on Forza Motorsport 4 (FM4, Xbox 360). The competition is based on team entries with 3-driver teams. Independent entrants are welcome too!
All drivers must be signed up to take part. NO EXCEPTIONS!
Times and Race Format
Race nights will begin with an initial qualifying session, followed by three races where starting positions will be derived from that night's results (see below).
Qualifying starts at 8PM (20:00h, UK time), with lobby invitations beginning at 7:45PM (19:45h).
Racing begins at 9PM (21:00h, UK time), with invitations going at 8:45PM (20:45h).
Each race meeting will consist of 3 races.
Race 1: Qualifying positions
Race 2: Finishing positions from race 1
Race 3: Full reverse lobby points from Race 1 and 2
Cars
A-Class:
1986 BMW 635CSi
1987 Ford Cosworth
1988 Mitsubishi Starion ESI-R
B-Class:
1985 Toyota Sprinter Trueno GT Apex
1990 Mercedes 190E 2.5 – 16 Evolution II
1991 BMW M3
C-Class:
1980 Renault 5 Turbo
1984 VW Rabbit GTi
1992 VW Golf GTi 16v
Models from the 1990s have been chosen due to the limitations of Forza 4's car catalogue. All of the cars selected were in production during the 1980s and the last year of manufacture has determined their inclusion.
Venues
Round 1: February 22nd – Catalunya National (13 laps)
Round 2: March 1st – Suzuka National (16 laps)
Round 3: March 8th – Mugello Club (13 laps)
Round 4: March 15th – Road Atlanta (13 laps)
Round 5: March 22nd – Sebring Club (13 laps)
Round 6: March 29th – Tsukuba Full (17 laps)
Round 7: April 5th – Twin Ring Motegi (13 laps)
Round 8: April 12th – Hockenheim Short (14 laps)
For full series details, car livery rules and to register for the event, visit the '80s Touring Car sub-section of the Forza Motorsport 4 area at Virtual One.
Enjoy the racing! We're expecting it to be… enthusiastic!