Racing drivers aren't always known for mature behaviour, particularly in the heat of a race. And that's carried over to the virtual world. First Bubba Wallace lost a sponsor, and now we've seen Kyle Larson suspended by iRacing, NASCAR and team following racist language in voice chat.
The Chip Ganassi Racing driver has also lost sponsors Credit One Bank and McDonalds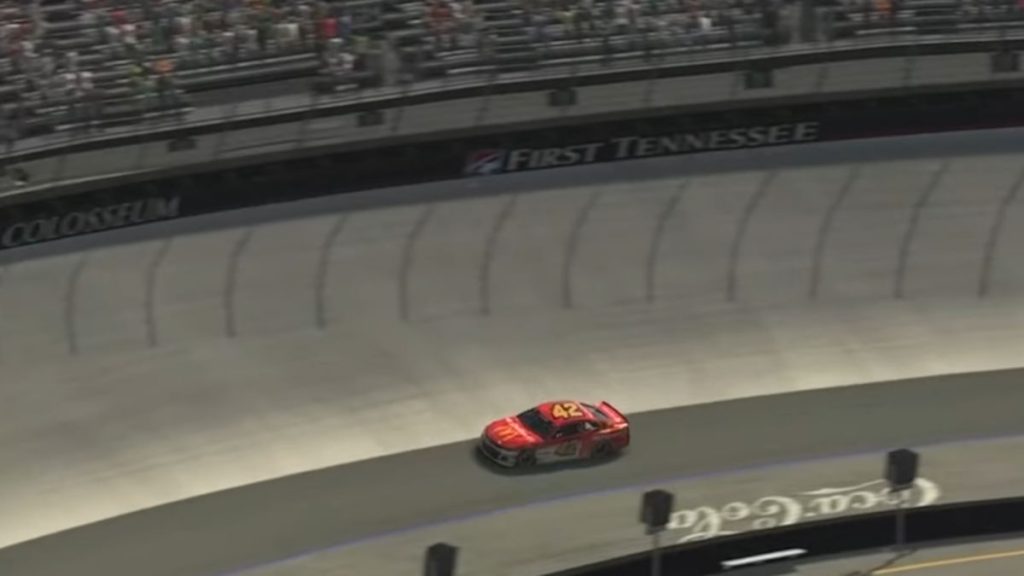 NASCAR Cup Chip Ganassi Racing driver Kyle Larson was taking part in a one-off event in iRacing called Monza Madness, which put drivers from NASCAR, IndyCar, the NHRA, F1 and more onto the historic banked Monza oval layout.
Following a big crash on the sixth lap, Larson was having audio issues with his live spotter. He then used a racial slur which was broadcast on the entire driver voice chat party, and therefore also on the live streams for eNASCAR and other drivers.
"You don't hear me, at all? I can see it, you can't hear me? Hey ******!?"
Competitors and viewers alike were shocked by the language, and Chip Ganassi Racing, iRacing and NASCAR have all responded quickly. His team has suspended him without pay, iRacing have suspended him from the service indefinitely, and NASCAR has also suspended him indefinitely as well as Larson now attending mandatory sensitivity training.
Larson has since responded with an apology via social media:
"Hey, I just want to say I'm sorry. Last night I made a mistake and said the word that should never, ever be said. There's no excuse for that. I wasn't raised that way. It's just an awful thing to say. I feel very sorry for my family, my friends, my partners, the NASCAR community and especially the African-American community. I understand the damage is probably unrepairable, and I own up to that. But I just want to let you all know how sorry I am, and I hope everybody is staying safe during these crazy times. Thank you."
Ironically, the Japanese-American driver is arguably the most successful graduate of the Drive for Diversity program introduced by NASCAR to attract minority and female individuals into the sport. He won Rookie of the Year in 2014 and his first win in 2016. He went through the program in 2012, two years after Bubba Wallace.
Obviously various opinions have been circulating throughout the internet since the incident originally occurred. And we've been looking at various comments, along with forming our own view on the matter.
Lots of fans regularly complain that motorsport professionals are more media-trained and sanitised than in the past. Which makes it all the more surprising when a racer makes this kind of mistake. Racial terms shouldn't be part of everyday language, whether or not it's then captured on the audio during a live event.
So the repercussions from NASCAR, iRacing, Chip Ganassi Racing and sponsors are completely appropriate given the seriousness of the situation.
Many people have pointed out that in-game chat can often involve swearing and offensive language, whether that's in sim racing or other gaming genres. While that's certainly true, all the major gaming platforms have muting, blocking and reporting functionality to help whatever moderating teams may be in place. So while not every occurence is caught or punished, the often small teams dealing with huge volumes of players and chats do try to enforce the terms and conditions of their particular service.
And there's a big difference between a teenage Call of Duty player acting out, and a professional motorsport celebrity using the same language. The latter is in the fortunate position of being paid to represent a sport and team on the public stage, and this is a priviledged position. While you might have sympathy for Bubba Wallace rage quitting in frustration and losing a sponsor as a result (we've all been there), the Larson incident can't be excused as a simple lapse in the heat of the moment.
Hopefully both the sim racing community and motorsport professionals will be able to use this incident as a catalyst for more positive interactions whether in game chat or online, and as a reason to avoid using racist and offensive terms in everyday language. That way we can focus on the fact motorsports and racing sims are able to bring a massively diverse community together in their passion for real and virtual racing.
On a happier note, you can watch the full race replay of the Monza Madness event without the Larson audio incident below.
Want to get into iRacing in a positve and constructive way? Sign up to the service, here.