It's not just drivers who are taking virtual motorsport seriously. Especially when a professional NASCAR driver loses a sponsor after an iRacing rage-quit. Which is what seems to have happened to Bubba Wallace following an incident in the iRacing Pro Initational at Bristol Motor Speedway.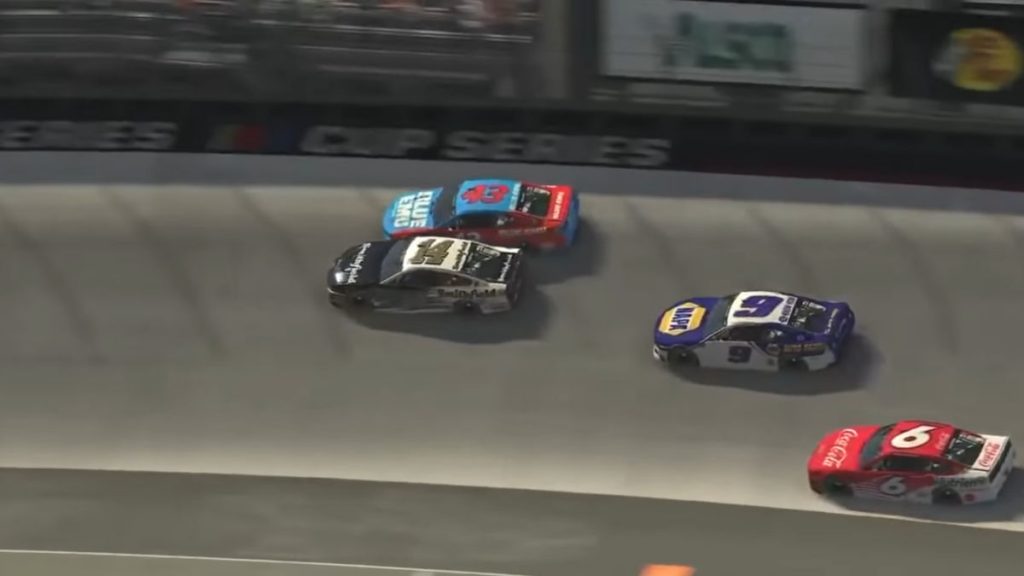 The eNASCAR Pro Invitational series is proving popular with the first race at Homestead-Miami Speedway bringing in 903,000 viewers, which was the biggest audience of any gaming broadcast in American TV history, the largest that day in the USA, and the biggest for any sports broadcast since everything began to shut down on March 12th.
The second race at Bristol Motor Speedway featured plenty of incidents and crashes.
One of which involved Richard Petty Motorsports driver Darrell "Bubba" Wallace Jr in the No .43 Chevrolet Camaro. He tangled with the No .14 Ford Mustang of Stewart-Haas Racing driver Clint Bowyer, who was also in-car commentator for the race.
While Bowyer came off worse, and might rethink blaming Wallace after seeing the replay, Bubba parked his car up with 139 laps left to run. And viewers of his own game stream heard him say "Y'all have a good one. That's it. This is why I don't take this shit serious. Peace out." and quit.
When he also responded to fans on Twitter, his main car sponsor, Blue Emu, responded.
If you're not familiar with Blue Emu, they're apparently the "number 1 selling emu oil brand in the United States". Because emu oil is a thing for pain relief.
More importantly, they're a long-term sponsor of Richard Petty Motorsports, and the title sponsor of the Spring Cup Series race at Martinsville Speedway. That's part of a multi-year deal as the 'official pain relief' products for NASCAR.
And the resulting split has generated headlines in the gaming, motorsport and even national press around the world.
On a happier note, the four premier partners of NASCAR have come across to the iRacing series (Coca-Cola, xFinity, Geico and Anheuser-Busch), and Fox Sports will simulcast every round of the series throughout the hiatus from real NASCAR racing. Coca-Cola is no surprise, having already signed a multi-year deal to sponsor the eNASCAR iRacing series back in February, but more sponsors could come across to supporting virtual racing as a result.
Which will be good news if Bubba Wallace needs to find a new main sponsor. Obviously at ORD, we'd be happy to run a blue and orange car if he'll take the spare change we can afford to spend at the moment…
And if you missed the racing, you can watch the full race replay below:
Want to try iRacing yourself? Sign up at the official website, here. Or why not check out our other coverage of the latest iRacing news and esports, the full iRacing car list, and the full iRacing track list.