Released to a somewhat mixed reception, things are unlikely to change for 704 Games as the NASCAR Heat 5 July DLC Pack adds new liveries to the officially licensed racing title.
There are also three new in-game challenges also included, but the main focus in on paint schemes with 51 new options available for you to choose from.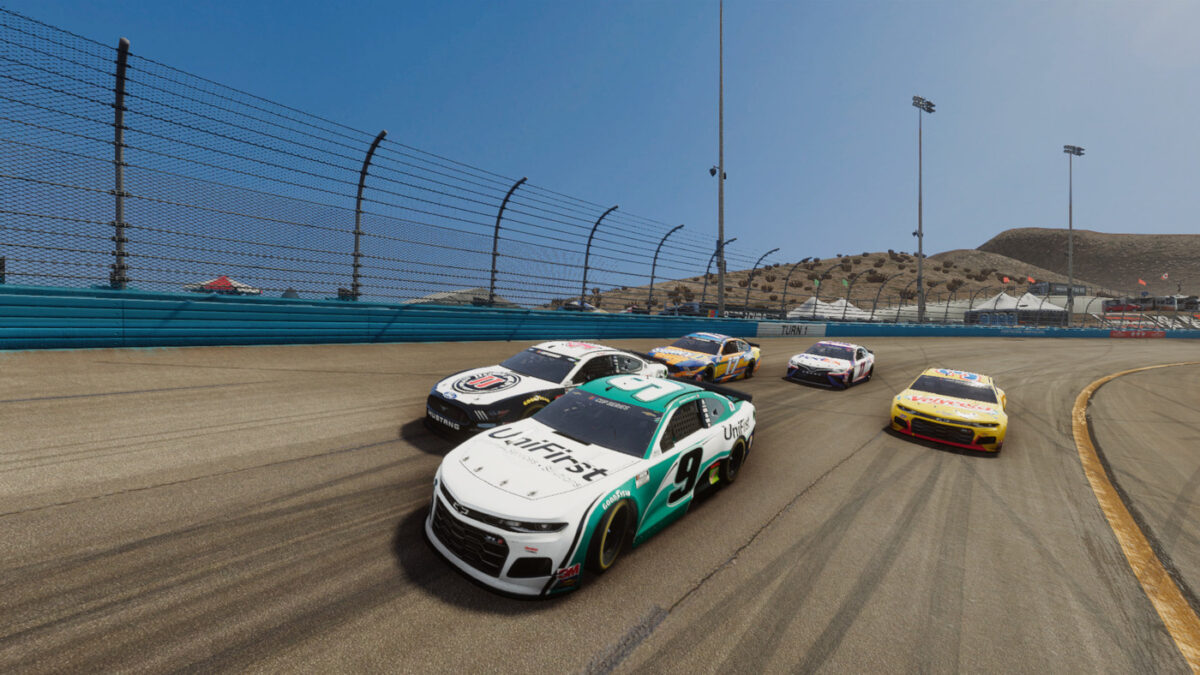 The full list is:
NASCAR Cup Series:
Alex Bowman (Axalta), Alex Bowman (Cincinnati), Aric Almirola (Pure Farmland), Austin Dillon (Keep America Beautiful), Brad Keselowski (Alliance Parts), Chad Finchum (Smithbuilt), Chase Elliott (Hooters), Chase Elliott (Mountain Dew Zero), Chase Elliott (Unifirst), Chris Buescher (Sunny D), Christopher Bell (Procore), Clint Bowyer (Blue Def), Cole Custer (Haas Tooling), Corey LaJoie (Drydene), Corey LaJoie (Pala Casino), Daniel Suarez (Commscope), Denny Hamlin (FedEx Freight), Denny Hamlin (FedEx Ground), Erik Jones (Craftsman), Erik Jones (Sports Clips), Erik Jones (Stanley), J.H. Nemecheck (Berrys Bulletts), J.H. Nemecheck (FAS), Joey Gase (Donate Life), Joey Logano (AAA SoCal), Kevin Harvick (Jimmy Johns), Kurt Busch (Gear Wrench), Kyle Busch (Fudge Brownie), Kyle Busch (Snickers White), Martin Truex Jr. (SiriusXM), Michael McDowell (FR8 Auctions), Ryan Blaney (Advance Auto), Ryan Blaney (Pennzoil/Menards), Ryan Newman (Koch), Ryan Preece (Velveeta), Timmy Hill (Roof Claim), Tyler Reddick (Alsco), Tyler Reddick (I Am Second), Tyler Reddick (Tame the Beast), William Byron (Color of the Year) and William Byron (Hertz).
NASCAR Xfinity Series:
Anthony Alfredo (Anderson's Maple Syrup), Austin Cindric (Odyssey Battery), Brandon Jones (Toyota Service Centers), Brandon Jones (Turtle Wax/Menards), Chase Briscoe (Highpoint), Daniel Hemric (Southpoint), Joe Graf Jr. (Bucked Up Energy), Noah Gragson (Nationwide Children's), Tommy Joe Martins (Skyview) and Vinnie Miller (Koolbox).
There's nothing inherently wrong with charging people for accessing new paint schemes. After all, it does take time and effort to replicate them in a game. But while it's included in the NASCAR Heat 5 Season Pass, anyone else will need to pay $12.99, or £10.29 for the pleasure of the new racing liveries on Steam (£9.99 for PS4, £10.74 for the Xbox One). So you'd need to really want the latest look for the cars in NASCAR Heat 5 to get value for money.
704 Games have already revealed that the fifth title in the series is the final one for the current game engine, and publisher Motorsport Games have been busy announcing that there will be an official British Touring Car Championship title out in 2022. So there are reasons why NASCAR Heat 5 feels a little like a stop gap, but even as a sim racing obsessive, it's tricky to have a lot of enthusiasm about paying £10 to reskin the cars in a game, especially when other developers would generally include those aspects for free (e.g. Codemasters updating F1 2020 liveries to reflect changes at the start of the season).
Mind you, presumably it proved worthwhile when almost exactly the same type of DLC Pack was released for NASCAR Heat 4 in November 2019.
You can keep up with the latest NASCAR Heat 5 updates, news, eSports and more, here.
You can download NASCAR Heat 5 from Steam for the PC, the Microsoft Store for Xbox One, or the PlayStation store for PS4. Physical edition of the game are available from Amazon or Play Asia (US version).