There aren't many major changes with iRacing 2020 Season 4 Patch 5 released, but a number of niggles and issues have been fixed.
Along with improvements to the user interface, there are changes to race control for events finishing under cautions, or using the new pit exit delay options. Plus there's a collision incident update for the Old Damage Model to check whether you've hit a non-racing surface or not before the incident is reported.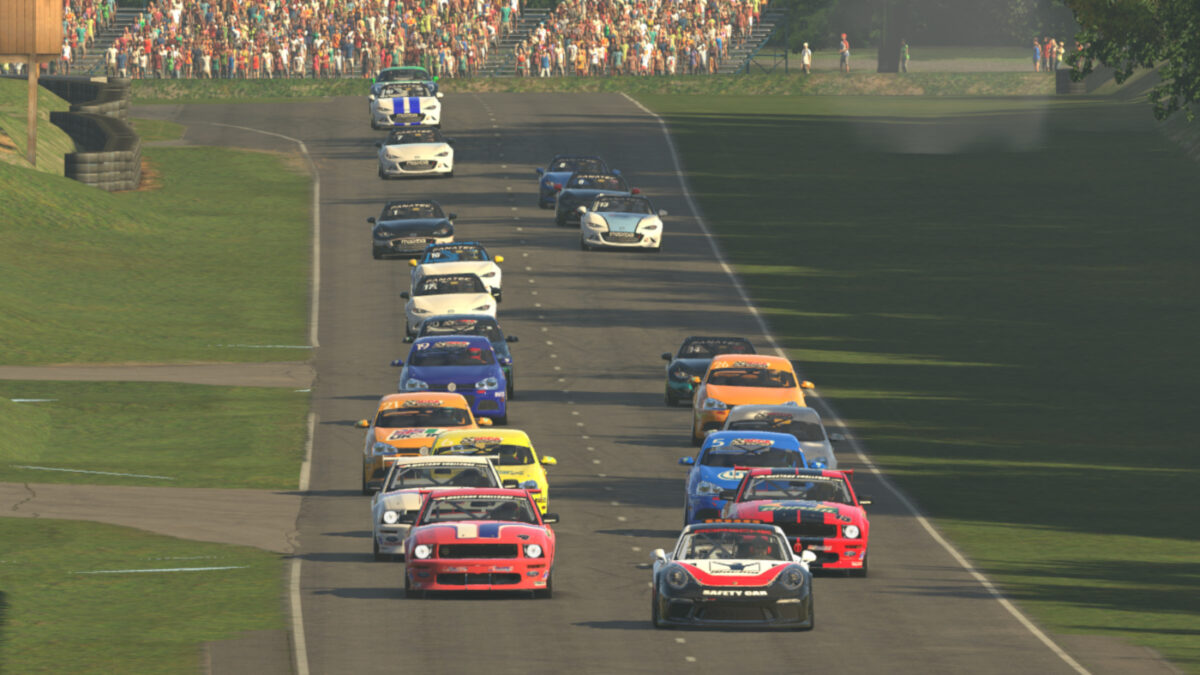 iRacing 2020 Season 4 Patch 5 Changelog:
iRACING UI: (4.20.07)
Up Next
– Fixed an issue where the "Ranked" and "Unranked" filter names were incorrect in the Filter Summary Bar.
– Fixed an issue where the Registration Bar was appearing incorrectly.

Current Series
– Fixed an issue where the "Heats" filter Tag was not collecting any results.

Heat Racing
– Fixed an error that occurred when users attempted to create or edit events using any Heat Racing format.

MEMBERSITE:
Payments
– Fixed an issue where users were unable to create a League if the Account option, "Use iRacing Credits and Dollars towards my subscription & car/track purchases" was disabled.
SIMULATION:
Race Servers
– Two new Race Server farms for hosting user-created Hosted Sessions have been brought online.
– – These new Race Server farms are JP-Tok in Tokyo, Japan, and BR-Sao in São Paulo, Brazil.
– – – When creating a Hosted Session, select the Race Server farm geographically closest to you in order ensure ideal connectivity and racing for your session.
– – No Official Races are planned to be run on these Race Server farms at this time.

Race Control
– When a Race finishes under Caution, you should now receive the same pace order messages as you would under any other Caution. This may help to prevent unexpected penalties due to passing under a Yellow Flag after a Race has finished.
– Fixed an issue with the new pit exit delay Race Control system where if the first and last cars on grid are on either side of the Start/Finish line, the grid traversal time would compute out to be negative instead of wrapping positive, resulting in a 2.0 second Pit Exit Hold Penalty for some racers.

Old Damage Model
– Collision incident reporting has been updated for the Old Damage Model so that world impacts check to ensure the material is a non-racing surface before reporting an incident.

CARS:
McLaren MP4-30
– Fixed a wrist twist animation issue for some drivers when steering counter-clockwise.
Don't forget that the iRacing Black Friday 2020 discounts are live until December 3rd, 2020, with 50% off new memberships, and 25% for renewals or starting up lapsed subscriptions again.
You can sign up to iRacing, here (and credit your referral to ORD, which we'd appreciate!). And see all the free, and the paid, vehicles available in our full official iRacing car list, here, or check out all of the included circuits, and the others you can buy, in our full official iRacing track list, here.