Last updated on May 18th, 2023 at 08:57 pm
Much like in real life, part of the fun of virtual lorry driving is decking out your cab and trailer in whatever style you fancy. And with the Euro Truck Simulator 2 Renault Trucks T Tuning Pack DLC out now, you can do just that for the French haulage machine.
The Renault T was a long-awaited release, having been teased in 2016, and then added to the game in 2019. Then in 2021, Renault announced an evolution to the model, and the new version for Euro Truck Simulator 2 arrived as an update in April 2021 before the real-life introduction of the truck.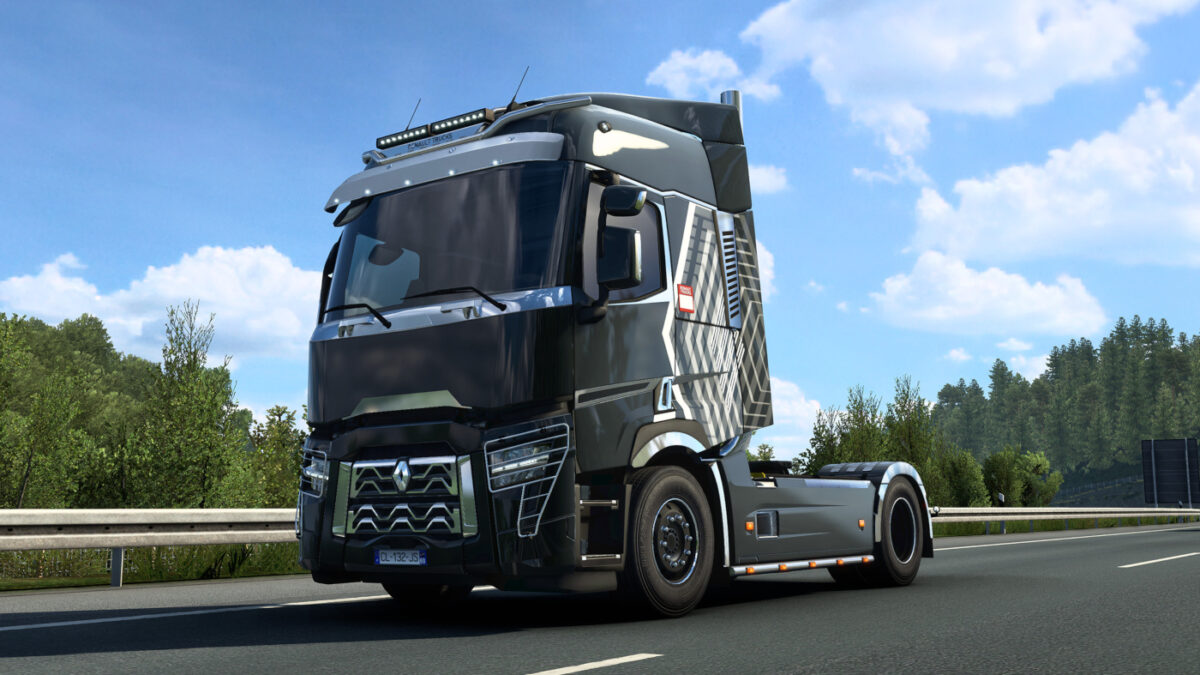 The recent 1.44 update for Euro Truck Simulator 2 introduced a new interior variant for the Renault, along with telling you whether a part is Factory, Licensed, Aftermarket or Unknown when you're shopping at a dealership. Given the official partnership with the French manufacturer, we'd imagine the parts list may have had their involvement, and it's a pretty long list:
Euro Truck Simulator 2 Renault Trucks T Tuning Pack DLC Contents
New Paint Jobs
Air Tanks
Beacon
Lower Grille Guard
Corner Deflectors
Door Handles
Door Steps
Door Trim
Rear Exhaust
Front Bumper
Front Cabin Trim
Front Fender
Front Fender Bottom
Headlight Guard
Bullbar
Front Grille
Front Grille Bottom
Front Mask
Front Mask Bottom
Front Logo
Mirrors
Mudflaps
Windshield Frame
Filter
Rear Bumper
Chassis Cover
Roof Deflectors
Rear Fender
Rear Fender Top
Light Bar
Rear Mudflaps
Side Deflectors
Stoneguard
Side Reflector
Side Stripe
Sideskirts
Window Trim
Sun Visor
Sideskirt Bars
Rims
Floor Mats
Dashboard Sets
Lightboard
Pillow Items
Bed Items
Seat Items
Console Items
It's cost you £3.29 via Steam for the DLC, but what price style when you're executing a 97-point turn to try and finally deliver a heavy load?
You can keep up with the latest Euro Truck Simulator 2 news, updates and more, here. Or check out the American Truck Simulator news, here, along with our full American Truck Simulator truck list.
Euro Truck Simulator 2 and all official DLC are available on Steam, here, and you can find American Truck Simulator and all DLC to buy via Steam, here.