The latest work in progress can be tried by virtual lorry drivers, with Euro Truck Simulator 2 Open Beta 1.44 available now.
And there's plenty included in the new beta branch, with a reworking of Austria, including cities, road networks and the Alps, plus updates to the company logos in the game. A new 'Mod Refund' feature will recognise if you've removed a third-party part on your truck and refund your virtual currency. And parts will now be labeled as Factory, Licensed, Aftermarket, or Unknown.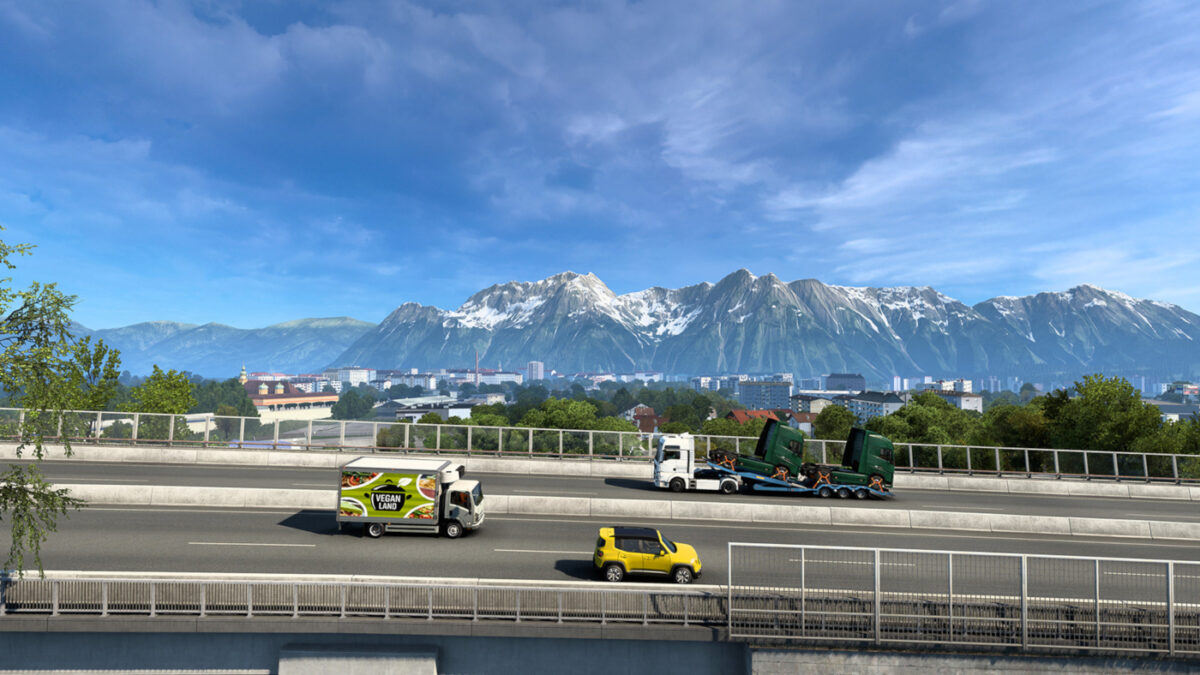 A cool new change will be that signs will now display in-game distances to cities and landmarks, meaning you're more able to turn off the GPS and not run out of fuel. And in both Euro Truck Simulator 2 and American Truck Simulator, unmarked roads will now appear as a dashed orange line on your map.
Both truck sim titles get upgrades to the force feedback, including effects for gearbox grinding and understeer, a revised power steering curve and pressure gain for self centering, and different friction forces depending on the steering speed. And you'll also now be able to turn on Smart Sequential Shifting if you want to drop down or change up multiple gears automatically.
Another new truck adjustment is the suspension, which will now allow you to change the height to help you attach trailers, especially in difficult pickup areas. And you're able to lock the camera view to the horizon inside the cabin, if you want to keep your vision nice and level.
Euro Truck Simulator 2 Open Beta 1.44 Release Notes:
Map
Italian Tollgates Update
Austria Rework
Distance Signs with Accurate Mileage System
Companies Logo Revisions
Unmarked Road Exploration
UI Road Numbers in Corsica/Sardinia
Some older border crossings reworked in Beyond the Baltic Sea
Other Map Improvements
Gameplay
Mod Refund Feature
Licensed vs Aftermarket UI in browsers
Force Feedback Upgrade
Adjustable Suspension Height
Interior Camera Horizontal Lock
Smart Sequential Shifting
Vehicles
New 2022 Interior option for Renault T
Exterior Interior Models reworked for Renault T
You can access the Euro Truck Simulator 2 Open Beta 1.44 by right-clicking on the game in your Steam library, selecting properties, then Betas tab, public_beta and 1.44.
And you can keep up with the latest Euro Truck Simulator 2 news, updates and more, here. Or check out the American Truck Simulator news, here, along with our full American Truck Simulator truck list.
Euro Truck Simulator 2 and all official DLC are available on Steam, here, and you can find American Truck Simulator and all DLC to buy via Steam, here.