With the 2022 Season 3 update due to release on June 7th at 12:00 UTC, iRacing shows off Fuji Speedway and Sandown Raceway as new circuits coming to the sim racing service.
We know that Sandown in Australia has been confirmed as arriving, but it seems increasingly likely that Fuji might also appear, given the screenshot shared on the iRacing social media accounts, and the fact a fairly detailed laser scan was also released in early May.
Fuji Speedway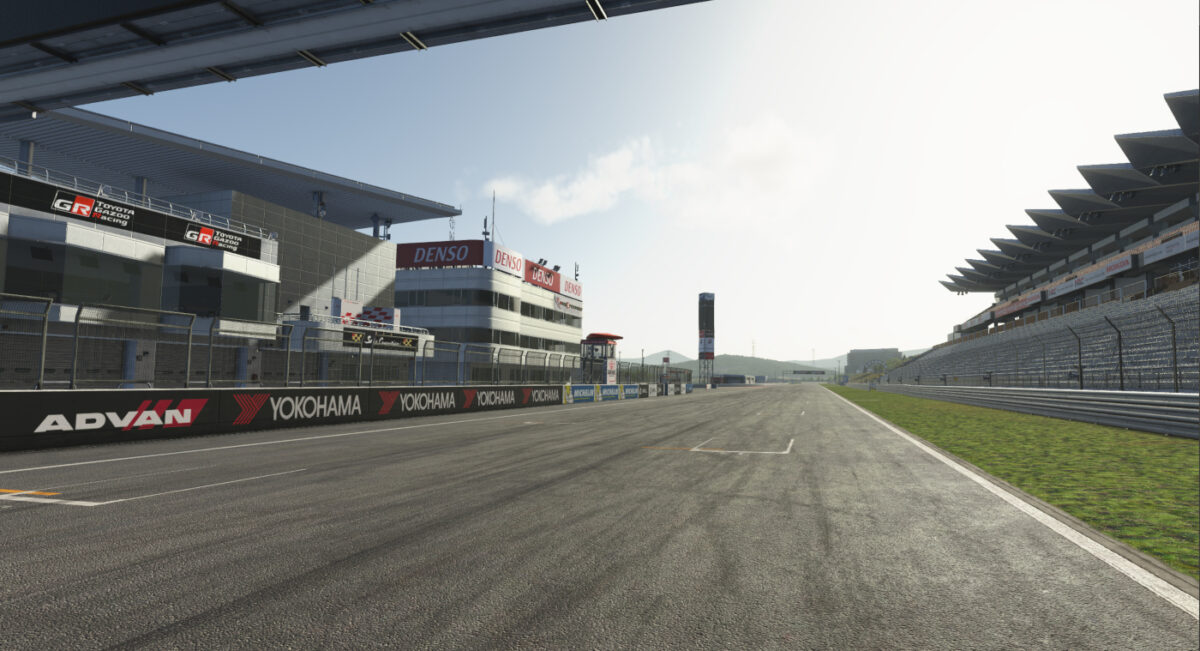 The 2.835 mile (4.563km) circuit located near to Mount Fuji is a fairly well known venue, having previously hosted the Japanese F1 GP in 2007 and 2008, along with World Endurance and GT racing. It's owned by Toyota, who recently revealed the GR86 Cup Car would be coming to iRacing in 2023.
It was also the venue for the final race of the 1976 Formula One season which saw the climax of the battle between James Hunt and Niki Lauda, later immortalised in the film Rush. Wet conditions caused Lauda to pull out of the race, with Hunt finishing to take the title.
Fuji Speedway has an interesting, and sometimes tragic, history, having originally been planned as a banked superspeedway for NASCAR-style racing. But due to a lack of money, only one bank was completed before it was changed to a road course and opened in 1965, with the one wide banked turn regularly causing big accidents. A crash in 1977 which caused the death of two spectators led F1 to switch to Suzuka for the Japanese GP until 2007.
The weather at the circuit has tended to dominate many races, from the 1976 title decider to the return of F1 in 2007 following a circuit redesign by Hermann Tilke. Which will make it interesting when dynamic weather comes to iRacing. Along with the long 0.917 mile front straight, which will make for tractical slipstreaming battles.
Sandown Raceway
Moving to approximately 16 miles south east of the centre of Melbourne in Australia, Sandown International Raceway is a 1.928 mile (3.1km) circuit first built for horse racing in the 1800s. When a new horse track was built in the 1960s, a tarmac race course was built around the outside, opening in 1962 with an International Cup attracting drivers including Jack Brabham, Jim Clark, Stirling Moss, Bruce McLaren and John Surtees.
It went on to hold a first touring car race in 1965, along with further Cup races, motorcycles, and even the Australian Grand Prix before it became part of the F1 World Championship in 1985. While a longer International Circuit was run from 1984 until 2001 to host world endurance events, the venue has since reverted to the 13-turn National circuit, with lap times of around 60 seconds for many classes.
The introduction of new circuits to iRacing is always good news, especially venues which not everyone will be aware of. Fuji is probably well-known enough to be a fairly popular purchase, but Sandown will be more interesting, especially following on from the release of Winton Motor Raceway earlier this year. It's obviously a venue to add to the iRacing.com V8 Supercars Series, as the rivalries between Ford and Holden continue in sim racing. But it'll be interesting to see how it fares with other classes, particularly with the fairly long front and back straights.
You can sign up to iRacing, here (and credit your referral to ORD, which we'd appreciate!). And see all vehicles included in your basic subscription, or what you can access by paying more, in our full official iRacing car list, here.
Or check out all of the included circuits, and the others you can buy, in our full official iRacing track list, here. And keep up with all the latest iRacing news, updates and eSports, here.