Last updated on December 8th, 2022 at 01:48 pm
Following on from the special Ferrari Giallo Modena paintscheme, and the Red Bull example in F1 21, F1 22 will add a limited time McLaren Future Mode livery from October 11th, 2022.
It's being used for the Singapore and Japanese Grand Prix by the McLaren Racing team in the real world, and replicated in the game for a period, after which it can be downloaded and applied to your player car.
And it will also be utilised by the McLaren Shadow drivers in the F1 Esports Series Pro Races, including championship leader Lucas Blakeley.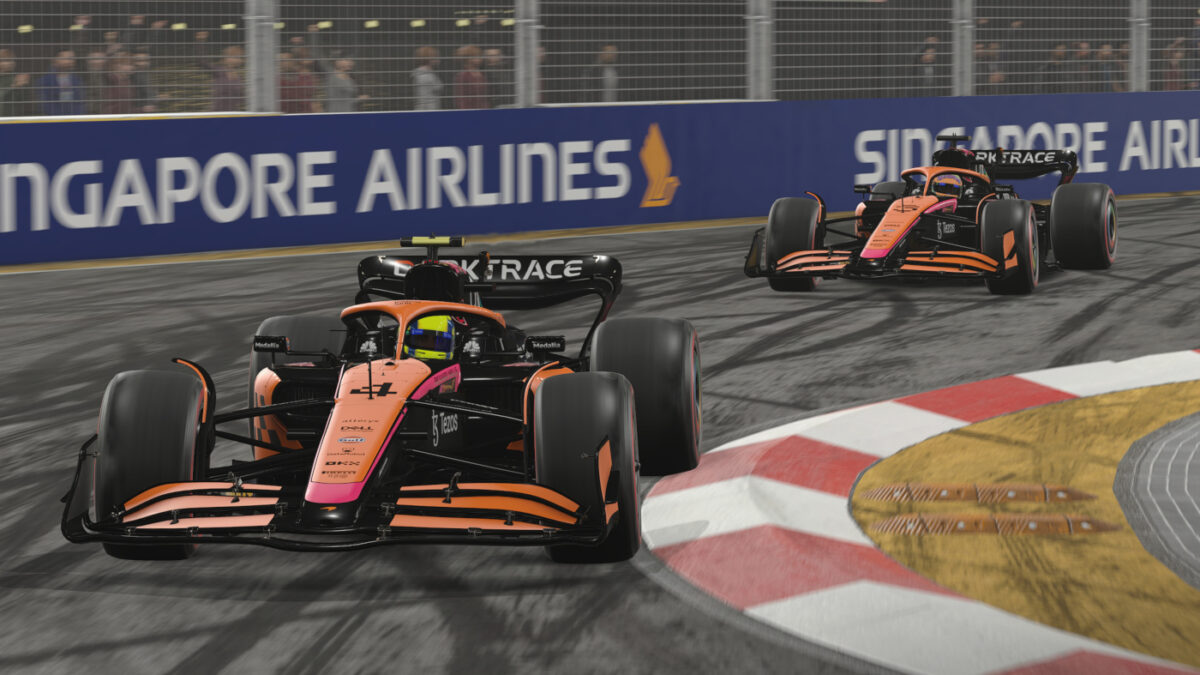 In other F1 22 news, the driver ratings have been updated, with improvements in scores for Max Verstappen, Zhou Guanyu, Charles Le Clerc, Fernando Alonso, Pierre Gasly, Mick Schumacher and Yuki Tsunoda. And falls for drivers including Russell, Bottas, Ricciardo and Latifi. The changes are:
Max Verstappen Overall 96 (+1)
Lewis Hamilton Overall 94
Charles LeClerc Overall 92 (+1)
George Russell Overall 91 (-1)
Fernando Alonso Overall 90 (+1)
Lando Norris Overall 90
Carlos Sainz Jr Overall 89 (+1)
Sergio Perez Overall 87 (-1)
Sebastien Vettel Overall 85
Pierre Gasly Overall 83 (+1)
Valtteri Bottas Overall 83 (-3)
Alexander Albon Overall 82
Daniel Ricciardo Overall 82 (-2)
Esteban Ocon Overall 82
Kevin Magnussen Overall 80 (-1)
Lance Stroll Overall 80
Mick Schumacher Overall 80 (+1)
Zhou Guanyu Overall 78 (+3)
Yuki Tsunoda Overall 77 (+1)
Nicholas Latifi Overall 67 (-2)
You can buy F1 22 for the PC on Steam, the Epic Games Store, and Origin. Or via the Microsoft Store for the Xbox One and Xbox Series X|S and the PlayStation Store for the PS4 and PS5. Physical copies are available from Game or Amazon.
Keep up with all the latest F1 22 news, updates, DLC and more, here. And you can find all the cars in the game, including supercars for the first time, in the full F1 22 Car List, here.