Last updated on April 25th, 2023 at 07:03 pm
A new high speed oval race track, four new cars and various fixes all arrive as the 20th season arrives and the Forza Horizon 5 High Performance playlist starts April 27th, 2023.
Probably the biggest news is the arrival of the oval circuit in the Horizon Stadium, which can be explored in free room during the High Performance series and appears in challenges. But you'll also be able to use it as a race route in the future for Road Racing events, including Rivals and building new tracks in the EventLab.
It's a pretty cool new addition, and comes with 20 specific new Forza Horizon 5 accolades, along with the new series car collector accolade. It'll be accompanied by six returning PR Stunts, a Pinata Helmet to smash, new profile badges for owning 500, 600 and 700 unique cars, and fixes for both the base game and the latest Rally Adventure DLC Pack.
The update includes fixing missions that either couldn't be completed, or weren't marked as completed, mismatched achievements between Steam and the Xbox app, and various other issues detailed below in the release notes. It's available to download from Tuesday April 25th, so you're prepared to start the new playlist when it launches.
Forza Horizon Series 20 High Performance Update Release Notes:
Version Number:
Xbox One: 2.581.488.0
Xbox Series: 3.581.488.0
PC: 3.581.488.0
Steam: 1.581.488.0
Series 20 – High Performance Release Notes
New Features (Available from April 25th)
Permanent Oval Circuit Road Race

Also available with a dedicated Rivals Leaderboard
21 Accolades
3 Badges

Removed requirements to bind ANNA/Forza Link when creating Custom Controller profiles
(PC) Intel® XeSS Super Sampling is now available as a temporal up-scaling solution
Skin tone colours for hearing aids & prosthetics
EventLab Piñata Helmet prop
"High Performance" Series Features (Available from April 27th until May 25th)
Freeroam Oval Circuit in the Stadium
4 Returning Speed Traps

Horizon Baja
East Resort
Pantano Pass
Tulum

2 Returning Speed Zones

Green Hills
River Run
Piñata Helmet collectible
Unlockable Cars 
New To Forza

2019 #70 Porsche Motorsport 935
2020 Lamborghini Huracàn STO
2021 Audi RS 6 Avant
2021 Porsche MissionR
Bug fixes
General
Fixed an issue where sometimes #ForzaThon Weekly Challenges were getting reset after restarting the game
Fixed an issue where sometimes roads were not marked as discovered on the map
Fixed an issue with the Auction House where searching by just "Car Type" couldn't return any results
Fixed an issue where the HUD could remain stuck at the center of the screen while using an Ultrawide monitor on Xbox
General performance and stability fixes
Cars
Fixed an issue where the Anti-lag exhaust animation was not displayed correctly on the 2000 Nissan Silvia SpecR while a RocketBunny wide bodykit is installed

Developer's note: We are aware of the Anti-lag exhaust animation issue with other cars mounting the RocketBunny wide bodykit and we plan to address those in the future

Fixed an issue where rollcages were not displayed correctly when a StreetFighter LA bodykit was applied
Fixed an issue with the 2004 Subaru WRX STi where the front bumper sticker shading was inconsistent when combined with some paints and bumper parts
Fixed an issue with the 1964 Emory 356 C incorrectly displayed as model year 1960
Accolades
Fixed an issue with "Change of Scenery" accolade starting location listed as Gran Pantano in the accolades menu and Pantano de La Selva when pinned
Fixed an issue with "Photogenic" accolade which displayed wrong numbers in the description
Fixed an issue with "Unbeatable" Road/Dirt/Cross Country/Street Racing accolades incorrectly stating players needed to win 10 races in a row to be achieved
EventLab
Improvements made to EventLab rules not working in Multiplayer and/or causing players desync
Multiplayer
Fixed an issue where Festival Outpost could display inconsistently during races
Fixed an issue in the Trial where AI cars PI were not scaling accordingly to players' car PI
Fixed an issue where sometimes players couldn't use the Rewind feature after finishing a match of The Eliminator
Rally Adventure
Fixed an issue with "Arzate Sprint Challenge" and "Forest Trail Master" challenges not marked as completed for some players
Fixed an issue with the Apex Predator "Let it B" challenges which couldn't be completed for a number of players
Fixed an issue where achievements unlocked through the Xbox App and Steam were not matching
Fixed an issue where the Ford Focus RS was not available in the Autoshow after unlocking the car
Fixed an issue with the UI where cars' default PI was displayed in various menus and race leaderboards despite being upgraded
Fixed an issue with some restrictions in the pins of challenges with several requirements unintendedly doubled
Fixed a series of issues with VO
PC
Improved framerate performance while in the Valle de Foreneos Dunes on Nvidia GPUs
Improved framerate performance while driving an Audi e-Tron
Forza Horizon 5 Series 20 High Performance New Cars
The new cars coming to Forza Horizon 5 Seires 20 are all modern examples to match the High Performance title, with the 2020 Lamborghini Huracan STO, 2019 Porsche #70 Porsche Motorsport 935, 2021 Audi RS 6 Avant and electric 2021 Porsche Mission R concept.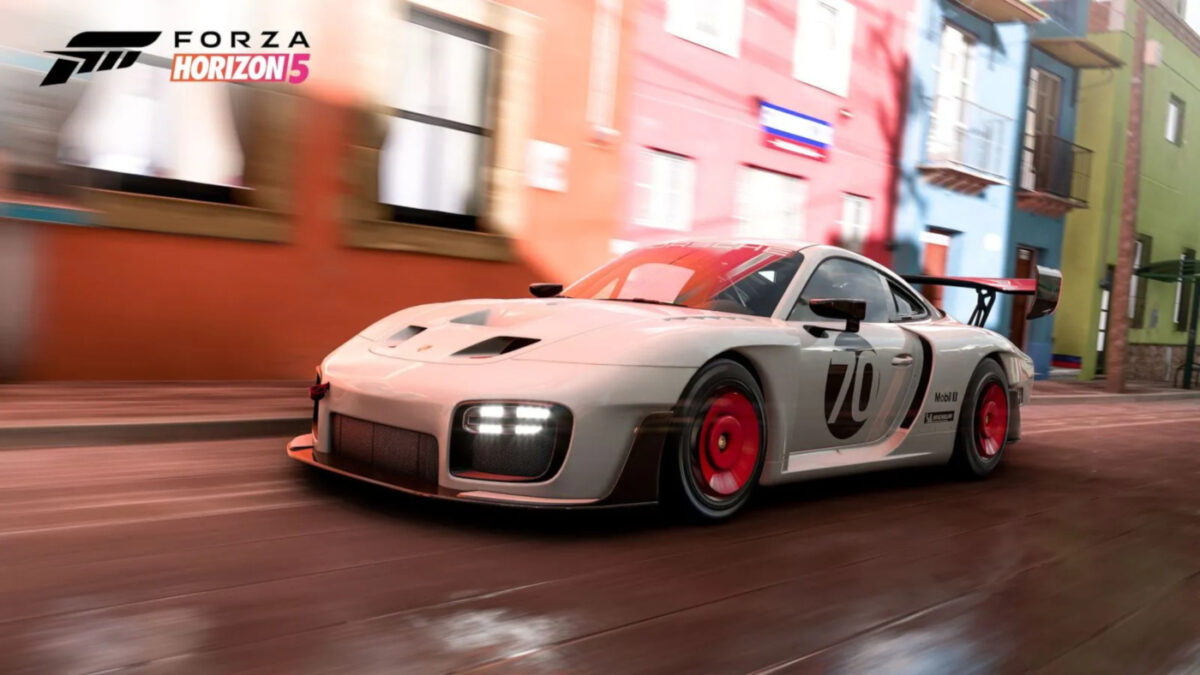 The most interesting is probably the Porsche Motorsport 935 created to celebrate the historic Le Mans racer based on a 911 GT2 RS, including the 700hp 3.8 litre engine. Only 77 models have been produced in the real world, so it's unlikely you'll see one outside of special motorsport events.
That doesn't mean the V10 Huracan STO or the 4-litre twin-turbo V8 Audi RS6 Avant estate can't be fun, but if you're opting for pure performance, the electric Mission R boasts 1000hp, a 0-62mph time of under 2.5 seconds and 186mph top speed as standard, along with all-wheel drive.
You can buy Forza Horizon 5 via the Microsoft Store, or for the PC via Steam. Keep up to date with the latest Forza Horizon 5 news, updates and DLC, here. And take a look at all the latest cars released for the game in our Forza Horizon 5 car list.