Last updated on July 28th, 2023 at 03:31 pm
As the first insights for a while from Senior Vice President and Executive Producer Greg Hill, there's quite a lot to cover from the big iRacing July 2023 dev update. It discusses new circuits, refreshes to current venues, improvements to the corebase, 3D curbs, rain, overhauls to oval racing and the road racing licensing system, and the new Career Mode.
New and upgraded tracks:
The length post includes circuits previously announced for release or upgrades, and in various stages of completion, including Portimao (Algrave), Misano, Mugello, Pukekohe, Ledenon and Zandvoort. But notably, Greg also drops a mention of Navarra, and a plan to revisit the UK to add 'multiple new circuits.
Circuito de Navarra isn't a well-known Spanish circuit, although it has hosted World Superbikes and GT3 series. But it's notable as being owned by Motorsport Vision, co-founded by former F1 driver Jonathan Palmer, who also have Brands Hatch, Oulton Park, Snetterton, Cadwell Park, Bedford Autodrome, Doninton Park, and plans for a new track and motorsport complex at Laon in France.
Along with Cadwell, maybe we might see Lydden Hill added for rallycross? And if multiple new tracks are being added, you'd imagine Thruxton, Mallory and Anglesey are the most notable omissions at the moment. Just don't ask what happened to the scans of Rockingham Motor Speedway.
Two venues for release in September are the new Kern County Raceway, where iRacing is building both the dirt and short asphalt tracks together for release in one package for $11.95. And the upgraded and reworked Zandvoort, which will be added alongside the historic version, meaning you get both (existing owners get the new version for free).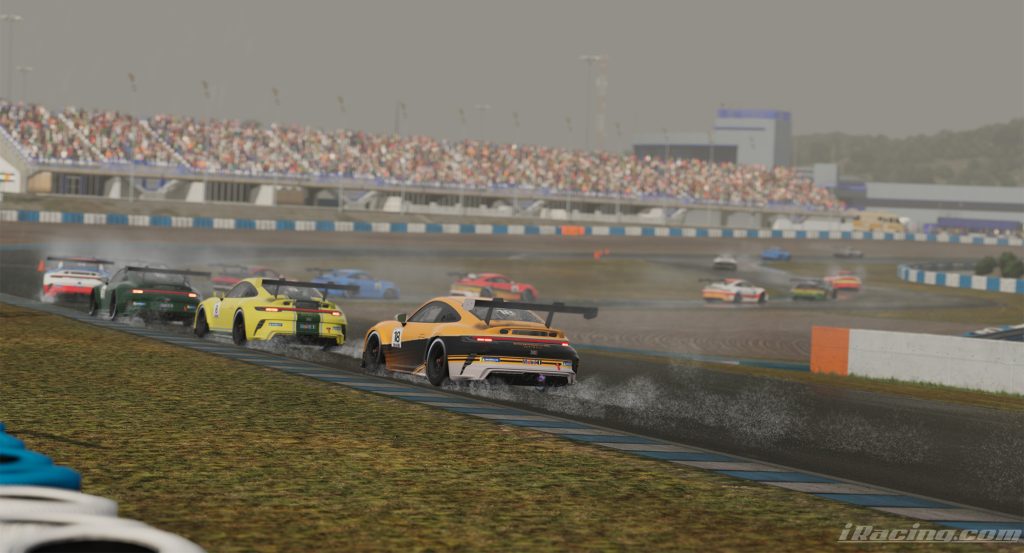 Rain and 3D Curbs
The much anticipated and long-awaited release of rain and dynamic weather in iRacing seems to be getting much closer judging by the screenshots released to accompany the dev update. Sliding and hydroplaning are both mentioned, along with how track polish and rubbering will impact the racing line.
And this might also play into the revived 3D curb project, as those surfaces will be particularly treacherous for drivers when it's wet.
The details are followed by a clarification that the updates aren't focused just on the upcoming 2023 iRacing Season 4 build, so it might still be a while before they're rolled out. But interestingly, the tyre and physics engine team has apparently tripled in size, along with increases in staffing for the car and track, technical management and animation teams.
And this means there's resource available to work on the evolution of the physics and tyre models, along with working through the core of the iRacing codebase. Some of their work has already reduced loading times, but one detail mentioned for the future is the unique car count (not field size), being increased substantially.
Time to bring back the Jetta and Solstice to the Production Car Challenge? Or some suitable current alternatives.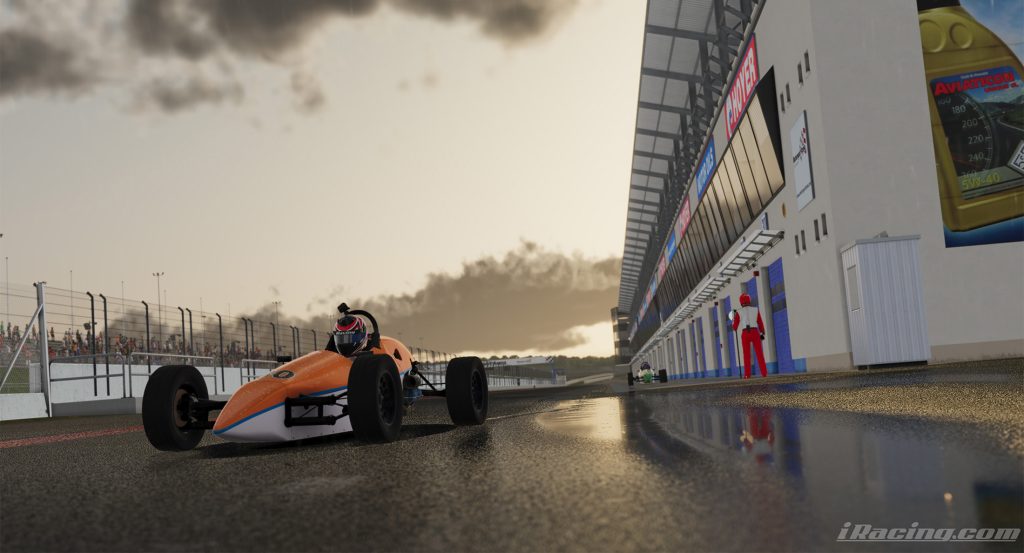 Oval Racing and Road License Overhauls
Having recently release some substantial tweaks to the dirt racing experience, there's a team going through a similar process for ovals, which should result in a number of improvements for the future.
And it seems like there's going to be a 'significant addition' to the Road Racing licensing system, with bigger changes being explored for the future. Looking at community and external feedback, there's been a constant call to separate out Formula cars from the closed-wheel options, or potentially there may be some restructuring with a new license level?
One of the issues with iRacing currently is the explosion of new cars and series making it harder to know where to sign-up for packed grids, and the lack of a sense of progression. Unless you require an A License for a professional eSports series or big event, there's not really much incentive. And there's a huge amount of content for the lower license levels.
The Sim UI and functionality is constantly being evolved, along with progression on the 'realistic and engaging' Career Mode. And it'll certainly be interesting to see how iRacing implements and integrates something so different to what the sim racing service has been built on in the past.
You can sign up to iRacing, here (and credit your referral to ORD, which we'd appreciate!). And see all vehicles included in your basic subscription, or what you can access by paying more, in our full official iRacing car list, here. Or check out all of the included circuits, and the others you can buy, in our full official iRacing track list, here.