Last updated on December 20th, 2019 at 01:58 am
The Isle of Man TT races are currently underway, marking the 105th anniversary of the legendary motorcycle races (there was actually a car race in 1904, but we won't count that). As I write, the likes of Bruce Anstey, John McGuinness, Ian Lougher, Ian Hutchinson, Keith Armor, Adrian Archibald and more are doing unbelievable speeds on the 37.333 Mountain Course, with 264 corners. It inspired the Nurburgring, but where the German circuit has rumble strips, run-off areas and armco, the Isle of Man TT sees riders topping 180 mph in the superbike class before battling kerbs, brick walls and no run-off area – only houses, walls, hedges and the occasional front garden.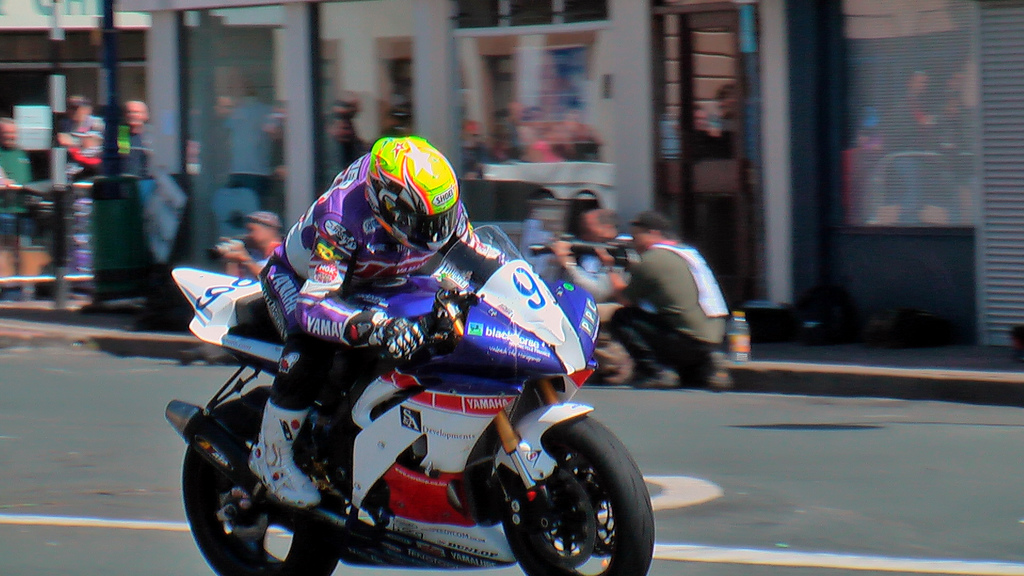 isle of man tt 2008 image by Jonathan Camp on Flickr (CC Licence)
In the old days, the race was part of the Grand Prix season for riders including Agostini, Read, Hailwood, Redman and more. But from 1977 when the British Motorcycle Grand Prix moved to Silverstone, it's increasingly become the arena for road racing specialists with the occasional British Superbike star thrown in – recent legends include Joey Dunlop, Steve Hislop, David Jefferies, and John McGuinness (Carl Fogarty made a couple of memorable appearances, particularly his epic battle with Hislop).
So if you're feeling inspired, you need two things – a Playstation 2, and a copy of TT Superbikes: Real Road Racing
.
Put simply, it's the only road racing choice, ( the only other contender, Manx TT SuperBike
is an arcade game which doesn't come close, and also means hunting down a Sega Saturn
).
Ignore the graphics – the original game looked OK when it was released in 2005, and the 2008 Real Road Racing update is a definite improvement, but we're dealing with the previous generation of videogame consoles.
Focus on two things:
1. The tracks are incredibly accurate, despite the graphical limitations. UK developers Jester Interactive went to great lengths to get the various road circuits perfect, including all of the TT course. Plus the North West 200, Ulster Grand Prix, Macau, Oliver's Mount and Aberdare Park. If you've ever been, or you watch the TV coverage, you'll recognise every inch of the tracks.
2. The handling is amazing. It's the game which has always been as close to riding a real racing motorcycle as videogames have got. Forget MotoGP or SBK – the fact that some of the senior Jester Interactive team own race bikes and ride themselves is abundantly clear whether you're racing a 125cc machine or a Superbike. They all feel as flickable as the real thing, wheelies and stoppies are easy to do but hard to control, and they all get loose in an authentic way when you're dealing with the real bumps and jumps of the circuit. Try heading down Bray Hill over 150mph or the jump at the hump-backed Ballaugh Bridge to see exactly what I mean.
And although there's no online racing option, you get a two-player mode. And in a sidecar race, the two players can work together as driver and passenger!
Sadly there's no online racing – when I've spoken to the developers in the past, I've almost begged for an Xbox version with Xbox Live allowing me to jump in and race against my friends at any time (the TT is run with riders starting at 30 second intervals).
Sadly that hasn't happened, but if you want more, there's also the promise of the new TT Superbikes Legends Game
for the PS2 as well.