Last updated on February 24th, 2021 at 02:10 pm
I always enjoyed a bash on Grand Prix Manager, but somehow always managed to fail miserably with whatever team I picked. I'm not sure if it was my poor understanding of business, strategy, persistent hiring of Damon Hill or anything else I was doing wrong but Damon and his teammate would always qualify on the front row and then fail miserably in the race. Every bloody race. The new Frank Williams I was obviously not.

World's Best Boss by Kumar Appaiah on Flickr (CC Licence)
But I've grown up a bit now and whilst my understandings of business, strategy and Damon Hill have all improved, there is nothing available for me to test out my adult skills. In fact there has been lack of motorsport management games for a while now. The first one was the ZX Spectrum's Grand Prix Manager in 1984, which wasn't much bettered for a decade when MicroProse released Grand Prix Manager in 1995 and a sequel one year later. Since the third in the series – 1998's Grand Prix World – there have been slim pickings for the discerning wannabe virtual motorsport manager.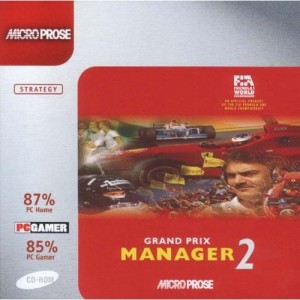 There is little doubt developers don't fancy it at the moment – there has been no established market for over a decade and most big developers are understandably a little risk-averse in these challenging economic times – but with Football Manager topping the PC charts every year without fail I'd be willing to bet a good motorsport management simulation could make some money for a publisher willing to take the plunge. If a developer were willing to go further than a classic simulator, why not make it a massively-multiplayer online simulator similar to Football Manager Live? Online Race Driver's own GTDon just wrote an article about the imminent return of racing communities, so why not sync the game up with an R-Factor, or Forza, or GT5 or even F1 2010? Before long we could have fully fledged virtual racing teams completing with managers and drivers… then it would be a matter of time until virtual tyre manufacturer is released. And that would have to be called 'Burning Rubber'. Or how about 'FIA Manager', where you take charge of international motorsport and have to sort out political in-fighting and get all the F1 teams bosses to sign the Concorde Agreement whilst keeping costs down and avoiding dungeon-based S&M scandals.
It's been too long since there was a good motorsport management sim, and I'm not sure there has even ever been one on a console, but just because Chipping Sodbury's finest are no longer in operation it shouldn't prevent anyone else from having a go. After all, there is now a new generation of gamers that have never had the pleasure, like me, of being absolutely terrible at a motorsport management simulator.
(Editors note: If you're tempted by the though of reliving Grand Prix Manager 2, there are copies available through places like Amazon – and you can always justify it as a retro gaming investment: Buy Grand Prix Manager 2
)