Last updated on January 3rd, 2020 at 02:03 am
I'm planning to prepare properly for this Autumn. The release of Gran Turismo 5 and F1 2010 are important to me. The dates are in my calendar, my time is booked off work and I intend to get all my affairs in order beforehand – including the writing of a will. It also means that after few months under the bed gathering dust it will soon be time to once again break out the polish, oil up the pedals and bring out my trusty USB steering wheel.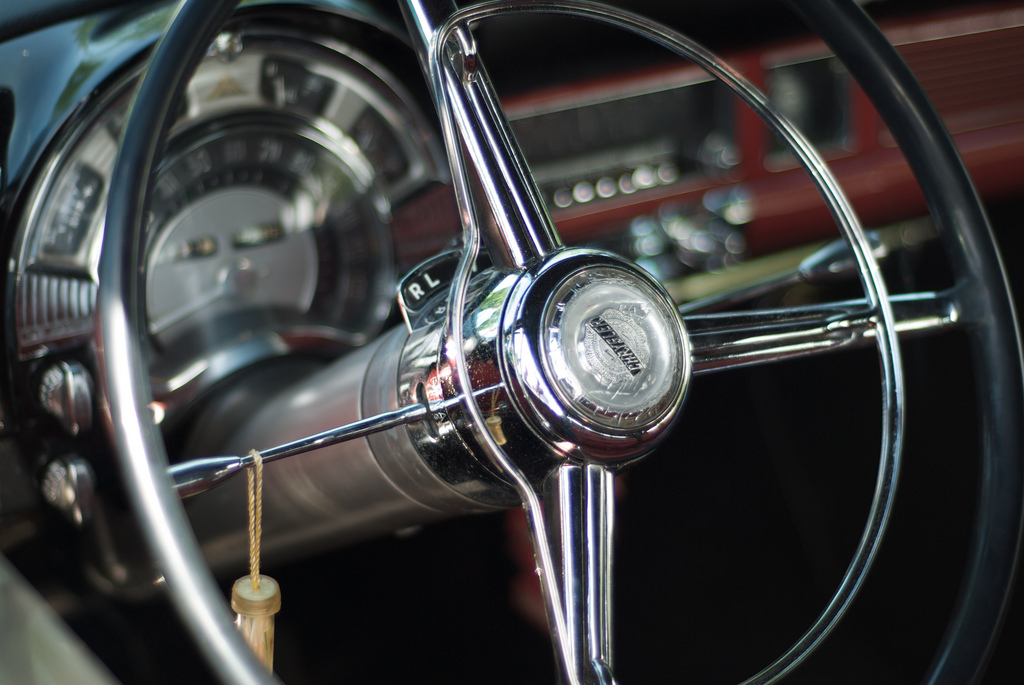 Classic Car Steering Wheel by pmarkham on Flickr (CC Licence)
Most racers that don't use a steering wheel complain that they don't feel quite right and that they can play the game perfectly well with a controller. First of all, that's fair enough. Wheels are a real pain in the ass to have around in the living room – there are cables everywhere, you need something to attach it to, need an extra plug socket and will probably have to calibrate the thing every time you want to use it. Having pedals attached to a wheel presents an entirely different problem – they need to be up against something solid and heavy to avoid you pushing them to the other side of the room as you race. During an online race when its impossible to pause the game you can end up on the floor half way across the living room. And then there's how they look – using a wheel can look so geeky that should a potential partner walk into the room unexpectedly and see you using one you'd wish for the ground to open and swallow you up instantly. You may as well have been making 'vroom vroom' noises with your pants on your head and be sitting in a puddle of your own wee.
Yet whilst USB steering wheels can have the knack of making the user feel quite silly driving their 'pretend car', when you actually use one you begin to understand why they are increasingly popular. First of all it 'feels' right. Funnily enough it feels like driving a car, and doubters should note that games have now developed a level of sophistication not present in earlier wheel-based games such as arcade classics Outrun, Sega Rally and Daytona USA. Using a wheel can also give the discerning online racer a much greater degree of precision. It's much easier to precisely position and slide the car, which in a full-blown simulator like Gran Turismo can make the difference between winning and losing, and in online racing using a wheel can give you a distinct advantage.
My own wheel is not a particularly fancy one. It's not very new, the buttons are a little sticky and it doesn't turn all the way around but I still love it and feel it has enhanced my gaming experience back from the 'Grand Prix' series through to Gran Turismo: Prologue. Of course there are hundreds of wheels now available and I'm tempted to upgrade. I really want one with 900-degree rotation, like the Driving Force GT Steering Wheel
– complete with "24-position realtime adjustment dial" which allows fine tuning of the "brake bias, traction control and damper settings". Sexy. There are other good wheels already on the market such as the GT3 RS Wheel – Alcantara – EU (PC/PS3)
, Thrustmaster Ferrari 430
, and Logitech's earlier G25
model which comes complete with a gear stick and clutch – despite most modern racing cars having semi-automatic gearboxes with flappy paddles on the back on the steering wheel, as pioneered by the Williams FW14B in 1992. Go on Nigel.
Will I get the new one? Probably not – the best ones are pushing £150 and my old one still works perfectly well. Oh, what was that? It has an illuminated horn button? Sold.