Last updated on January 12th, 2021 at 02:48 pm
The racing season is underway once again with the Virtual Motorsport GP2 series which features the Seat Leon Supercup in a specific S613 tune for all drivers – which tends to mean close qualifying times and even closer racing.
So having had a few practice laps in the car, I'd adjusted to a front-wheel drive racer despite my preference for RWD or AWD machines. As it's specified, it's handles pretty nicely although any car can struggle with understeer when there's that much power trying to get through the front wheels. As a result my practice laps were hovering between 1.29.500 and 1.30.500, which seemed respectable if not blisteringly fast.
Qualifying is a quick 5 lap affair, and it couldn't have gone worse. Having completed a clean out lap, I then managed to screw up the following four flying laps for various reasons, leaving me last of the 69 drivers competing in the 10-14 car lobbies.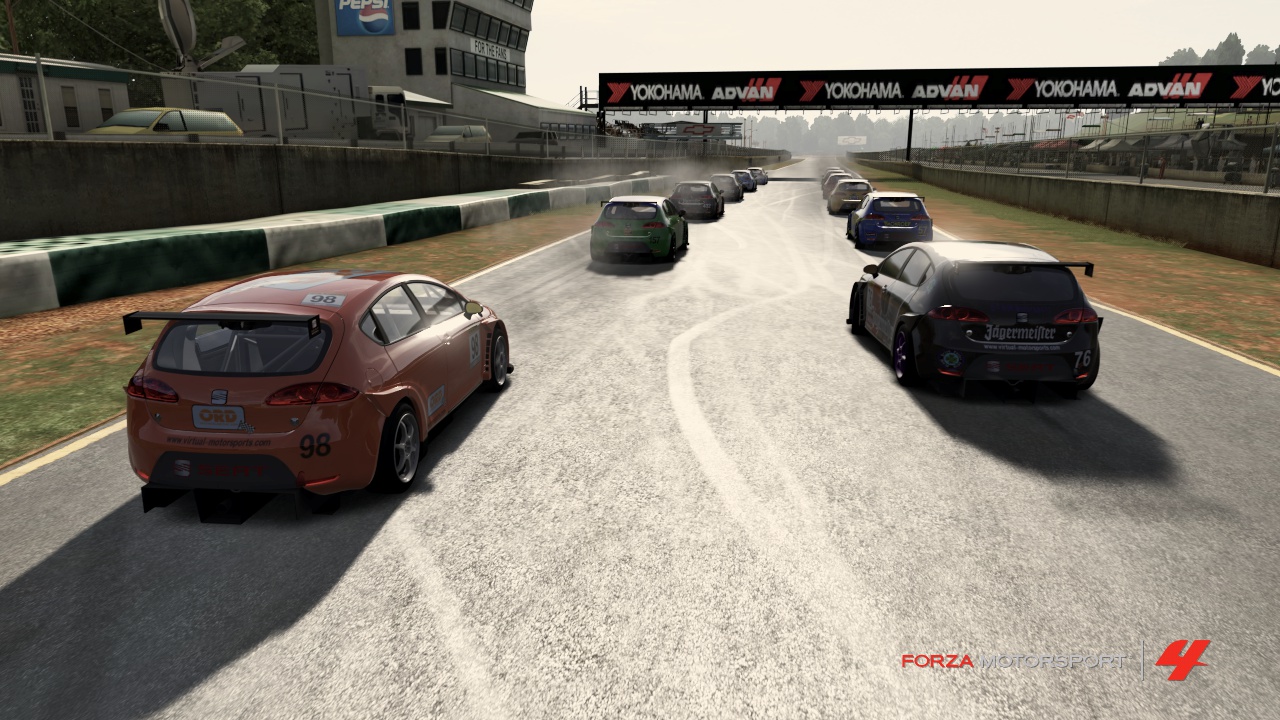 So the only upside was that things had to improve, and they certainly did in the first race – despite a couple of worrying moments during the first lap on cold tyres, I slowly started to move my way up through the field from 12th on the grid.With so many similar cars, the qualifying times had been relatively close even down to the final lobby, so it was pretty tough against some talented but very gentlemanly drivers.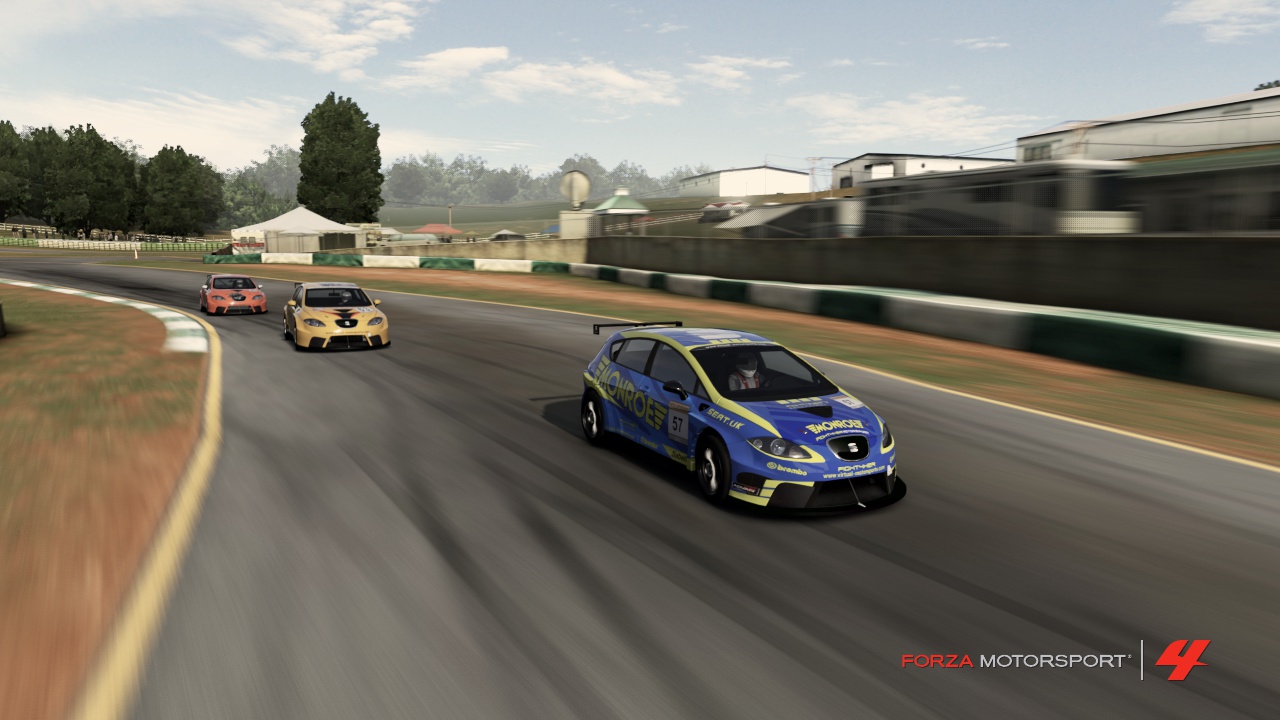 Over the course of 12 laps, I eventually managed to take 5th place which was a fantastic result, although it was frustrating that my lap times were comparable to the podium places – by the time I'd managed to get into 5th, the top four drivers were long gone and there was no way to pull back the deficit. But on the way through I'd enjoyed a titanic battle with F4H Castrol who pulled off some impressive overtakes, including heading into the tight final chicane three abreast as I attempted to pass another driver.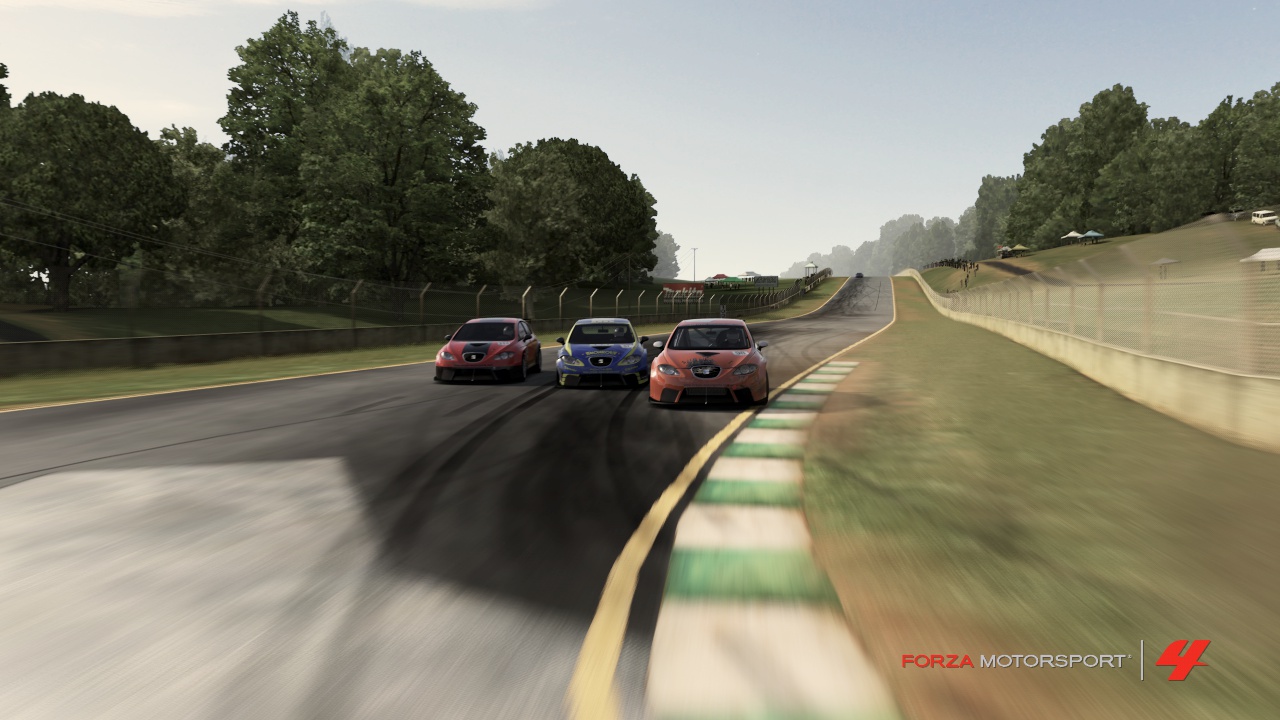 And if you want to know how this particular corner played out, here's a quick clip showing me taking some evasive action in the orange Seat as I was surprised by Castrol's blue hatchback suddenly appearing out of nowhere:
Race 2 should have been easier – in the GP2 series, the second race is an 18 lap event with a mandatory pit-stop, and most importantly the first 8 finishing positions are reversed, which meant I was starting from third place.
But on a night when nothing seemed to go right and the lobby had suffered immensely with connection issues, I managed to fluff the start and the opening lap, meaning that I'd dropped from 3rd to 6th. As the pits opened on lap 3, a couple of drivers took the chance for an early break, and I followed shortly afterwards to try and clear my head and re-focus. Luckily I was able to put in some consistently quick laps at the start of the stint and made up a couple of places as the pitstops resolved themselves to put me back up to 4th – despite occasionally catching the leaders earlier in the race, I just couldn't be quite consistent enough to close enough to put in a challenge for the lead, so in the end settled for 4th – again, not a terrible result given my start to the evening.
So overall I'm disappointed that I qualified so badly, but happy that we eventually got to enjoy two great races with some good drivers and I salvaged two respectable results. Given the level of driving in all the VM series, it's as tough to make up places in the last lobby as the times I've qualified in the top two, and the fastest times in our races would have been competitive up even in the 3rd lobby. Plus I've got more races to get to know the Seat and iron out the tendency for it to try and swap ends under braking – tracks with less camber on the corners will definitely be a little easier.
Race Organisers: Virtual Motorsports
Race Series: GP2 Season 2
Race Meeting: Round 1, Road Atlanta
Positions: Race 1: 5/12, Race 2 4/11.
Now it's all about the special Nurburgring 2.4 hour event on Saturday, followed by the toughest series challenge yet – the VM Super GT series, which features Japanese high performance touring cars with no assists, no guiding lines, and some of the toughest drivers in Forza. I'm one of a minority of drivers currently running the 2008 Nissan GT-R so it'll be interesting to see how it pans out, especially following on from 160 minutes of racing the R2 DTM Audi the night before…