Last updated on January 19th, 2021 at 12:52 pm
It's not often you get the chance of two hours and thirty minutes of constant Forza Motorsport action, so when Virtual Motorsports announced the Nurburgring GP 2.4 Hours event I jumped at the chance. And having finally finished the race last weekend, I'm glad I did, even if there were times when I was questioning my sanity.
The format was fairly simple. As a multiclass event you had the choice of racing an LMPC Chevrolet, or one of two German DTM cars, all fitted with drag tyres to force drivers to pit regularly. Having already raced the Mercedes in other events, I went for the Audi, which was potentially the wrong choice. Although the VM organisers worked hard to ensure both cars were very evenly matched, the Audi was definitely slightly more challenging to get the best times from, and that proved the case in qualifying.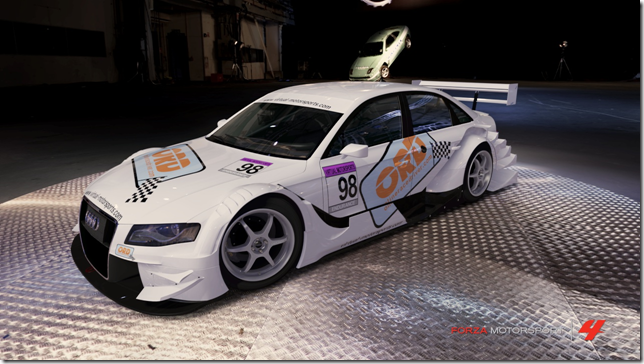 The qualifying sessions took place on the two Saturday evenings preceding the event, with 60 minutes to record the fastest possible time. Knowing that family commitments meant I could only take part in the first qualifying session put the pressure on, and I paid the price. Just three laps in and I caught a kerb, span, and ended up damaging my bodywork – as Forza only repairs mechanical problems in the pits it meant I had to finish qualifying with 30+% damage all round, which didn't help as I recorded a time over 1 minute, 57 seconds, compared to some of the fastest guys going 3 or 4 seconds faster per lap.
Race Day for the Nurburgring 2.4 Hours:
When race day arrived, I was pretty happy. Somehow I'd ended up on pole position of the DTM cars in my lobby, and as the results would be calculated purely on distance covered, it didn't matter that it wasn't one of the top groups. I'd also managed to cut  a bit from my lap times, and importantly, found I could nurse my tyres a little longer before pit stops than I'd originally thought. Given that it's a fairly long pit at Nurburgring GP, one less stop would definitely help my performance.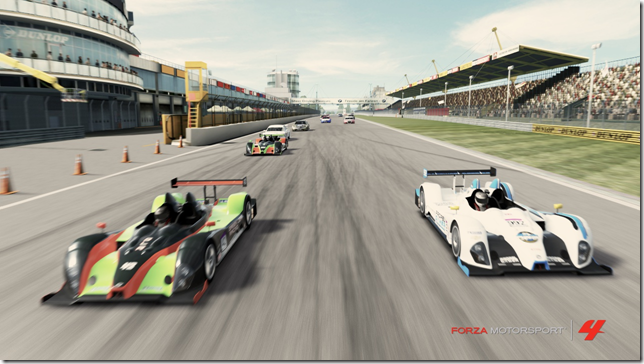 As the 3 LMPC cars in the lobby led round the 9 DTM competitors, I was anxious to get going, and couldn't wait for the leader to announce 3,2,1,Go! My aim for the first few laps was to stay safe and consistent, so I took a fairly conservative line into the first tight hairpin, not expecting the second-place qualifier to launch himself across the grass and into my side as I started to accelerate for Turn 2.
So with 2 hours and 27 minutes to go, I had a reasonable amount of bodywork damage, and slipped back a couple of places into the bargain. One day I'll actually manage to compete in that Audi with all the aerodynamics intact!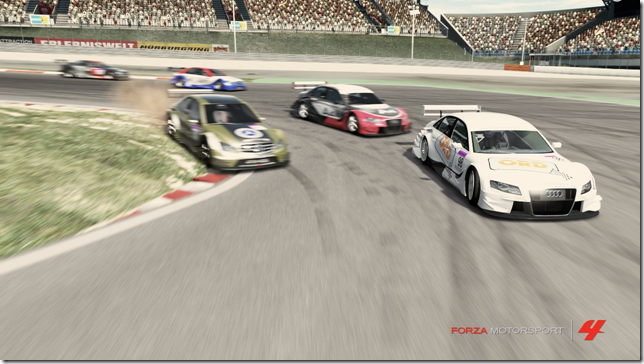 The race itself settled into a rhythm fairly quickly – two of the faster guys had shot off into the distance with consistently quick lap times, obviously having had similar issues in qualifying to me, but unfortunately solving them a little better for race day. Every so often I'd see an LMPC car suddenly appear beside me, often with a warning over my headset, but occasionally the drivers were so much quicker they didn't need it – with multiclass the important thing is for the slower drivers to stick to their line and not do anything unpredictable.
After the first few stops I was feeling pretty good – a fairly consistent fourth with a reasonable handle on how the drag tyres were handling as they degraded over the course of laps 10-14 when they really started to lose performance. There was the odd moment, but no major off track excursions which had happened to some of the other drivers judging by the occasional cursing – and I'd also managed a fairly decent job of avoiding tangles with the LMPC boys. I think they did have a couple of moments with some of the other cars, especially later in the race when everyone started to feel the effects of concentrating for that long.
Coming up to the final 30 minutes, I'd realised that there was the potential for third – the final podium spot was held by a driver who was running a slightly faster pace on average, but wasn't getting away. More importantly, I knew he'd just pitted, and didn't think anyone could make it to the end without a pit stop, so I desperately tried to keep the pace up on my totally worn tyres for a couple of extra laps, watching the distance to third grow, but gambling on strategy.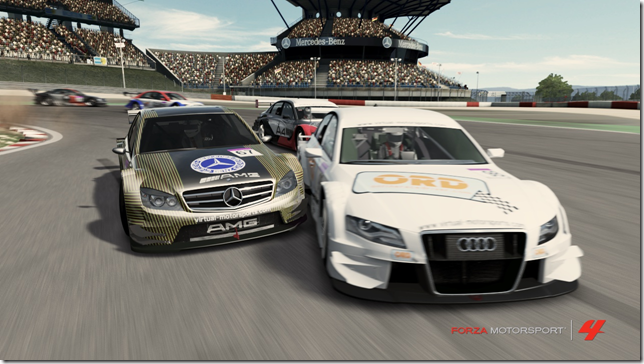 Coming out of the pits thousands of feet behind, I knew all I could do was hit every braking marker, and hope. When he pitted with about 15 minutes left, I could have stopped and thanks him, but then the battle really began. Again my tyres were way past the end of their effective life, and he was a lot quicker on fresh rubber, so the gap started to drop after he'd got some temperature in them – coming into the final 10 minutes the gap was about 3000ft, then 2,500ft, then 2000. By the time the last lap came around, he was only about 600ft behind and closing fast, so I had to take a deep breath and rely on the fact that even if he caught me, I still had the hope of hugging the inside of the corners and blocking him.
As it happens, I managed a better time than I'd predicted on the final lap as I watched the counter mercifully tick down to the finishing time – at the end I took third in the DTM lobby in my class by just 200ft, and I don't think I'd have lasted another 30 seconds! A pretty close finished after 160 minutes of racing.
Endurance Racing Tips:
Although I wasn't the quickest racer to compete, I did pick up quite a few tips for future races:
Preparation: It's obvious that more practice leads to faster lap times, but make sure you run laps with new tyres, worn tyres etc, and work out how far you can really push if you need it. Also practice running offline, as it's bound to happen during the race (The Track Day Rivals events are handy for this as they force you to consider different lines for overtaking, even if it's in a different car).
Environment: It might not be as physical as real racing, but there's still a lot of concentration involved. Make sure you've got comfortable seating, you've got adequate lighting throughout the whole race, and you're able to stand up etc during pit stops as required.
You: Make sure you get a good night's sleep before the race, avoid hangovers, and have a drink handy – but don't overdo it before the race unless you know you can make a toilet break during the pit stops. Some drivers actually rigged up a camel pack to drink during the racing just as real drivers do. If you're a smoker, it's also worth having a nicotine lozenge or two nearby if you don't think you can finish the race without a fix.
Car: Everyone wants to get the fastest possible car, but when it comes to endurance racing, you're better off with something that's consistent at 95% of the speed, and easier on the tyres. Having the fastest lap isn't as important if you're in the gravel every other lap.
Calm: It's important to stay calm and relaxed – tensing up will make you slower, and if I'd got annoyed at the first corner incident, I'd have just made more mistakes. You need to be able to think clearly, monitor tyre wear, and plan pit strategy all while heading down the straights at 150-200mph, so cool, calm and collected is the way to race.