Last updated on January 13th, 2021 at 02:37 pm
Adding to its short but well-considered list of titles that last paused at Game Stock Car, Reiza Studio's latest is now available to all after a brief period of a few weeks of being open to those that ordered before this final release, Version 1.01.
Fórmula Truck is actually the officially licensed game of the Brazilian racing series that's barely known outside the South American continent and goes by the same name.
According to Reiza's blurb, this new sim was developed with the co-operation of teams and drivers from the series in their effort to transfer the flavour of those mighty cabs to our screens.
Speaking of the trucks, they're BIG… and powerful!
Like the equivalent British Truck Racing Association and FIA European Truck Racing championships highlighted with the participation and success in the 80s and 90s of former championship-winning motorbike racer and current BBC MotoGP presenter-commentator, Steve 'Stavros' Parrish (https://twitter.com/Stavros6), these vast machines are more than you might expect if you find that 'racing' means cars. Akin to car-based championships around the World like the British BTCC, America's NASCAR, Germany's DTM series or the V8 Supercars of Australia, the trucks go far beyond the basic bodywork template that we see at first glance. Their connection to the beasts of burden hauling trailers everywhere we look basically ends there. After the wheels, cab and presence of a driver, these are serious bits of kit – immense vehicles of at least 5-tonnes with 1200 horses under the hood that rapidly accelerate and are restricted to a top speed of 100MPH (160km/h). Let's say that again. Twelve-HUNDRED horsepower! Mix that acceleration, speed, sticky and screeching tyres, close racing, bumping, bashing and clouds of steam from the water-cooled brakes and you have one spectacular event!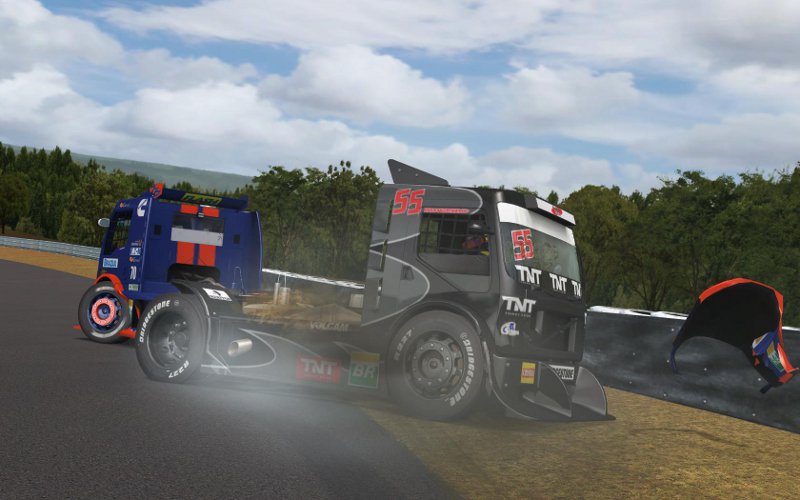 For a sign of the pedigree of both Reiza Studios and its old and newer creations, everything so far has used rFactor as its framework.  Beginning with 2010's respected Fórmula Armaroli add-on, Reiza moved to creating standalone software that continued to use ISI's renowned base.  To anyone that's been around the modding scene over the years, Reiza's international development team is something of a who's who – a set of highly-experienced individuals with talent at every turn.  This is a serious group that gets the most out of everything they use.  "Incredible!" comes to mind every time that I look at Fórmula Trucks again and remember what it is built upon too.  For all of the flexibility in ISI's software (lawnmower racing, anyone?!), this form of racing still comes as nothing less than a surprise.  That it can look, feel and sound so good despite not having the advantages of a newer code base is a stunning achievement and we at ORD can only recommend that whether you're a racer or merely want to sample something different, you give Fórmula Trucks a run – and have a look at Reiza's other projects too.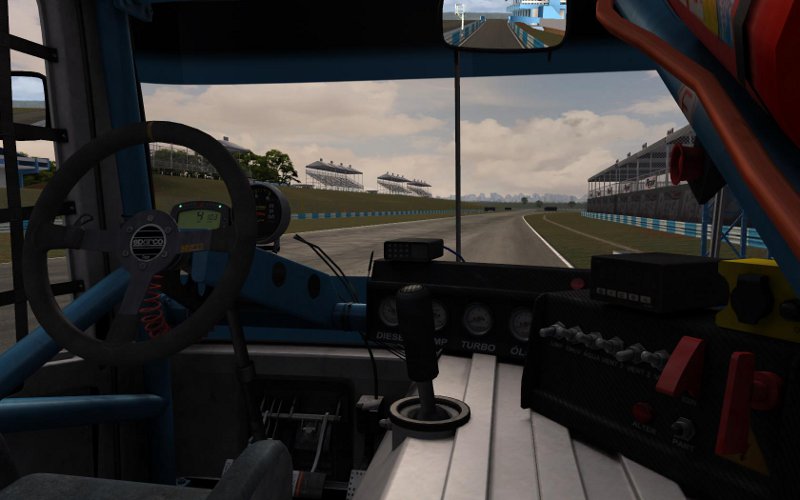 With meagre hardware requirements, the low cost of entry and many tracks that the majority of gamers won't be familiar with away from those used for Formula One and the World Touring Cars championships, Reiza Studios' entire set of simulators should be on the 'To Do' lists of one and all. There's more to come too as we eagerly await what has so far been known only as The Ayrton Senna Game, a project that will extend to including world-wide tracks and as part of its partnership with the Ayrton Senna Institute that was founded in 1994, will contribute part of its income to the Brazilian educational programs supported by the Senna organisation.
Reiza offer a trial version for download that will run for sixty minutes. It's unfortunate that it's so tightly time-restricted but should it convince you, Truck rolls in at a reasonable $24.90 USD – approximately £21 GBP and €25 Euros at the time of writing.
If you've been wanting more since Euro Truck Simulator 2 and would like to pick up the pace, GO RACING!
Erick Nagy's video from behind his racing seat, looking at the projected game with an inset from Fórmula Truck's TV camera.  This is undoubtedly the best footage out there…