Last updated on January 16th, 2021 at 04:27 pm
It's been a hectic few weeks, so it made sense to collect the recent Virtual Motorsport Classic Series races into one update. One thing I've definitely noticed is that the competitiveness of the drivers has increased during my absence from online racing. Qualifying times have continued to come down over the previous seasons, and the split between first and last is closer than it has ever been, meaning it's even more of an achievement to place in the higher lobbies.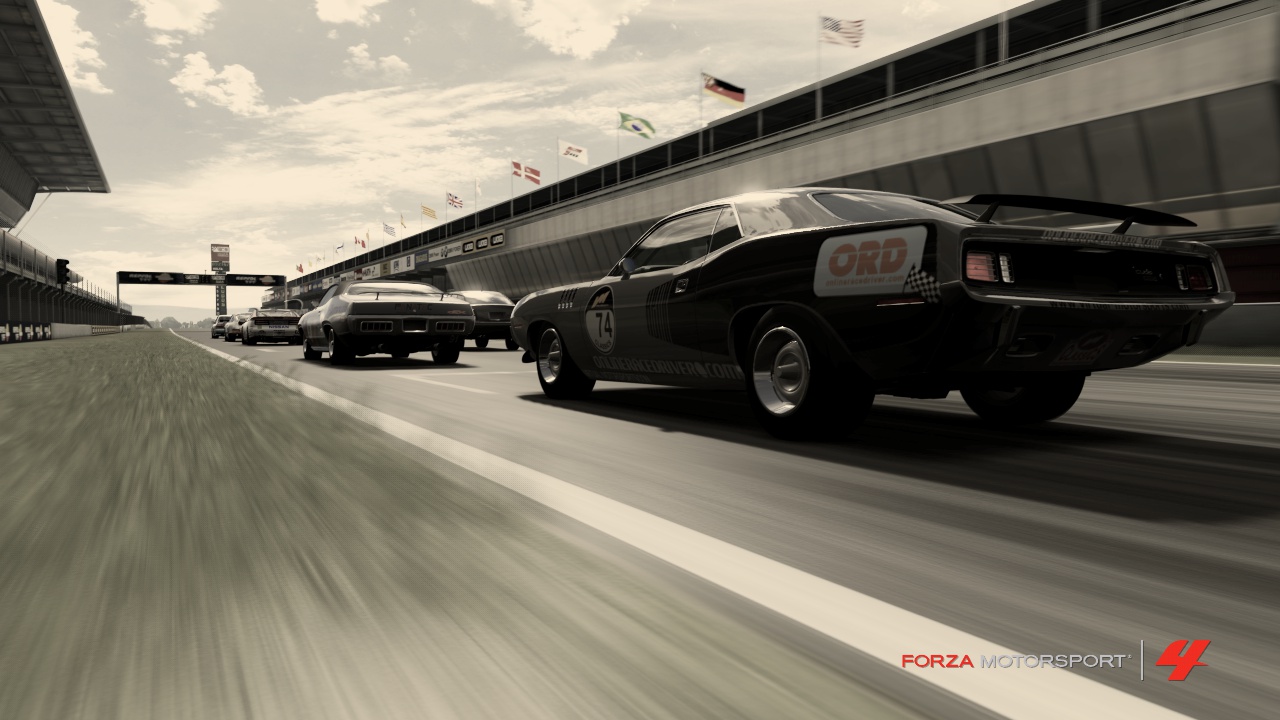 Luckily one thing that has remained the same is that despite the close competition, everyone is still friendly and welcoming. And the racing remains remarkably clean and courteous.
Round 2: Road America Full
Sadly family commitments meant I had to miss this round, which was a real shame. The long straights and flowing nature of the track is something I really enjoy, and that would have suited the Plymouth 'Cuda, so it was a bit of a missed opportunity.
Round 3: Infineon Raceway NASCAR
Having missed a track I love, it was ironic that the following week was at a circuit I never get on with. I've come to terms with most of the hilly and cambered course, but there are still a couple of sections that I knew I was weak on. And it wasn't a venue that flattered a wide and slightly unwieldy muscle car.
Despite that, I managed a surprisingly good (for me) lap in qualifying, which meant that the race was spent trying and failing to protect my midfield starting position. There was some good battles, but ultimately I slipped to the back of the field in Lobby 4 which was frustrating – especially as one driver managed to catch me despite rolling his Lancia Delta early on. I did have a bit of a battle with the Chevrolet Camaro SS of II Strik3r II but was mainly pleased to have made it to the end – scoring my best points of the season so far!
Round 4: Le Mans Old Mulsanne
I missed the qualifying session, so was placed in the fifth and final lobby for the race, near the back of the grid. And it turned out to be the most enjoyable race of the season so far.
Most of the other Lobby 5 competitors had suffered lap penalties in qualifying, so there was a bit of a mix in speeds. From a starting position of 12th, I immediately made up a few places on the Mulsanne Straight thanks to the Cuda power, and continued to make up time on some of the other classics which lacked top speed. Combine that with a relatively clean and consistent race, and an unfortunate lag incident for one of the other drivers, and I made up 9 places!
In fact I was actually catching second place as we were coming to the line – another lap or two, or avoiding a couple of minor mistakes, and I think I could have challenged. I was especially pleased with that considering first went to a far faster driver whose best lap was around 8 seconds better than anyone else, and who would have been in the top lobby if not for a qualifying problem.
It was definitely nice to be moving forward in a race for once, even if the point scoring system means it's better to qualify well and then fall back. And to put it in perspective, it's clear that even the final drivers in the lowest lobby would be either top or very near the top of any public race – when you check the public lap leaderboards, you'll generally find all those names in the top 1%.
Round 5: Catalunya Grand Prix
Over halfway through the 8 race season, and I'm finally online and in time for qualifying and racing at a track I like. The qualifying session went reasonably well, although I regret not altering my gearing more to try and minimise the problem of the final chicane before the start/finish straight.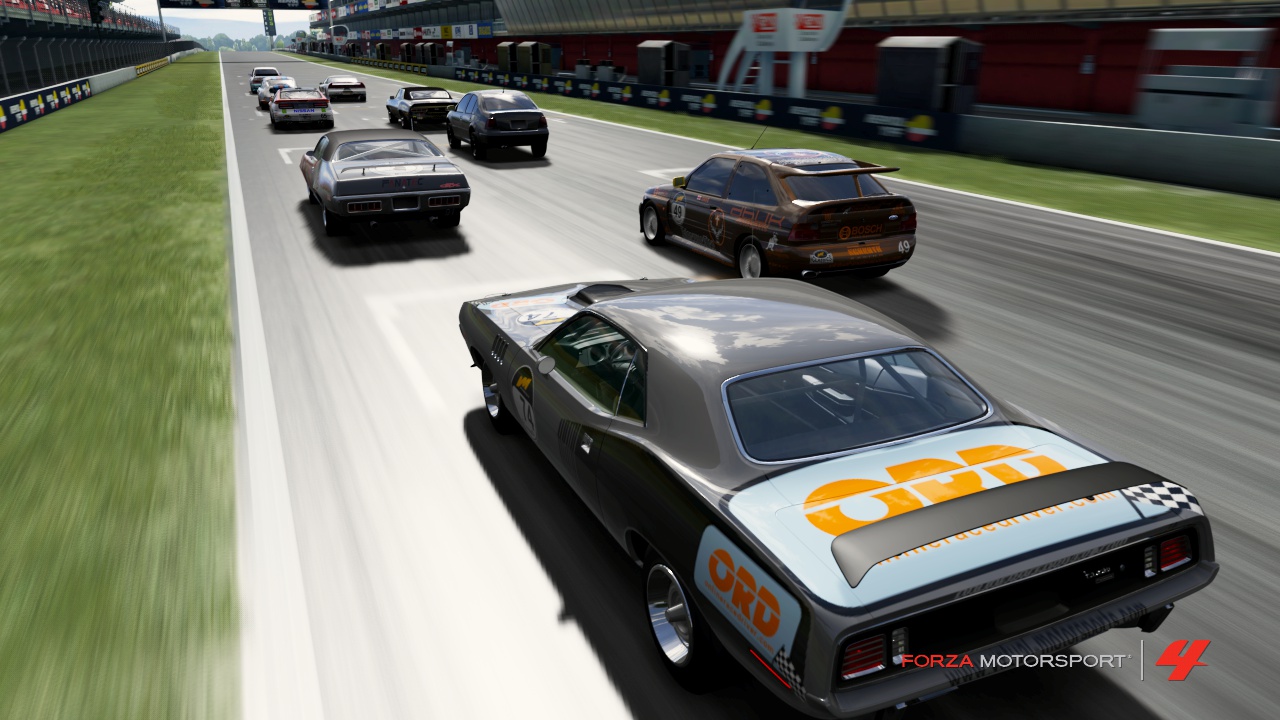 But mid table in Lobby 4 was definitely a respectable place to start – and indeed finish. I did OK in the opening laps, missing a bit of a first corner tangle and making up places to be running around 6th position. But a couple of slips, including one costly mistake coming onto the main straight, saw me fail to hold my pace, and I definitely didn't achieve what I wanted while other cars were pitting.
So when I came back out on track I'd slipped between EZT Puckhead and Pro Man. Despite keeping them in sight for the rest of the race, they were frustratingly quicker and kept pulling a slight advantage – meaning that I ended up losing out to the GTX 426 Hemi of Puckhead – the only other Plymouth driver in the series this season. He's actually only around 50 points ahead of me at the moment, meaning it's theoretically possible to be the top Plymouth driver if I can wangle a couple of good results.
The end result of all this is that I'm currently in 56th place overall, from a field of 92 points scoring drivers. And my best points so far have been for qualifying well at Infineon and Catalunya, even if the first of those raises was a slow move back to last place. It would be nice to at least make it into the top 50 after the next round, if not starting to make my way into Lobby 3 rather than Lobby 4.
The next round is Saturday, at the Nurburgring Nordschliefe, which will be interesting!