Last updated on March 1st, 2021 at 12:41 am
Team ORD are now competing in two Virtual Motorsport Forza 4 Series – in addition to completing the Classic Season 7, which will be coming to a close soon, we're also now involved in the 2014 Rivals Series 1, which puts drivers in either a Nissan 370Z or an Audi TT to fight it out.
VM Rivals Series 1: Round 2 Hockenheim
The Rivals series is slightly unusual for a racing series as it only features cosmetic damage, rather than the normal limited or simulation options. Drivers can pick from either a 2010 Nissan 370Z with a set S-616 tune, or a 2010 Audi TT RS Coupe with a set S-624 tune. And you then get 20 minutes of qualifying followed by 2 races. The first, shorter race features everyone in qualifying order, but the second race is longer, with a pit-stop, and a reverse grid for the start.
Having skipped the first round at Infineon, my debut was at Hockenheim, and despite lacking the track time of some of the other drivers, I did OK. I qualified in the lower half of the field, and was still feeling my way around during the first race, but managed to finish in 10th from a lobby of 14th. And although my fastest was within 3 seconds of the race winner, which wasn't too bad (1:35.893 for me – 1:32.924 for winner XPR Venom). As the top 8 places were all Nissan's, I was also pleased to finish 2nd out of 3 Audis in the race.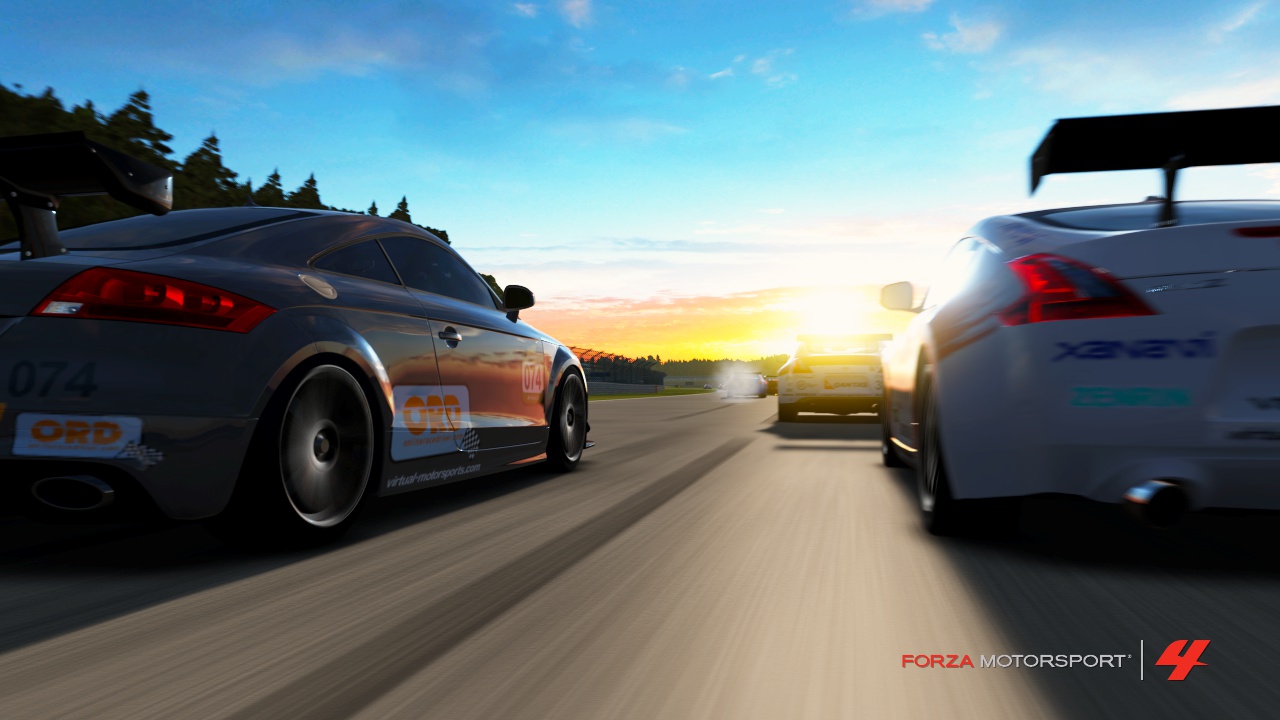 That put me in 6 on the reverse order grid, and then it all went a bit wrong. The first corner carnage led to restarts as the faster drivers all tried to get through as efficiently as possible, and when we did get to continue, I'd had my worst start of the evening after running off the course to avoid other cars.
I tried to settle down and just run decent lap-times but having salvaged something from the event I then proceeded to spin after getting distracted when I was being passed by someone. Completely my own idiocy, and it meant I ended up finishing 13th.
VM Classic Series: Round 6 Nordschliefe
Not everyone was happy to arrive at the Green Hell, and face 6 laps of racing. But I've always enjoyed it as a track, and prefer longer, more endurance style races anyway. So something close to an hour might play to my strengths…
I decided to be sensible and make sure I banked a couple of clean laps in qualifying before pushing harder. And that was lucky as my final qualifying lap was 3-4 seconds under my best time until I managed to crash and roll my '71 Plymouth Hemi at the Little Carousel. 3 corners from the end and I'd blown it. Luckily my previous time was enough to qualify for the 3rd lobby, which was one of my best positions so far.
The race itself was interesting. The Hemi had decent speed on the straights and everything was going well until a restart was required for crashes/connection issues on the first lap. Once they were resolved, battle commenced again, and I continued to make up places from starting around 11th on the grid.
The series runs with limited damage, which is fortunate at a long and challenging track like the Nordschliefe. I'd managed to avoid any issues besides some slight rear aero damage when I braked to avoid a slower car at the Carousel, and someone tagged me from behind. It seemed fine, but then the rear end let go in the Schwalbenschwanz series of fast bends and I ended up spinning.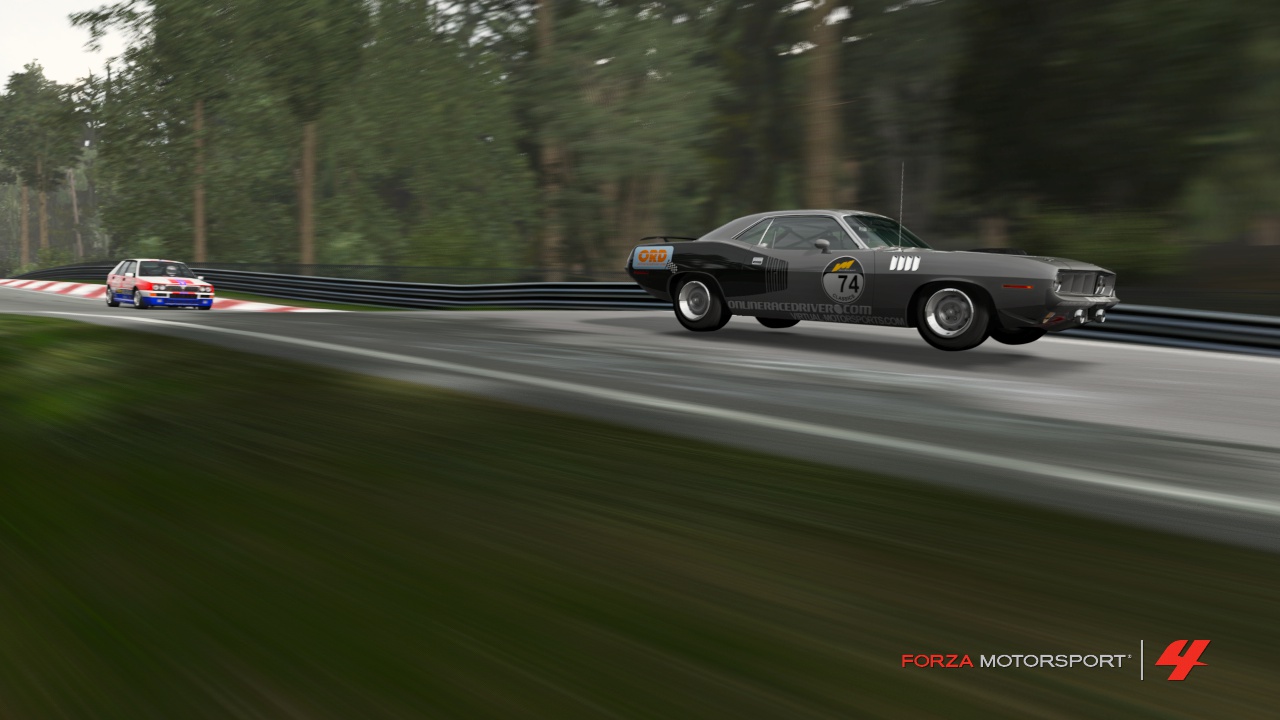 Amazingly no-one tagged me – a testament to the skills of the drivers around me, and I recovered after losing just a couple of places. Trying to settle into a rhythm again, things were going OK. One pit-stop later and I was battling with the NSX of JJRinzler when I had an issue in a downhill section and almost flipped – eventually being saved from rolling by nudging the barrier. And not even losing much time!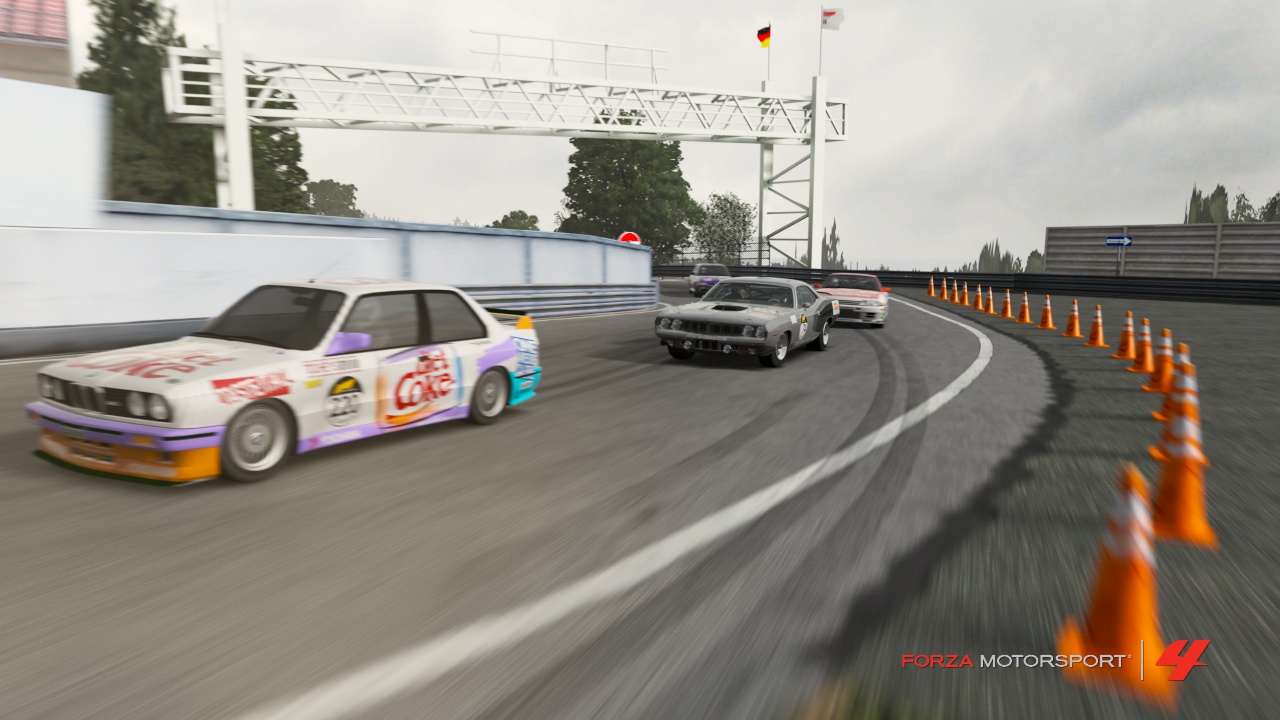 I eventually ended up finishing 6th, having made up around 5 places – and I was catching 5th when I crossed the line. I think out of the lobby of 13, I was probably the only one that would have loved a couple more laps! But it was great to get a decent result and make some progress in the series, especially on a track which is particularly challenging.
VM Rivals Series: Round 3 Motegi
Back to the Audi TT. Having initially hated it, I've found myself getting more and more used to the way it handles, and starting to become more accustomed to it. I still have doubts about whether it can be truly competitive with the Nissan – as shown by the series results to date, but certainly it's getting more fun to drive. And Motegi is a nice circuit – I've had some good races here in the past.
As expected, I managed a lap time in the 2:06 bracket for the full track, which saw me a way off pole, but due to a reduced turn out, it meant I was still in the sole 15-player lobby for the races, and starting 10th.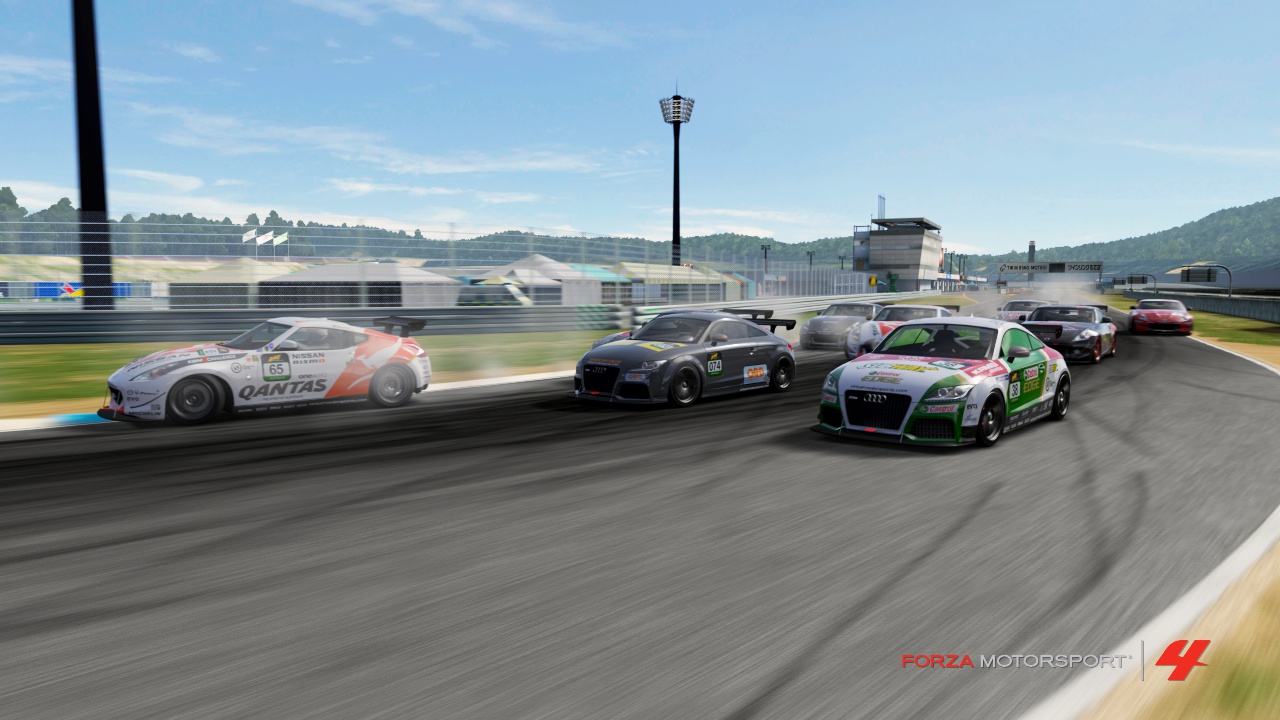 Race 1 was a decent enough affair on the shorter Twin Ring Motegi East. Sadly there had to be some restarts due to crashes, but when things proceeded, I managed to stay largely out of trouble and finished in 10th, which was a fair result.
Then Race 2 happened. Having experienced the previous reverse grid at Hockenheim, I thought I knew what to expect, but it seemed that whatever happened, someone ended up tangling within the first half of a lap and a major crash occurred. Trying to avoid incidents, I ended up hitting a car which had already spun – then managed to collect the same driver again after another incident in a second restart – apologies Shuey75! And to add insult to injury, when a driver was told to relinquish his place, he slammed on the brakes right in front of me.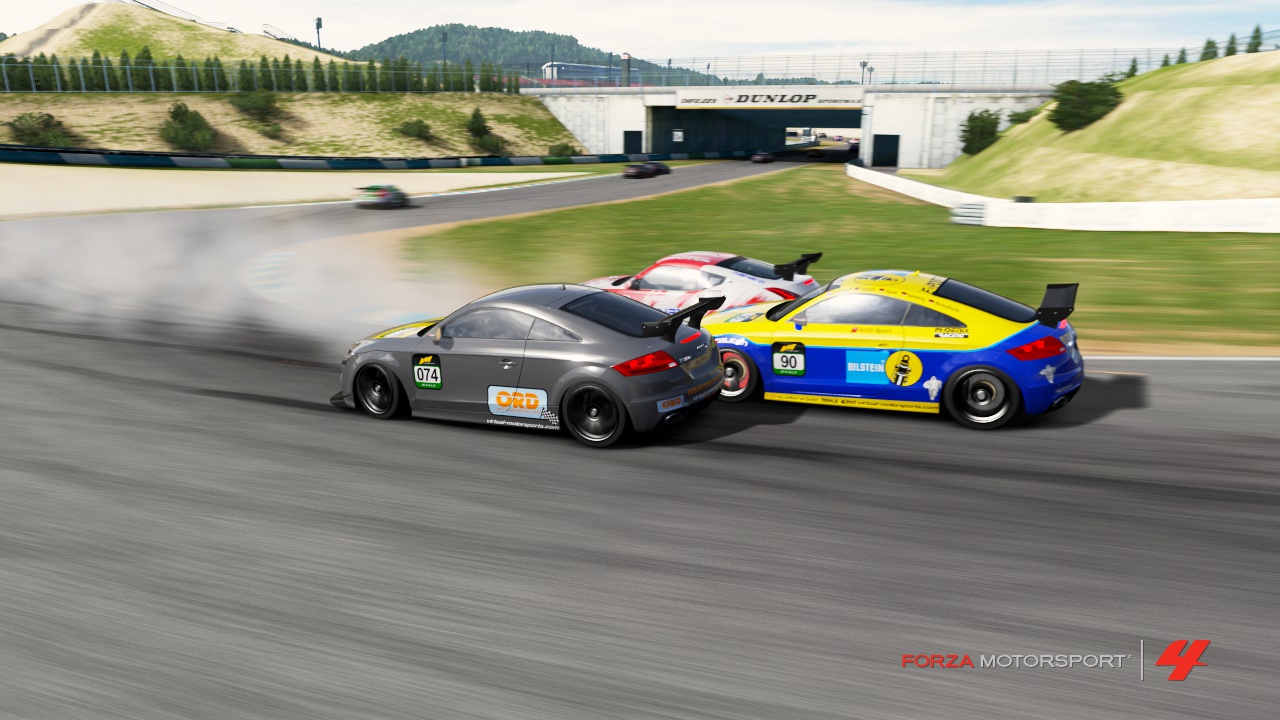 So it was great when the race finally got underway. I did have a moment coming onto the start/finish straight when cramp in my foot distracted me a bit. I managed not to shout or swear out loud, and tagged onto the back of the field whilst stamping my toes on the floor until I could focus again.
And I was actually making up some places – until near the end of Lap 3. Fast driver Flexy B had also had an incident and was coming through on another driver and myself. He got through fine, but I think the other driver either tried to outbrake him or just match him – and it was never going to happen, so instead he ended up shunting me off the track.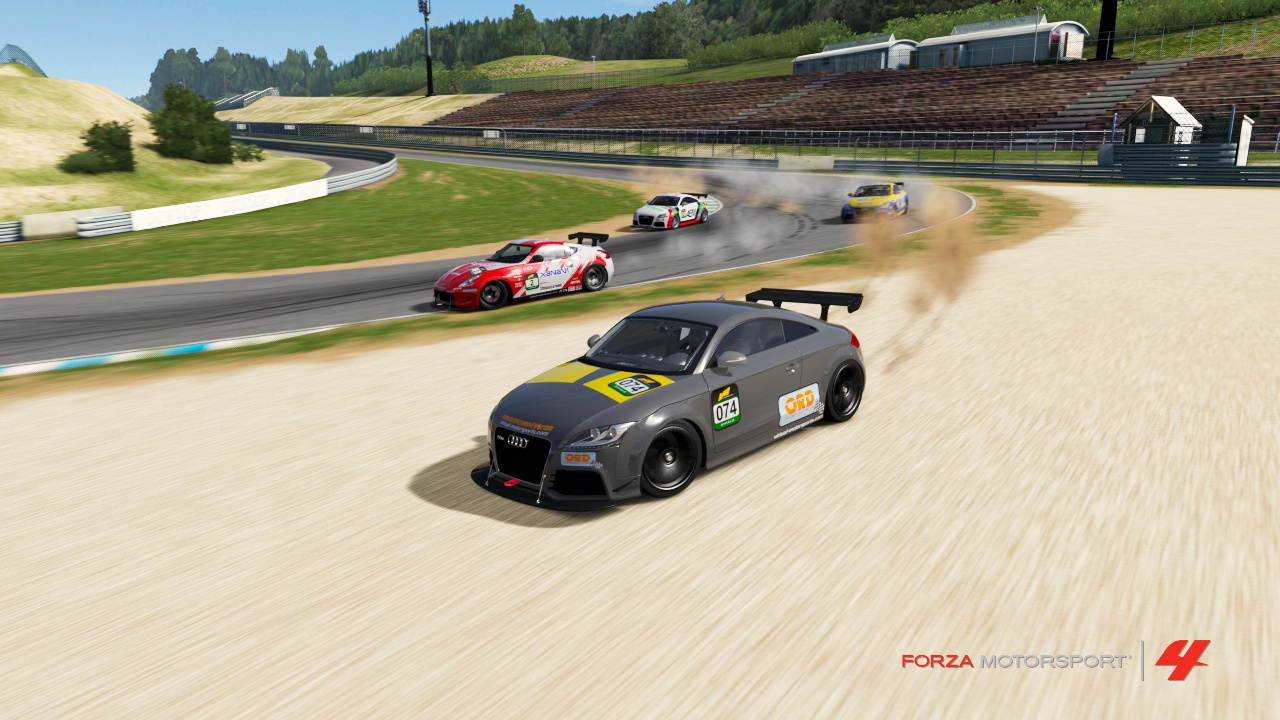 He was nice enough to wait for me to rejoin in 14th place, but the gap to 13th was massive as I immediately pulled into the pits to try and refocus.
In the end, I managed to string together a qualifying pace for several laps, and got my way up to 13th. But I wasn't going to get any further before the chequered flag, until a fellow Audi driver took a slightly wider line out of the final chicane and got onto the rough stuff – in the drag to the line I took 12th by three hundredths of a second.
Bad luck for another driver, and I have to admit I'd rather have stolen a place from a Nissan, but at least it was a bit of a reward for persevering rather than throwing my Xbox out of the window.
I'm still not sure about the reverse grid format for the second race, but it could just be my run of bad luck influencing me – I'd like to see either full sim damage causing every drive to me more cautious, or a 1 second delay on each grid position, which would make the challenge bigger for the faster drivers, and give us slower racers a chance to get away clean without a queue of cars all bundling for the same inch of Tarmac.
Either way I'll continue on with the series – the next round is at Road Atlanta, which will be a challenge for the Audi as it struggles to lay down the power even on a flat circuit. My aim is to be the top Audi for at least one race this season!