Last updated on January 20th, 2021 at 03:18 pm
Sector3 Studios has very quickly brought new life – and features – to its free-to-play/premium content RaceRoom Racing Experience (R3E/RRRE) late this year. Before we expand on that swathe of new modes and revisions in a dedicated piece, we head back to R3E with a one-lap video for the first time since the game servers fell quiet this Summer. Today, ORD shows the founding part of Sector3's arrival through a DTM time-trial challenge that was added to RaceRoom's Competitions page as the 2014 DTM season approached its conclusion – the Euronics Driving Experience.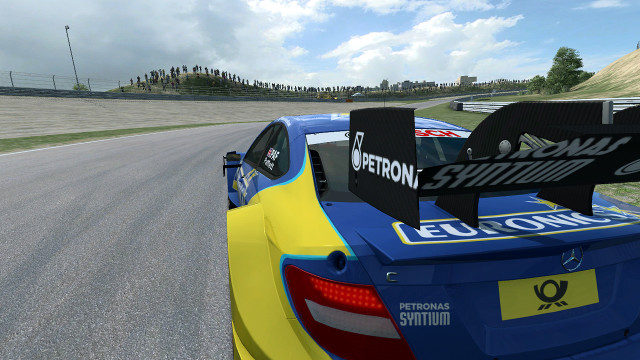 It turned out to be fortunate for us that DTM 2014's penultimate race venue of late September was matched by R3E!
Between the dunes
The teaser pic above might suggest to the sharp-eyed that we are in the Netherlands for this session and indeed, our video shows a lap around RaceRoom's Circuit Park Zandvoort.
Run in Gary Paffett's #11 Euronics-sponsored 2014 DTM AMG Mercedes C-Coupé, it quickly became clear that this was one of the year's better events. A knowledge of the circuit's history and memories of Grand Prix Legends' model of the track always strike trepidation in the heart with the very name of Zandvoort, so a different look at a recognisable strip of tarmac held quite some intrigue. Our main reference points continue to be based on the lightweight and powerful 1967 Formula One cars and the GPL tyre modelling of the day, creating instant interest for us whenever we get a modern take on once-familiar ground. Our old and fading memories say that Zandvoort felt like an extremely narrow course that always demanded attention. True of both GPL and tracks of that racing era perhaps; but all the same, it was so easy to leave the tarmac and head for the sands! There was even a bridge to… visit late in the lap!
That was 1998, though. The passing of time or RaceRoom's DTM cars of 2014 have been kind to us as well as the circuit. Having said that, it's not the first time that we've paid a visit to the area this year. We reached the Dutch coastline back in July with Simraceway in the 2014 McLaren MP4-29:
In a 2014 head-to-head, the DTM car won out this time. One of R3E's strengths – the audio – helped that but in reality, the track-car combination enabled it to happen. Happy at the wheel, the ribbon of road was all that was needed as an inducement to push more. Better approaches and more appropriate lines through turns were being found with every lap, creating the sense that there was a better time out there – precisely the feeling that you want as a racer (or time-trial sim driver!). Focusing on the track, the greatest fascination comes with the long sequence from Turns 6 to 9 – a region that evolves from carrying speed to taming it – before the 'make or break' Turn 10/11 S-corner. The challenges are not only there, however. Other sectors may be more gentle but from Turn 1 and Turn 3's braking zones or the casual stretches between those corners or the seemingly simple rise to Turn 6, they equally hold the power to ruin a lap. As real-world races have shown this year, even the final turn can destroy it all – and the video shows that it came pretty close in this lap with R3E!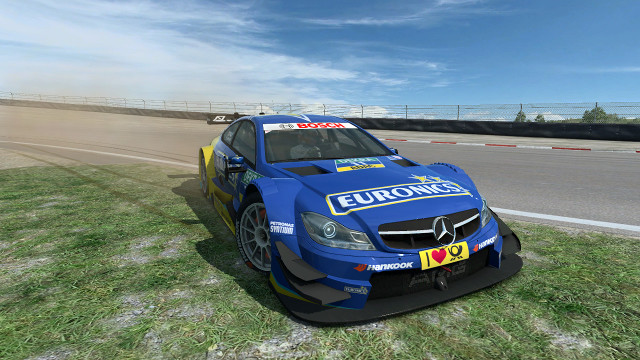 Unlike those reference '67 cars, we also now live with serious levels of aero and mechanical grip! Plus there was only one car on the track this time…