Last updated on January 21st, 2021 at 02:30 am
There are already a wide range of Nintendo Wii U console bundles including the hit Mario Kart 8, but it's being paired with Splatoon in a special pack for Christmas 2015.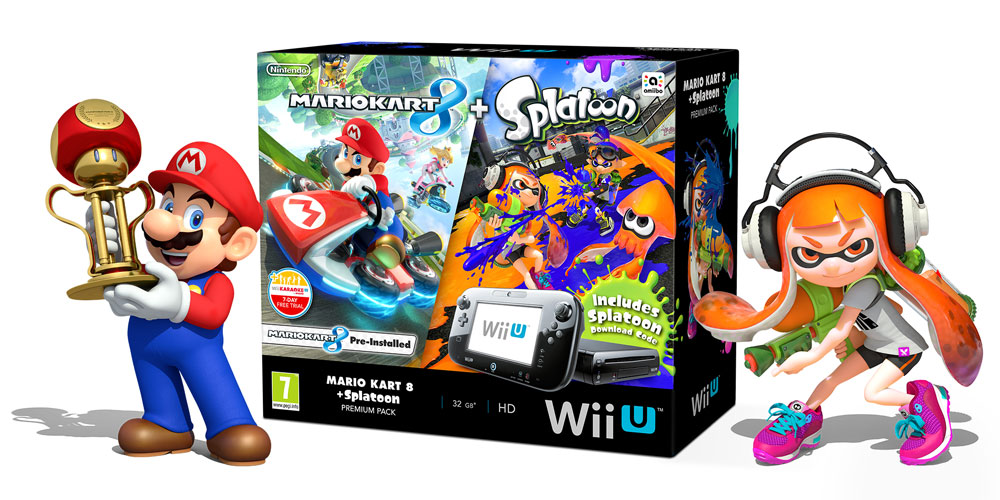 The eighth installment in the popular plumber kart racing series was released in May 2014, and includes the usual mix of characters, themed weapons and mix of both fun and frustration as someone gets you with a red shell just as you're about to cross the finishing line.
Mario Kart 8 allows for up to 12 players online, competing on a total of 32 new and remixed tracks. Vehicles include motorbikes and hang gliders in addition to karts, and there are new weapons including the Boomerang Flower, Piranha Plant, Super Horn and the Crazy Eight, which gives the player eight items. Updates and DLC including the free Mercedes-themed pack including the 2014 Mercedes-Benz GLA, the 1957 SL 300 Roadster and the 1934 Silver Arrow. Two other DLC packs have also been released.
The Mario Kart/Splatoon Wii U Bundle is a little unusual in that it doesn't come with the usual Wii U Racing Wheel accessory to slow your controller into. Mario Kart 8 comes pre-installed and there is a download code for Splatoon in the box, along with the Wii U console (black), Wii U GamePad (black), 32GB internal flash memory, Wii U GamePad cradle and stand, Wii U console snad, and the power adaptors, sensor bar and HDMI cable.
If you want the Mario Kart 8 Racing Wheel, you're looking at around £10 to buy it separately. So the bundle should work out a cheap way to get a Wii U and two great games, and encourage younger potential racers. Although we'd also suggest checking local boot fairs and eBay for a SNES and original copy of Mario Kart to enjoy the series in the purest possible way.