Last updated on January 6th, 2021 at 05:27 pm
Remember the VRally and Test Drive Unlimited series? If your racing experience goes back to the original PlayStation, you'll remember the off-road series, while the open world Test Drives appeared in 2006 and 2011. Both were the work of Eden Games, who were acquired by Infogrames in 2002, then Atari in 2011, before being closed in 2013. Having re-opened under two of the original founders, David Nadal and Jean Yves Geffory in 2014, Gear Club Unlimited brings Eden Games back to consoles. And it's out on the Nintendo Switch on December 1st, 2017.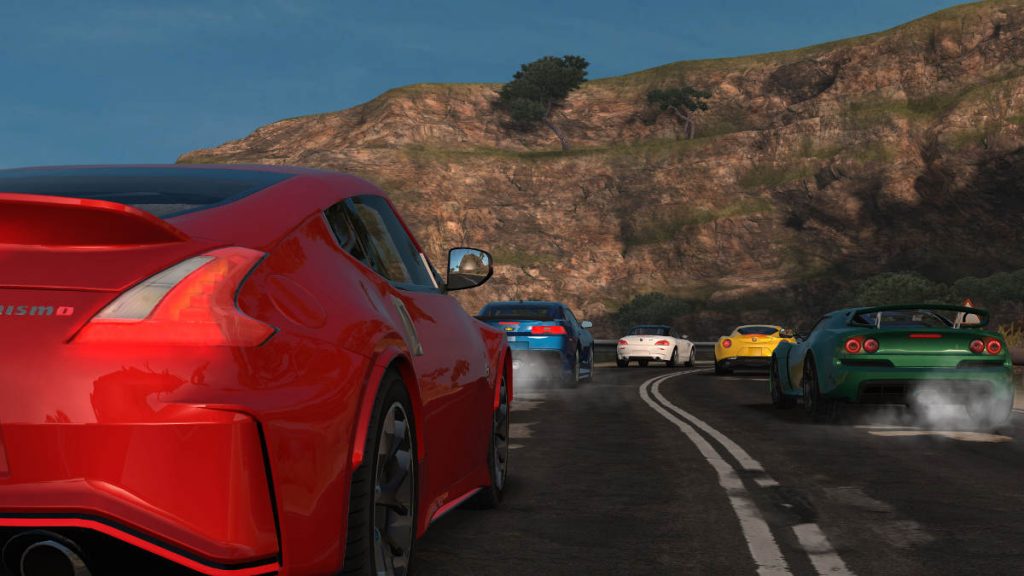 Having originally returned with the Gear Club mobile game, the console release is being published by Microids. It includes three different game modes.
Time Trial Mode: The tupical attempt to set the best time.
Rally Mode: Off-road racing for 4 drivers.
Derby Mode: Tarmac racing for up to 7 drivers.
The fairly small number of opponents should mean the graphics and frame rate are good. And you will be able to compete in more than 400 races, although the number of courses and tracks hasn't been revealed yet.You will be able to customise your car, including the engine and bodywork, but no specific upgrade details are available right now.
What has been shared is the full car roster.
Gear Club Unlimted Full Car List:
AC 378 GT Z
Acura NSX 2016
Alfa Romeo 4C
Alfa Romeo 8C Competitizione
Bentley Continental GT V8 S
BMW Z4 Roadster
BMW M2 Coupe
BMW M4 Coupe
BMW M6 Coupe
Bugatti Veyron GrandSport
Chevrolet Camaro 1LS
Chevrolet Corvette Stingray
Dodge Challenger RT/Scat Pack
Ford Focus RS 2016
Ford Mustang GT 2015
Jaguar F-Type R AWD
Lotus Elise 220 Cup
Lotus Evora 400
Lotus Exige S
McLaren 12C
McLaren 570S
McLaren 675LT
McLaren P1
Mercedes-AMG C63 S
Mercedes-AMG GT S
Mercedes-AMG SLS Black Series
Nissan 370Z
Nissan GTR
Nissan GTR Nismo
Pagani Huayra Roadster
Ruf RT12 R
Ruf CTR 3
So that's an initial Gear Club Unlimited roster of 32 cars from 16 manufacturers. Obviously the aim isn't to challenge the lists for the likes of Forza, Gran Turismo or Project CARs. But it's got a bit of variety across modern automobiles. Although there's not a lot on the list that immediately makes us put them in the off-road Rally Mode. Unless we're going to be drifting a Bentley Continental around hairpin bends, which could be fun.
But it could well be a good title for younger racers, who may well be Nintendo Switch owners. Give them an enjoyable racing experience with a small number of cars, no messing around with tuning and assists, and you could well be onto a race winner.
And there's the big benefit of the Nintendo Switch. You can't carry your full racing rig, or most consoles, with you. But you can enjoy some Gear Club Unlimited on the move. And it should be more fun than using the controls on a mobile or tablet device.
So Gear Club Unlimited looks quite interesting, particularly as a handheld racing game. And it's also nice to see Eden Games returning to consoles.
[amazon_link asins='B076BT28CK' template='ProductAd' store='onlineracedriver-21′ marketplace='UK' link_id='cfb58e91-b7e7-11e7-9931-2b34b0596d47′]
Save