Last updated on January 6th, 2021 at 05:07 pm
You might not remember the title when it was originally released, but Stuntman Ignition is free on Xbox Live Gold For October 2018. It's one of the two Xbox 360 backwards compatible titles for the month, and lets you become a Hollywood stunt driver as you progress through six films. Plus a multiplayer mode with two race types.
The reason that you might not remember Stuntman Ignition is that it was originally released 11 years ago for the Xbox 360 and PlayStation 2. It was developed by Paradigm Entertainment for THQ after the rights to the series were acquired from Atari/Infogrames.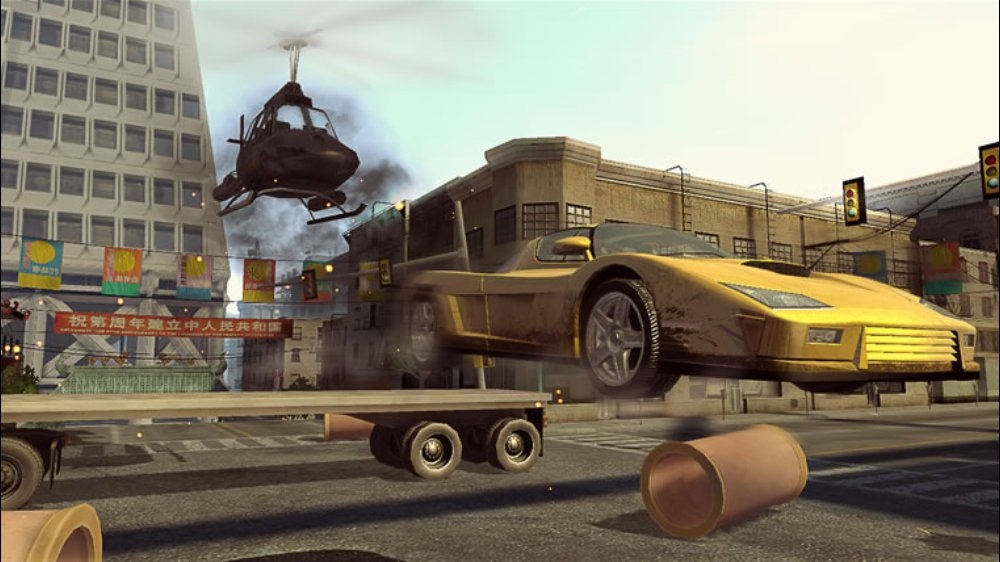 So now Stuntman Ignition is free on Xbox Live Gold for October 2018. After more than a decade, you'd be right not to expect too much from the graphics. But it's still a fun game to mess around with, especially when it's not costing you anything.
When it was originally released it was generally rated as reasonably good. And not as tough as the original title in the series, which could become quite frustrating at times.
The parody titles of the films you're performing stunts for are fun for a moment, too.
Aftershock, directed by Richard Langston. A disaster film like Dante's Peak or Volcano. And the plot involves a town in British Columbia hit by a volcano.
A Whoopin' and a Hollerin' II, directed by Andy Baxter. The in-game sequel to a film featured in the first Stuntman title it's a comedy/adventure parodying the Dukes of Hazzard. So you're in Tennessee with an evil sheriff and an appearance from the Hanus character from the original stunman.
Strike Force Omega, directed by Karl Steel. It's a military action thriller of the kind popular in the late 1980s, and is set in Kyrgyzstan during that period.
Overdrive, directed by Robert Rodina. It's set in present-day San Francisco, but harks back to the 1970s with a renegade cop taking ona ruthless drug lord.
Never Kill Me Again, a Chinese based Bond parody sequel to 'Live Twice For Tomorrow' from the first Stunman game.
Night Avenger, directed by Howard Rightman. It takes off the Tim Burton Batman series in the fictional city of Darkdom. Although quite often the cars in the game feature Police-GPD, which would obviously stand for Gotham, rather than Darkdom.
So you'll try and complete stunts for six scenes in each film. And earn a higher score by linking them together and adding on more risk. Get it wrong and you earn strikes which mean the entire scene has to be shot again.
Multiplayer has the Backlot Battle to perform as many stunts as possible within a set number of laps, while Backlot Race is a normal competition with stunts earning a burst of nitro.
On the plus side, the split-screen multiplayer can support 4 players. And even now, to buy the game normally on Xbox Live would cost you £11.99.
So if you're reading this after October 2018 and want to try the game, you're best buying a secondhand copy for much less than the digital download. Although prices are reasonably high for it, presumably due to relatively low sales at the time. To back up that theory, the planned Nintendo Wii version was cancelled prior to release.