Last updated on January 6th, 2021 at 05:09 pm
A change to the specfication of the direct drive motor means substantial price increases for the Podium Wheel Base DD1 and Podium Racing Wheel F1 from May 7th, 2019. So you might want to order before the Fanatec Podium price rise.
The reason is that the simulator hardware company originally designed a dedicated direct drive DD1 motor for both products. But when it didn't come up to requirements, they decided to use the larger version from the Fanatec Podium Wheel Base DD2. And after getting the good feedback you'd expect from users getting the motor from a 1,499.95 Euro wheel base for under 1,000 Euros, they've decided to stick with the replacement. But obviously need to raise the price of the cheaper model to avoid losing money.
So the Fanatec Podium Wheel Base DD1 currently costs 999.95 Euros for pre-orders, with full availability from June 14th, 2019. And from May 7, the price rises to 1,199.95 Euros. Which means if you can order in the next few days, you'll save 200 Euros.
Meanwhile the Fanatec Podium Racing Wheel F1 currently costs 1,499.95 Euros, but will go up to 1,599.95 Euros on May 7th. So you could save yourself 100 EUR by ordering before then.
The price of the DD2 will stay at 1,499.95 EUR. So it basically closes the price and specs gap between the cheaper and more expensive wheel bases.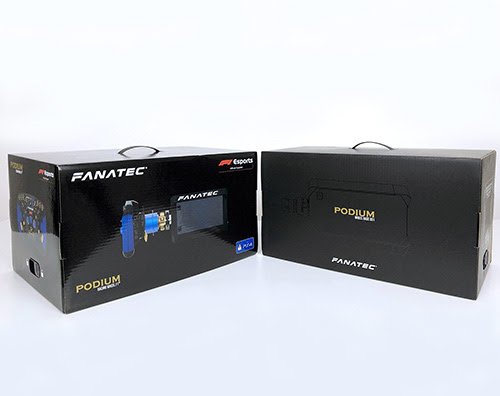 Everything else stays the same. So the Podium Wheel Base DD1 still has wireless data and power, and is the first plug-and-play direct drive wheel base with integrated electroncis in the main housing. Suitable for both the PC and Xbox One (With the right compatible wheel/hub), it comes with an OLED display at the front of the housing, full backwards compatibility with existing Fanatec wheels, ultra-low latency, a fast 100 Hz USB update rate, and peak torque of 20Nm, which is comparable to most real racing cars using power steering. Even under heavy use, it shouldn't drop below 15Nm, giving you feedback as close to reality as you could want at home.
And the officially-licensed for PlayStation 4 Podium Racing Wheel F1 builds on this with a licensed F1 27cm diameter wheel featuring 11 buttons, 12-way multi-position switches, rev, flag and multi-colour LEDs, and even real carbon fibre paddle plates. The Playstation direct drive wheel base will also work for the PC on most major racing games. It essentially combines the DD1 wheel base, ClubSport F1 2019 wheel and Advanced Paddle Module, which would normally cost you 1,729.85 EUR in a package for 1,599.95 EUR.
If you can't quite afford to invest at the moment, there is one positive thing about waiting and paying more after the Fanatec Podium price rise. At the moment, the two products come with a standard Fanatec two year warranty, but this will increase to three years on the same date as the higher prices.
Keep up with all the latest Sim Racing Wheels, here, including everything being released by Fanatec. And if you're looking for your first sim racing wheel, check out our guide specifically for the best beginners choices.