It's always great when games developers and players can come together to do something positive. Which is why you should take part as ATS and ETS 2 turn pink for a cancer charity event.
The World of Trucks event covers both American Truck Simulator, and Euro Truck Simulator 2, and runs through most of October to tie in with International Breast Cancer Awareness Month. There is special DLC, in-game personal and group goals, and the SCS E-Shop is also selling a specific charity shirt. And 100% of the money raised from the DLC and T-shirts go to selected charities including the Breast Cancer Research Foundation and the Alliance of Women with Breast Cancer.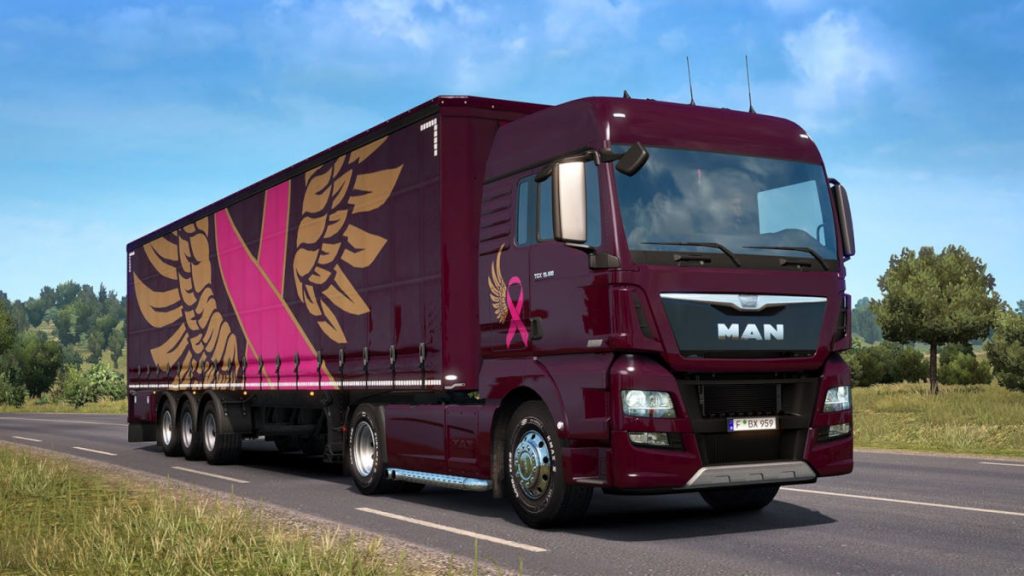 You've got until October 20th 2019 to get involved. And since the launch on October 1st, the World of Trucks Pink Ribbon Charity Event has already raised more than $20,000.
How to get involved with the World of Trucks Pink Ribbon Charity Event
So there are four potential ways to get involved and donate to some worthwhile causes as the same time.
The first is to buy the Euro Truck Simulator 2 Pink Ribbon Charity Pack, and the American Truck Simulator Pink Ribbon Charity pack. The ETS 2 DLC pack costs £1.59, and the ATS DLC is £1.69, and in both cases 100% of the proceeds go to the selected charities. Each one will give you special Pink Ribbon paint schemes for your cabs and trailers.
In-game challenges start with the personal goal of delivering 12 or more Pink Ribbon deliveries. You'll need to have them done by the end of Sunday, October 20th, 2019. To be eligible for the contracts, you'll need to have set up a World of Trucks account and be looking under External Contracts.
The reward is a unique pair of Pink-Ribbon embossed hanging Boxing Gloves as a Steam Inventory item for American Truck Simulator and Euro Truck Simulator 2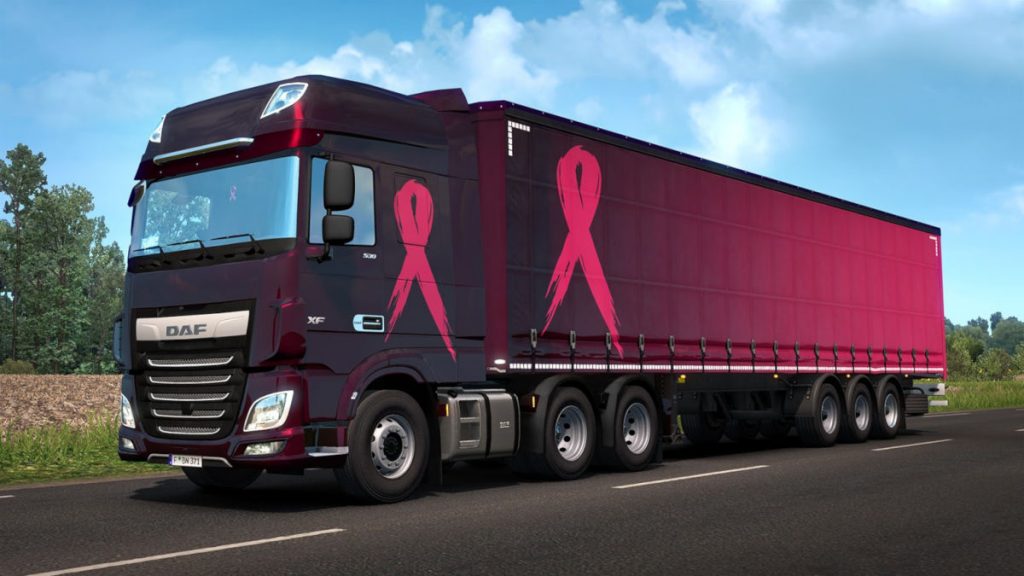 Meanwhile there's also a community goal to reach 1,000,000 deliveries of Pink Ribbon goods. If that happens, everyone who has achieved their personal goal will also get a pair of Pink-Ribbon-styled hanging Winning Dive as a Steam inventory item for Euro Truck Simulator 2 and American Truck Simulator.
Finally there are also the American Truck Simulator t-shirts available via the SCS e-shop. You can choose from the To Truckers With Love pink women's shirt, or the men's version available in either pink or beige. All versions are 15 Euros, and all the money for the 100% cotton shirt will go to the cancer charities.
If you haven't got either game yet, they're both available on Steam. American Truck Simulator is currently available for £14.99, with Euro Truck Simulator 2 also the same price right now.
You've still got plenty of time to complete the deliveries across both games, as SCS Software ave adapted well following the surpisngly quick response to the last Goodyear Challenge in-game event which the community completed much quicker than expected!
And there is plenty happening for both games. Euro Truck Simulator 2 is currently awaiting the release of the Road to the Black Sea map pack, while American Truck Simulator will soon be adding Utah to the map expansions list. Not forgetting the free addition of the new Renault Trucks T Range for Eutor Truck Simulator 2 at the end of September.