Last updated on January 28th, 2021 at 03:34 pm
There were plenty of people competing, and then watching, as Tang Tianyu wins the first F1 Esports China Championship. The inaugral competition took place over two days at the Shangai Stadium, with 100 racers attending to try for victory.
Just 40 drivers made it through to the knockout round on the second day of racing in F1 2019. And from that pool of esports talent, 20 racers were in the final group to compete over two races at Silverstone and the Shanghai International Circuit to find a winner.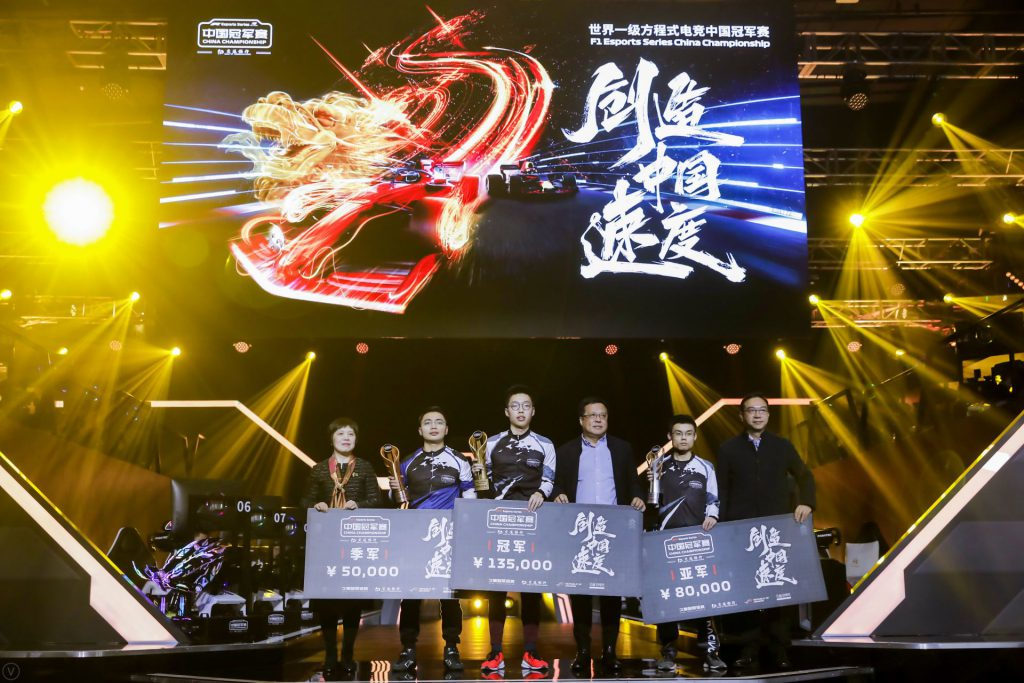 Both Tang Tianyu and Yan Yifan finished on 44 points by claiming a win, a second place, and a fastest lap in the two races. But Tianyu was crowned champion due to his pair of pole positions, taking the trophy and 135,000 CNY prize money. Yifan had to settle for 80,000 CNY, with the third placed Lin Zhuoyi winning 50,000 CNY.
But as impressive as the driving skills was the interest shown in the racing, with 1.6 million people watching live during the grand final. Which is a pretty awesome audience for virtual motorsport. Also watching were Renault Driver Academy and F2 driver Guanyu Zhou, and Renault Vitality F1 Esports Series driver Jarno Opmeer.
If you want to measure yourself up against the China champion, his Silverstone pole was a lap time of 1:26.278. And at Shanghai, he qualified first with a lap of 1:30.375.
Julian Tan, Head of Growth & Esports, Formula One said:
"The first season of the F1 Esports Series China Championship has been a great success, with qualification spanning across six major cities in china and attracting over 10,000 registrations with 5,000 participants. Across the four regional finals, six million people tuned in online, with an average peak of 250,000. The Grand Final also saw a huge spike, with 1.6 million people watching live, demonstrating the real value of expanding the series into China."
Both Tang Tianyu and Yuan Yifan will be competing in the 2020 F1 Esports Pro Draft in London later in 2020, when they will compete in knockout racing and have the chance to be selected by one of the 10 official F1 Esports teams.
Want to have a go yourself? You can pick up F1 2019 from Game for the PS4 or Xbox One, with the Anniversary Edition cheaper than the standard version for some reason. It's also available for similar prices at Amazon. If you prefer your sim racing on the PC, then you can also pick it up on Steam.