It's been talked about and teased for a while. But North Wilkesboro Speedway arrives in iRacing as a treat for anyone wanting to revisit a famous short track venue or try it out for the first time.
Opening in Wilkesboro Township, North Carolina in 1949, the 0.625 mile circuit hosted top level NASCAR racing, including 93 Winston Cup Series races, until it closed in 1996. During almost 50 years, winners included Richard Petty (15), Darrell Waltrip (10), Dale Earnhardt (5) and Cale Yarborough (5).
In 1994, the venue also saw the last time a winning driver totally lapped the field on the way to a win, with Geoffrey Bodine lapping everyone, including second place Terry Labonte.
Despite attempts to save the circuit, and a brief re-opening in 2010-2011, the future remains uncertain for the track. So the fact that North Wilkesboro Speedway arrives in iRacing means it will be assured to remain open virtually at least, allowing everyone to enjoy the unique attraction of an uphill backstretch and downhill frontstretch.
The plan to add North Wilkesboro Speedway to iRacing was driven in large part by Dale Earnhardt Jr. Although his own career largely took off following the closure of the track, it was a very familiar venue located close to the Earnhardt family home in Kannapolis, North Carolina, especially with his father winning multiple times.
A great documentary film from Dale Earnhardt Jr's Dirty Mo Media shares his passion for the track along with the scanning process, including speaking with Steve Myers, Greg Hill and Kevin Iannarelli from iRacing as the track is cleaned, scanned and photographed.
North Wilkesboro Speedway arrives in iRacing along with a specific new NASCAR Legends series which debuts in June. As the circuit has been built to the virtual look and specs of the 1987, iRacing 2020 Season 3 will also see the release of the 1987 Winston Cup Ford Thunderbird and the 1987 Chevrolet Monte Carlo SS.
So this means you're not only getting a vintage circuit, but also the correct period cars to run on it, and a specific series devoted to classic NASCAR racing.
The drivers in the eNASCAR iRacing Pro Invitational Series got a change to try racing at the North Wilkesboro 160 on May 9th, 2020, with the win going to Denny Hamlin from Timmy Hill, and Tyler Reddick. Dale Earnhardt Jr finished 15th.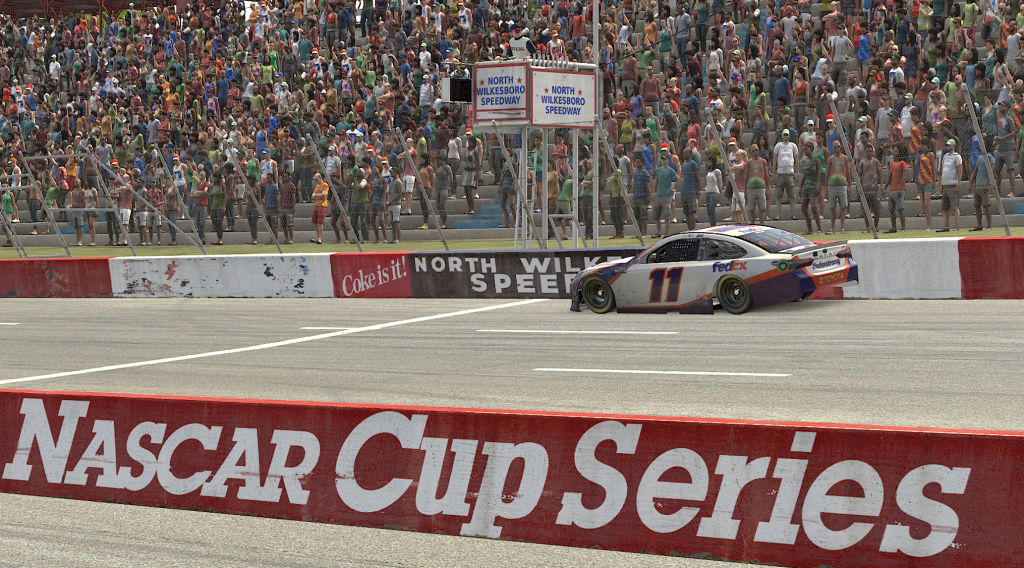 As with the majority of iRacing circuits, North Wilkesboro Speedway will cost you $14.95 to use in the game as an additional license purchase. You can also sign up to iRacing, here.
And you can keep up with all the latest iRacing news, updates and eSports, here. Or check out the full iRacing track list to see which other NASCAR venues are available, or the full iRacing car list for all the various NASCAR series cars and trucks you can race with.