Fancy getting away from sim racing and going on an adventure in the wilderness? It's a good time to do it, with the Spintires SHERP Ural Challenge DLC, and game update v1.6.0 both out now for the off-road simulation.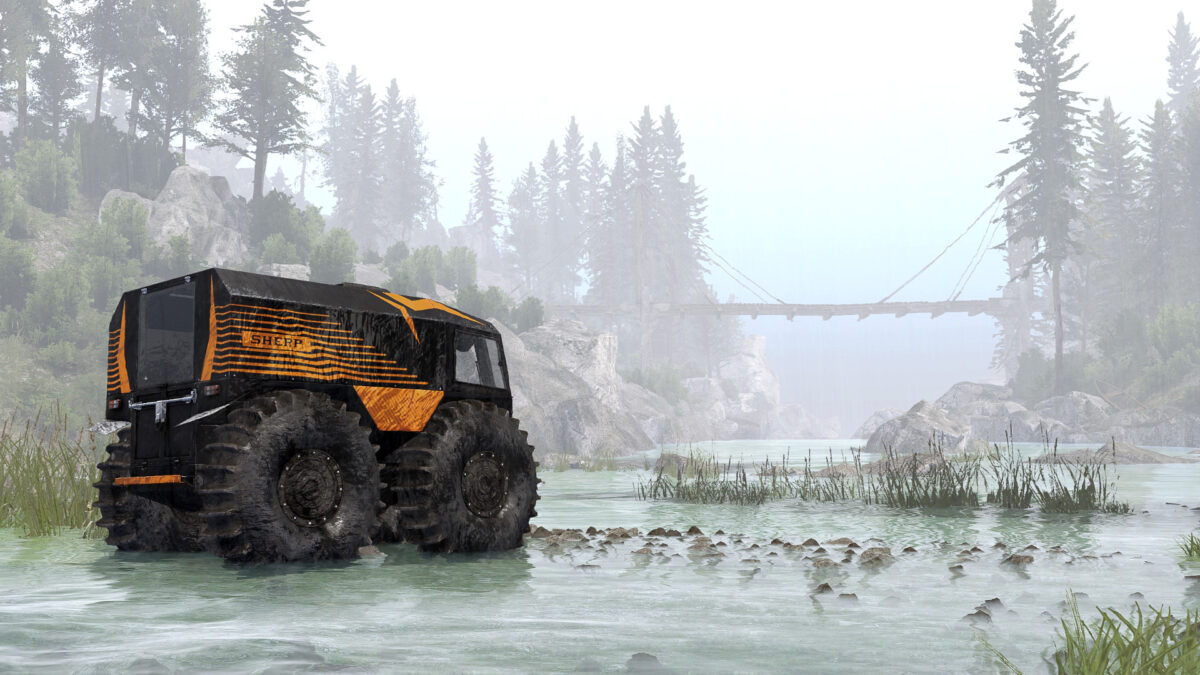 Oovee Games has officially licensed two all-terrain vehicles (ATVs) for the DLC addition from SHERP. And both are impressive machines from the company, which was founded in 2012.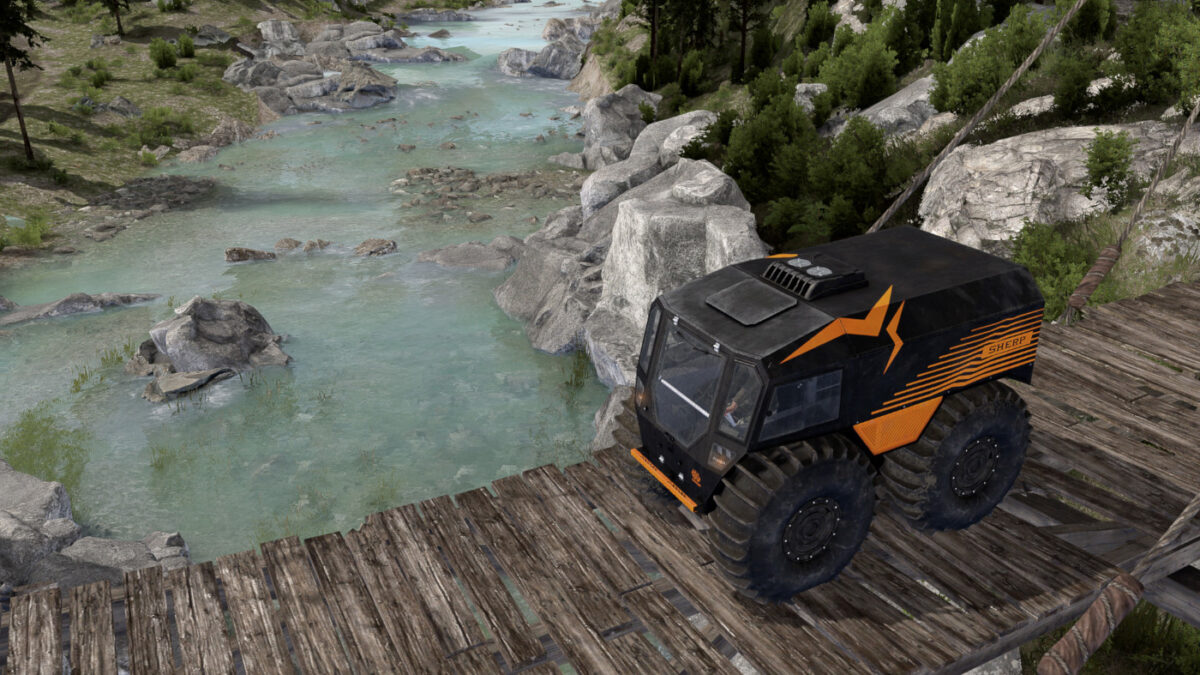 The SHERP N 4X4 might only have a maximum speed of 25mph, but it'll keep going for 61 hours with a main fuel tank and four additional canisters. And pretty much nothing is going to stop it. It can tackle obstacles up to 1 metre high, achieve 3.7mph on water, and carry 9 passengers at the same time.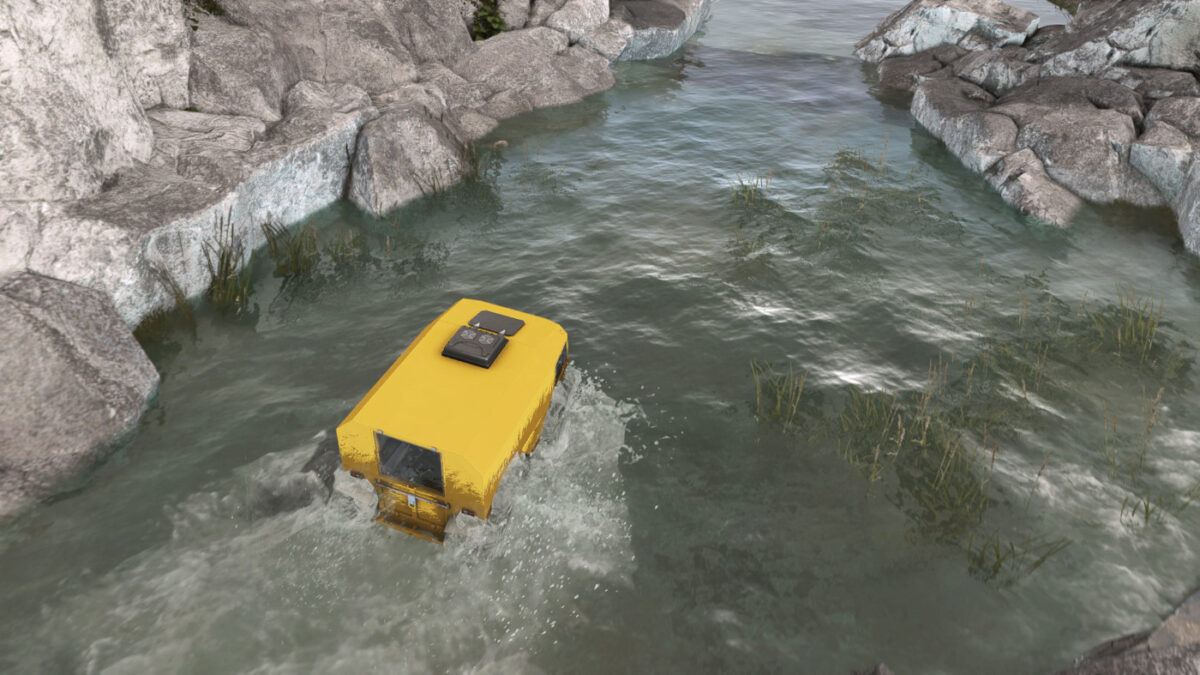 But if that isn't quite enough for you, the Spintires SHERP Ural Challenge DLC also includes the SHERP ARK 10×10. The added capacity means it can go over obstacles which are 1.5 metres high, and carry 22 parrengers and everything you might need to go and stay in the middle of nowhere. And features technology like automatic pumps to get water out of the cabins, or shutting off air supply to a damaged tire so you can keep moving.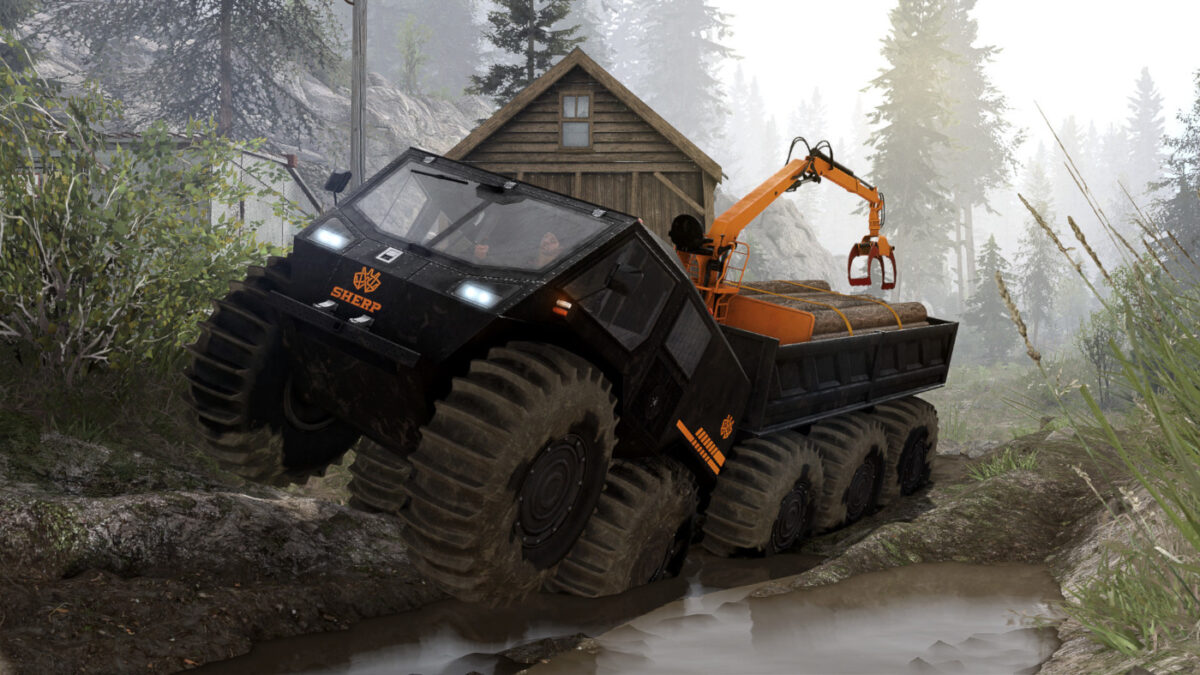 Obviously you need somewhere capable of challenging those beasts. So the Spintires SHERP Ural Challenge DLC adds a map inspired by the Yugyd Va National Park, which is the largest national park in Europe, located on the border with Asia. At 18,917 square kilometres, the park contains the highest peaks of the Ural Mountains, along with lowlands and foothills, plenty of forests, rivers including the Pechora and Kozhim and more challenges for the off-road sim enthusiast.
The Spintires SHERP Ural Challenge DLC is available now on Steam for £2.99.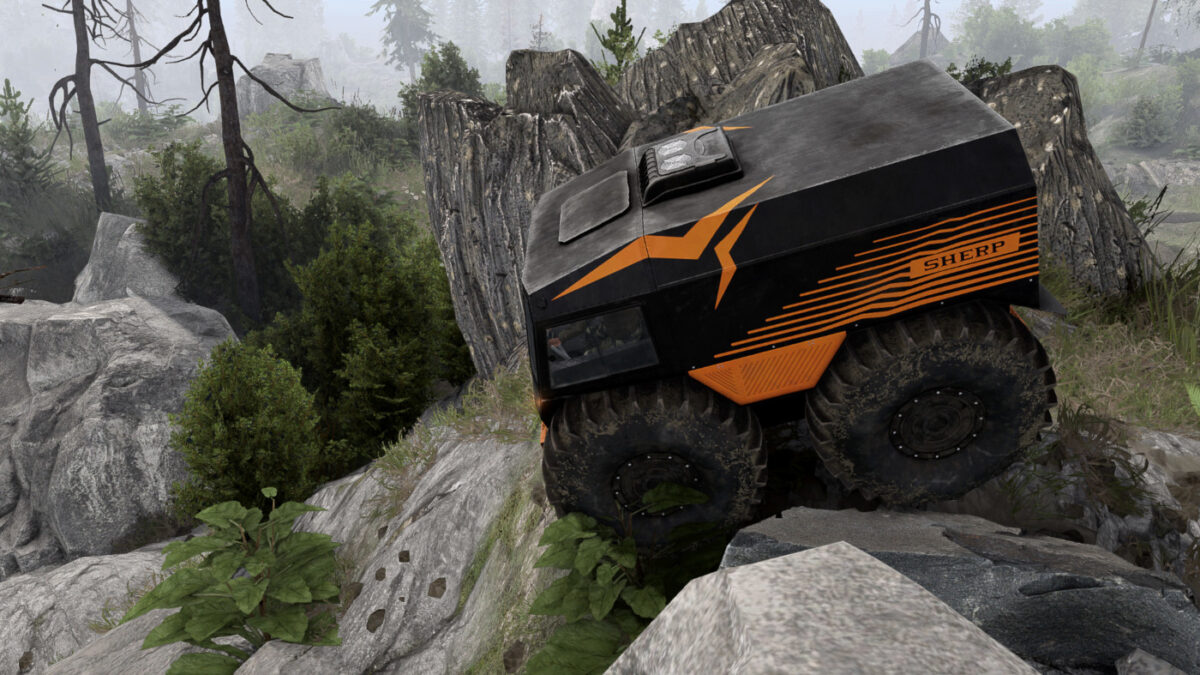 And if that wasn't enough, there's also a pretty sizeable update to the game available to everyone now. Higlights include more realistic water, entirely rewritten mud physics and simulation, and a list of other improvements and fixes.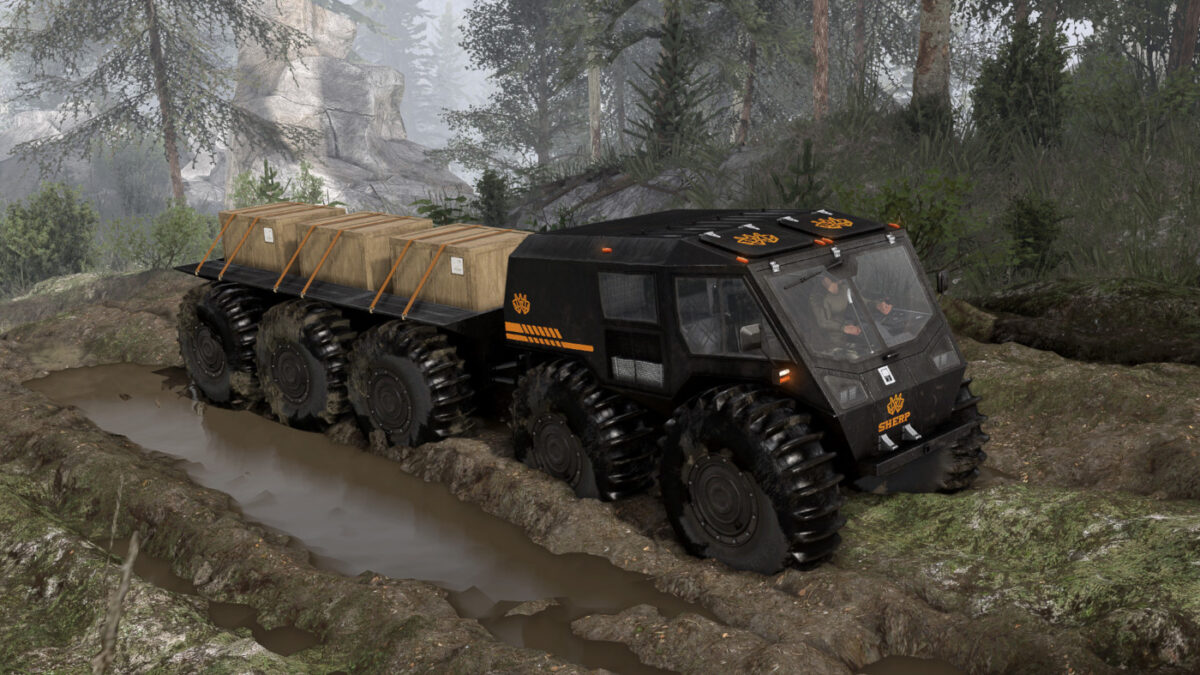 Spintires Update V1.6.0 Change Log
Added / New
– Tire inflation system (CTIS) and is available on the following vehicles SHERP N, SHERP ARK, B157, B131, C4310, C255, D535, E7310, B66, C4320)
– Differential steering, either by braking one side of wheels or reverse its rotation (tank-like).
– Support for chassis with multiple drivable articulations (ex: twisting left/right, and tilting cab up/down).
– Driver animations for vehicles driven with levers instead of a steering wheel.
Improvements
– Much more realistic water interactions, which now accounts for the shape of what's immersed, and applies buoyancy, water flow pressure, and skin friction.
– Entirely rewritten mud physics/simulation (not final, tweaks will be applied according to constructive feedback). New mud physics:
– Allow climbing out of a trench before reaching solid ground, if you have good grip and low slip.
– Reduce tarmac grip for a while after leaving mud, depending on how much your wheels are caked in mud.
– No longer deadstop vehicles with large wheels when they are barely dipping in mud.
– Road tires no longer perform well in mud but are less likely to break packed dirt surface.
– Accounts for weight distribution over the wheels.
– Removed the driver's sleeping animation (his back clipping through seats was a headache for both modders and developers).
– The driver now looks at where he's going, instead of looking at the camera.
– Increased maximum number of bones per mesh 16¨40.
– Forward Kinematics bones now have a mode dedicated to engine fan.
– Stronger brakes and diff locker.
– Smarter autogearbox, capable of useful downshifts during hill climbs.
– Drivetrain can now handle vehicle with wheels of different sizes.
– Enabled specular effect on static assets (aka "models").
– Crane grappler rotation button in the advanced menu has been merged with the main button for crane operation.
– Small change to advanced menu visuals.
– Improved "brown" water.
– Improved water particles, especially those particles when driving amphibious vehicles over water.
– Improved rain textures.
Fixes
– Crash when refueling in multiplayer.
– Some crashes when loading saves.
– Brakes now stop motion between wheel and chassis, instead of stopping absolute wheel motion.
– Killed "speed damage" (vehicle taking lots of damage when going fast, even on flat ground).
– Tires with high substance friction will no longer cause absurdly high fuel consumption.
– UI bug when at a fuel station.
– Achievement names and descriptions incorrectly displayed if they contain non-latin characters.
– Starting a game without clicking on "casual" or "hardcore" would start a hardcore game, even if casual was selected.
– Corruption after removing an addon in MP.
– Joining MP games through invites or friend list would sometimes not work.
– Increased K-700 and E-167 grip in mud.
– D-535 wheel rim could deform like rubber.
Spintires was originally released in 2014 for the PC, and it's available on Steam for £9.99. The Ural Challenge DLC costs £2.99. There are two free DLC Packs (Vehicle Pack 01 and Canyons), plus the previously released paid Aftermath and Chernobyl DLC packs.
Keep up with the latest Spintires news and updates, here.